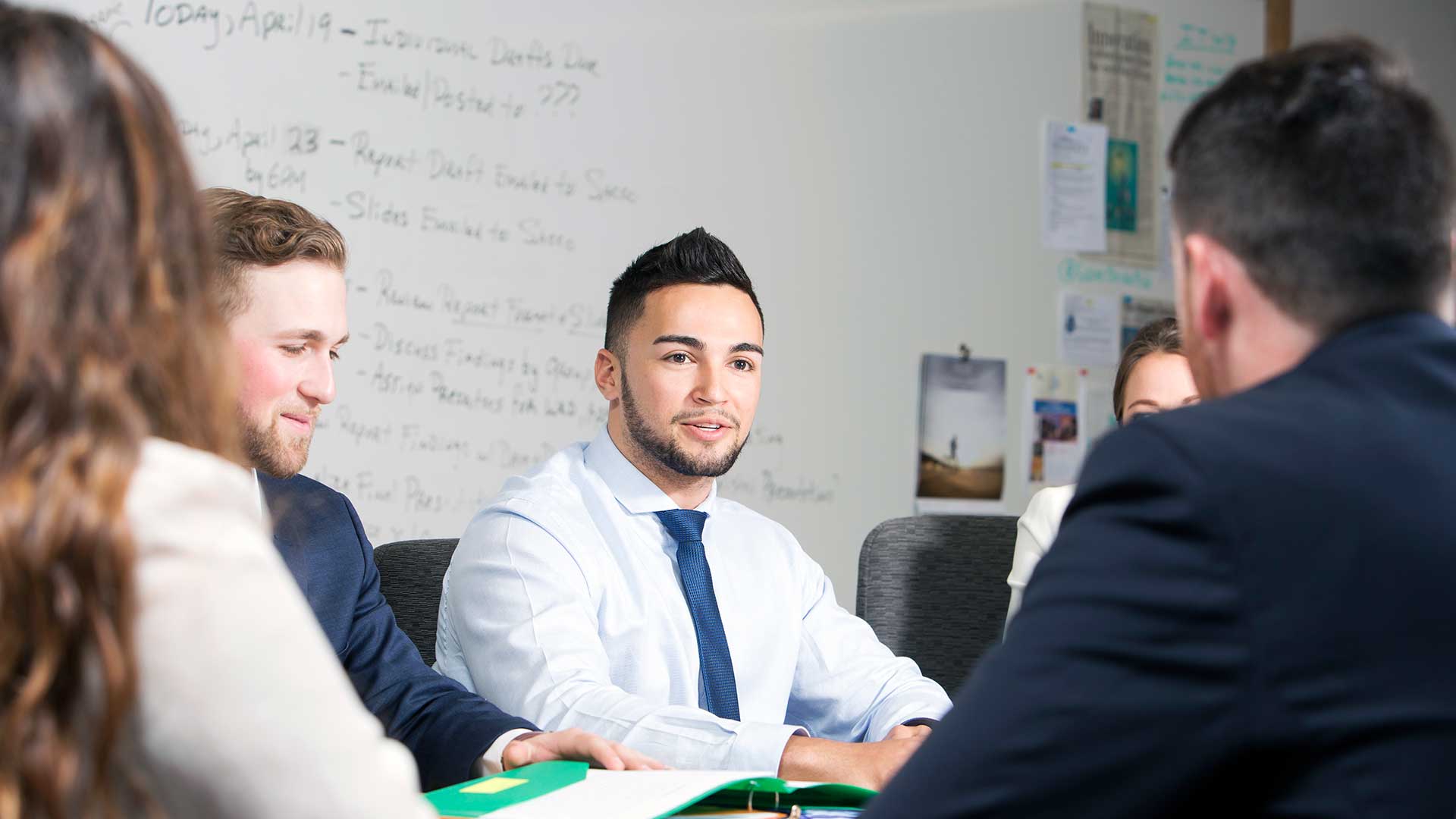 Salve Regina University's bachelor's degree in business administration brings together a broad range of business studies courses that prepare students to launch their careers in the business world, run a business or seamlessly pursue a higher academic degree in the field, such as the MBA.
Develop Your Proficiency
Coursework leading to the business administration degree introduces students to a wide range of business disciplines and develops their proficiency in such areas as accounting, applied technology, economics, communications, finance, marketing, organizational behavior, research and ethics. Our students gain knowledge and skills they can readily apply in the workforce as entrepreneurs, managers or supervisors.
Through Salve Regina's popular combined program, qualified undergraduates can earn their bachelor's degree in business administration and a master's degree in business administration or healthcare administration within five years.
Program Spotlight: Your Career Starts Here
Key to the success of business administration majors is an ongoing engagement in collaborative educational pursuits. Both in the classroom and in the real world, students are challenged through partnerships with faculty and community business leaders to analyze problems and apply practical solutions.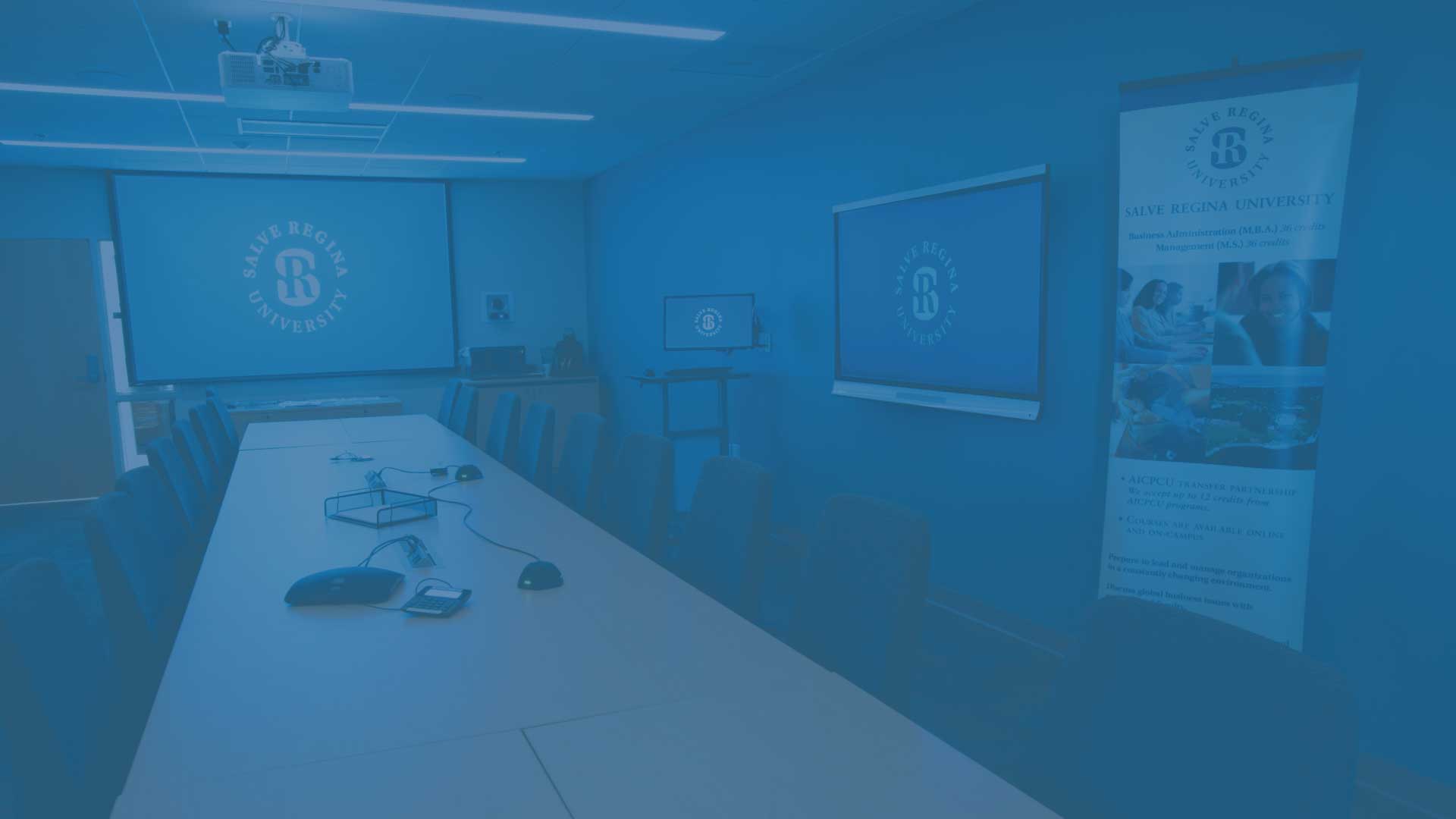 It's very important to us to give students sound academic advice, of course, but we also want to help them with sound career advice. Our job is to help the students find their way in the world. 
Dr. Myra Edelstein, associate professor
Our graduates are qualified to enter the workforce as managers and leaders in many areas, including:
Banking: Banks, credit unions, savings and loan associations, wholesale lenders, investments, Federal Reserve banks.
Consulting: Research assistant, research associate, business analyst.
Education: Recruitment, advising, registrar, alumni, finance.
Finance: Accounting, auditing, financial analyst, budget analyst, personal financial advisor, buyer.
Government: Local, state and federal offices, military contractors and installations.
Human resource management: Retail stores, restaurants, hotels and other facilities, health care organizations, labor unions, educational institutions.
Insurance: Insurance firms, insurance brokers, analysts.
Management: Hotel, restaurant, spas, athletic facilities, retail stores, operations, production, self-employed, banks.
Nonprofit: Management, assistants in education, medical facilities and associations (such as the American Heart Association), visiting nurse home care, social enterprises (Boys & Girls Clubs, YMCAs), museums, theaters, environmental organizations and many others.
Real estate: Appraisal firms, apartment and condominium complexes, leasing offices, developers.
Sales: Manufacturers, financial companies, insurance companies, software and technology.
Sports: Sales, media, marketing, management.
Our graduates have acquired positions in organizations such as:
Acadian Asset Management
Arbella Insurance
BankNewport
Brown Brothers Harriman
Citizens Bank
CVS Health
eClinicalWorks
IT Convergence
MaineGeneral Health
MassMutual Financial Group
MEDITECH
Naval Undersea Warfare Center
Partners HealthCare
Schneider Electric
State Street Corporation
UBS Financial Services
VMware
WinnCompanies
Major in Business Administration (B.S.)
19 courses | 60 credits
Business core requirements:
ACC101: Financial Accounting
ACC104: Managerial Accounting
ECN101: Introductory Macroeconomics
MGT120: Management and Organizational Behavior
MGT160: Business Analytics
MGT212: Business Communication
MGT270: Financial Management
MGT280: Principles of Marketing
MGT300: Ethics for Business
MGT403: Business Law
MGT490: Strategic Business Planning Capstone
MTH172: Quantitative Methods for Business
STA173: Statistical Methods
Additional required courses:
ECN102: Introductory Microeconomics
MGT214: Project Management
MGT290: Management of Human Resources
MGT320: Investment Planning
MGT350: Business Research Methods
MGT491: Professional Internship in Business
Minor in Business Administration
7 courses | 22-23 credits
Required courses:
ACC101: Financial Accounting
ECN101: Introductory Macroeconomics
MGT120: Management and Organizational Behavior
MGT160: Business Analytics
MGT212: Business Communication
Students also choose two of the following electives:
ACC104: Managerial Accounting
ECN102: Introductory Macroeconomics
MGT280: Principles of Marketing
MGT290: Management of Human Resources
MGT300: Ethics for Business
MGT310: Personal Financial Planning