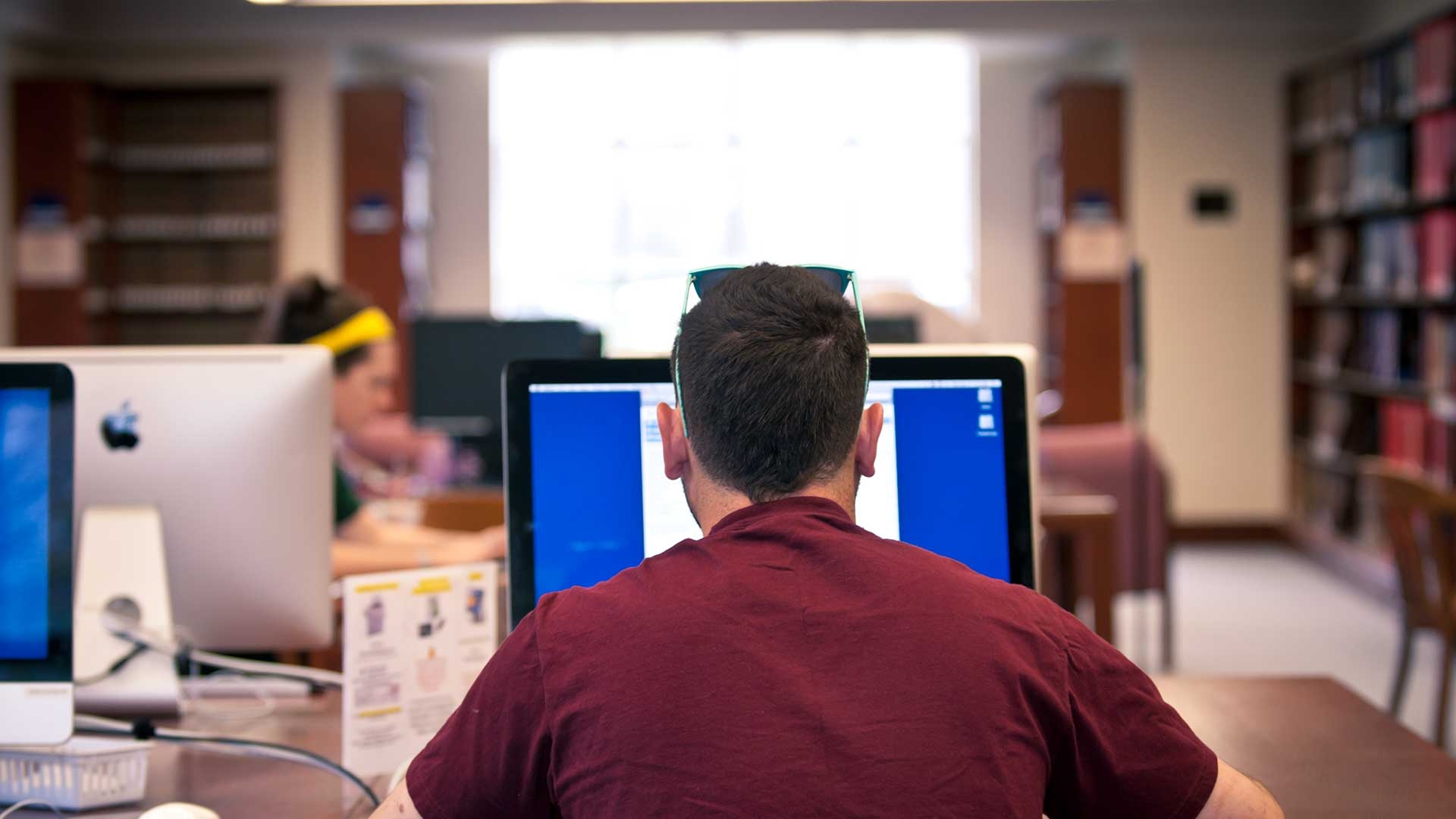 At Salve Regina University, our bachelor's degree in accounting prepares students to join one of the world's most respected professions. Businesses, governments and nonprofits rely on accounting professionals to provide insight into business operations, lend credibility to financial reports and comply with complex regulatory requirements. Our program develops leaders and decision makers who use critical thinking skills to make rational, ethical decisions.
Gain Expertise and Knowledge
To ensure their success in today's dynamic business environment, accounting majors develop broad-based skills in finance, management and marketing, along with expertise in accounting, information systems and decision analysis. Coursework emphasizes hands-on problem solving, using case studies and team projects to hone analytical and communication skills. Data analysis is incorporated throughout the curriculum and can be further developed by adding a minor in data analytics to the course of study.
Accounting majors complete the foundational courses required to take the Certified Public Accountant (CPA) exam, and they earn at least 120 of the 150 credit hours required for licensure in most states. Some students satisfy the 150-credit requirement in just four years by maximizing their enrollment each semester, transferring AP credits or taking summer classes. Others complete our combined bachelor's/master's program to satisfy the requirement in five years.
Students with an interest in corporate accounting are encouraged to pursue the Certified Management Accountant (CMA) credential. Our curriculum covers the body of knowledge included on CMA examinations, and students can distinguish themselves by passing this professional examination before they graduate. Our program also provides a foundation for certifications such as the Certified Fraud Examiner (CFE) and Certified Internal Auditor (CIA), which may require further education, professional experience and exams.
Program Spotlight: Big Four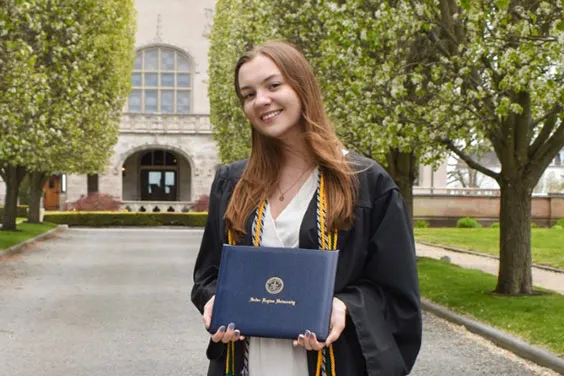 Sarah Nerdig '22, who earned a bachelor's degree in accounting at Salve Regina, has accomplished what most accounting students only dream about. She recently passed the Certified Public Accountant examination with one of the highest scores in the state of Kentucky. Not only that, but she earned a full-time position as an audit and assurance associate at Deloitte – one of the Big Four accounting firms that is recognized worldwide for their expertise.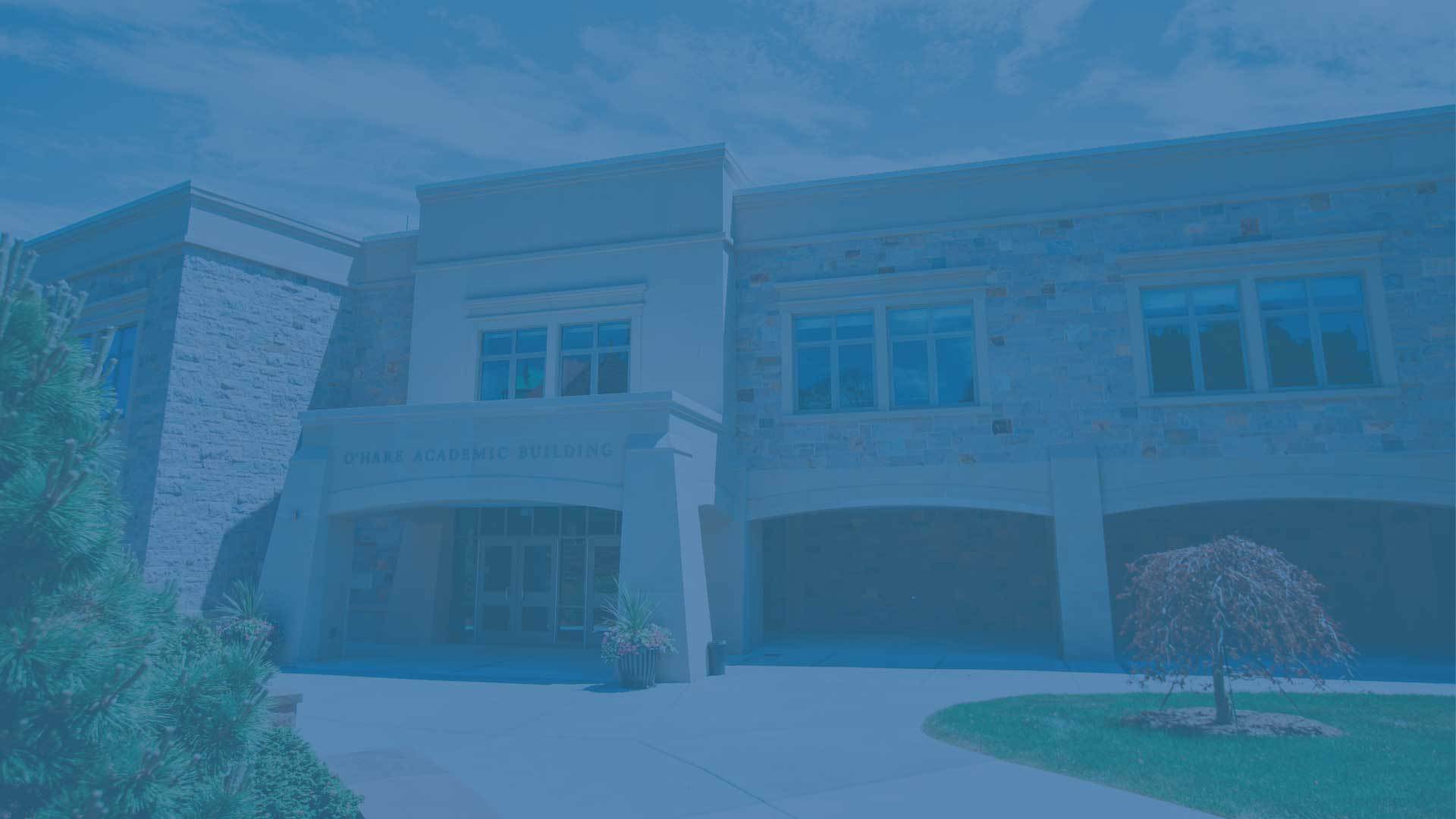 Our faculty hold advanced degrees and are licensed Certified Public Accountants with professional work experience. This practical knowledge infuses the theoretical study of accounting concepts and standards with relevant application, helping students develop the skills necessary for successful careers in the field.
Accounting is a profession in demand, with widespread opportunities for fast-track growth.
Public accountants provide a broad range of accounting, auditing, tax and consulting services. Our graduates work at international firms including EY, PwC, KPMG and Deloitte as well as regional and local firms.
Management accountants support the management functions of planning, directing and controlling operations within an organization. Our graduates often begin as financial analysts, budget analysts and staff accountants and move into roles such as program manager, controller, chief financial officer and chief executive officer.
Government regulators audit organizations and individuals at the federal, state and municipal levels. Federal agencies include the Internal Revenue Service, Securities and Exchange Commission, Federal Reserve and Federal Deposit and Insurance Corporation.
Internal auditors perform compliance and operational audits within their organization. They examine and evaluate an organization's internal controls, financial and information systems, management procedures and the efficiency and effectiveness of operations.
While most of our graduates work in these primary accounting fields, others have pursued careers as security analysts, fixed income traders, financial planners, human resource managers, recruiters and university administrators.
Salve Regina is a small school that offers big opportunity. I was on a group interview for an audit position at a Big 4 accounting firm. The other candidates in my group were from prestigious business schools — none of them had heard of Salve Regina. By the end of the day, which consisted of interviews, group activities and lunch with firm partners, I was the candidate with an offer for a full-time position after graduation. Why me? Because employers are looking for well-rounded, well-spoken and respectful individuals to join their team. These characteristics are prioritized in the study of the liberal arts.
Brittany McNiff '16, senior examiner, Federal Deposit Insurance Corporation (FDIC)
Major in Accounting (B.S.)
22 courses | 71 credits
Business core requirements:
ACC101: Financial Accounting
ACC104: Managerial Accounting
ACC341: Accounting Information Systems
ECN101: Introductory Macroeconomics
MGT120: Management and Organizational Behavior
MGT212: Business Communication
MGT270: Financial Management
MGT280: Principles of Marketing
MGT300: Ethics for Business
MGT403: Business Law
MGT490: Strategic Business Planning Capstone
MTH172: Quantitative Methods for Business
STA173: Statistical Methods
Additional required courses:
ACC201: Intermediate Accounting I
ACC311: Intermediate Accounting II
ACC322: Strategic Cost Management
ACC331: Federal Income Taxes I
ACC332: Federal Income Taxes II
ACC401: Advanced Accounting
ACC404: Auditing
ACC405: Accounting Research and Analytics
ECN102: Introductory Microeconomics or ECN305: Money, Banking in Financial Markets
Minor in Accounting
An accounting minor can add a highly regarded specialty to the undergraduate degree, demonstrating expertise in the language of business.
5 courses | 19 credits
Required courses:
ACC101: Financial Accounting
ACC104: Managerial Accounting
ACC201: Intermediate Accounting I
ACC311: Intermediate Accounting II
Students also choose one of the following:
ACC322: Strategic Cost Management
ACC331: Federal Income Taxes I
ACC341: Accounting Information Systems