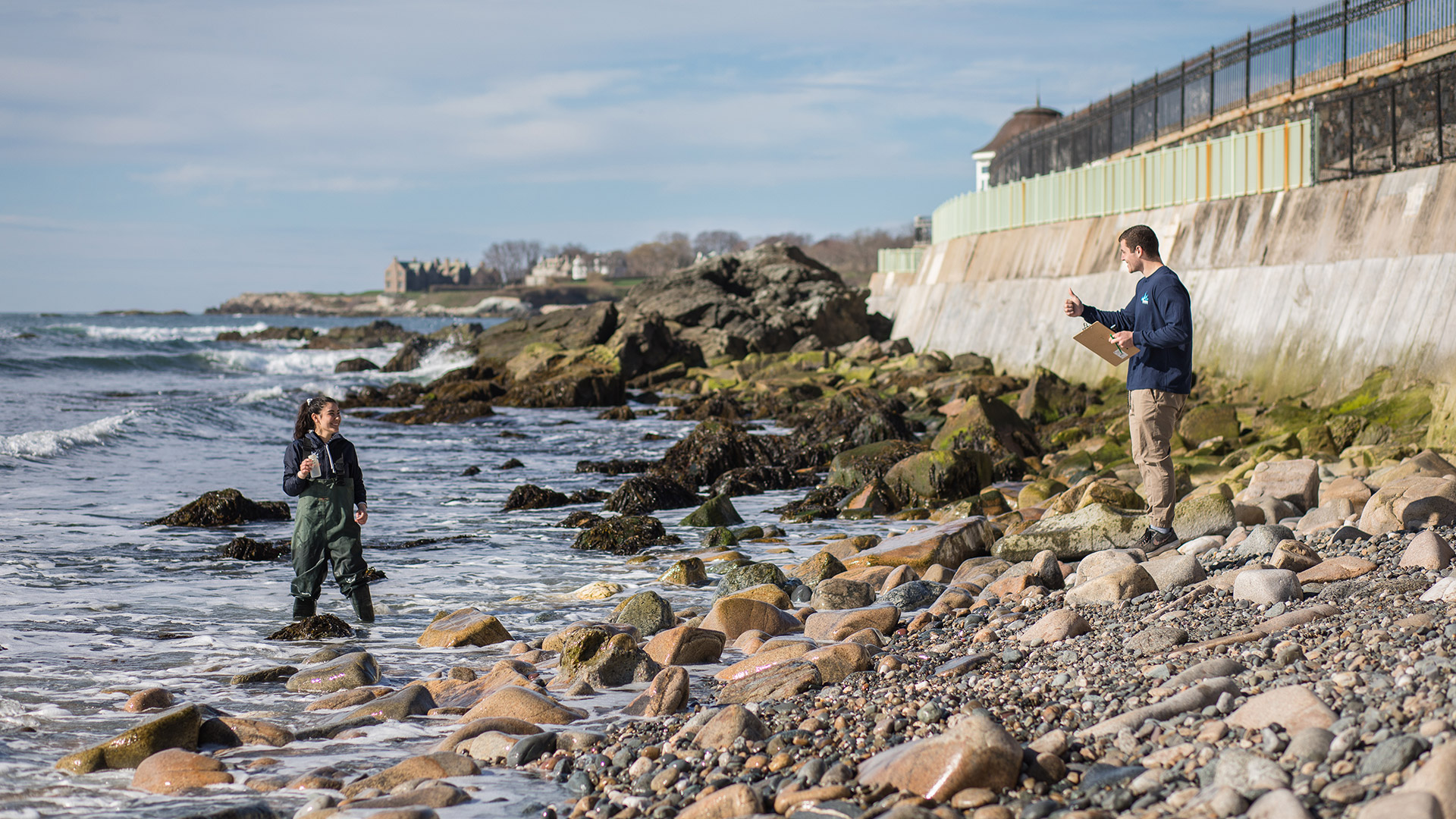 Our bachelor's degree in environmental studies grows from our stated mission to act as stewards of the earth. It is the unique outcome of the talents of our faculty; our distinctive surroundings; our geographic proximity to freshwater and saltwater bodies, forests and farmland; and collaborations with local and regional groups such as the Environmental Protection Agency, the Rhode Island Department of Environmental Management and the Aquidneck Land Trust.
Address Real-World Environmental Issues
Our program exposes students to the broad range of issues that arise from the interaction of humans with the natural world, and to the tools required to understand and solve environmental problems.
Coursework is drawn from fields such as biology, math, public policy, economics and cultural and historic preservation. Student-directed research leads to a thesis in the senior year, and majors are encouraged to address real-world problems through internships and field study.
Program Spotlight: Conservation Biology
Conservation biology, a cornerstone of Salve Regina's environmental studies program, challenges students to explore practical approaches to protecting and restoring sensitive biological communities.
Throughout her time at Salve Regina, Abigail Burke '19 – a double major in environmental studies and cultural and historic preservation – took that charge to heart, taking advantage of multiple opportunities to work with threatened species at national seashores along the East Coast.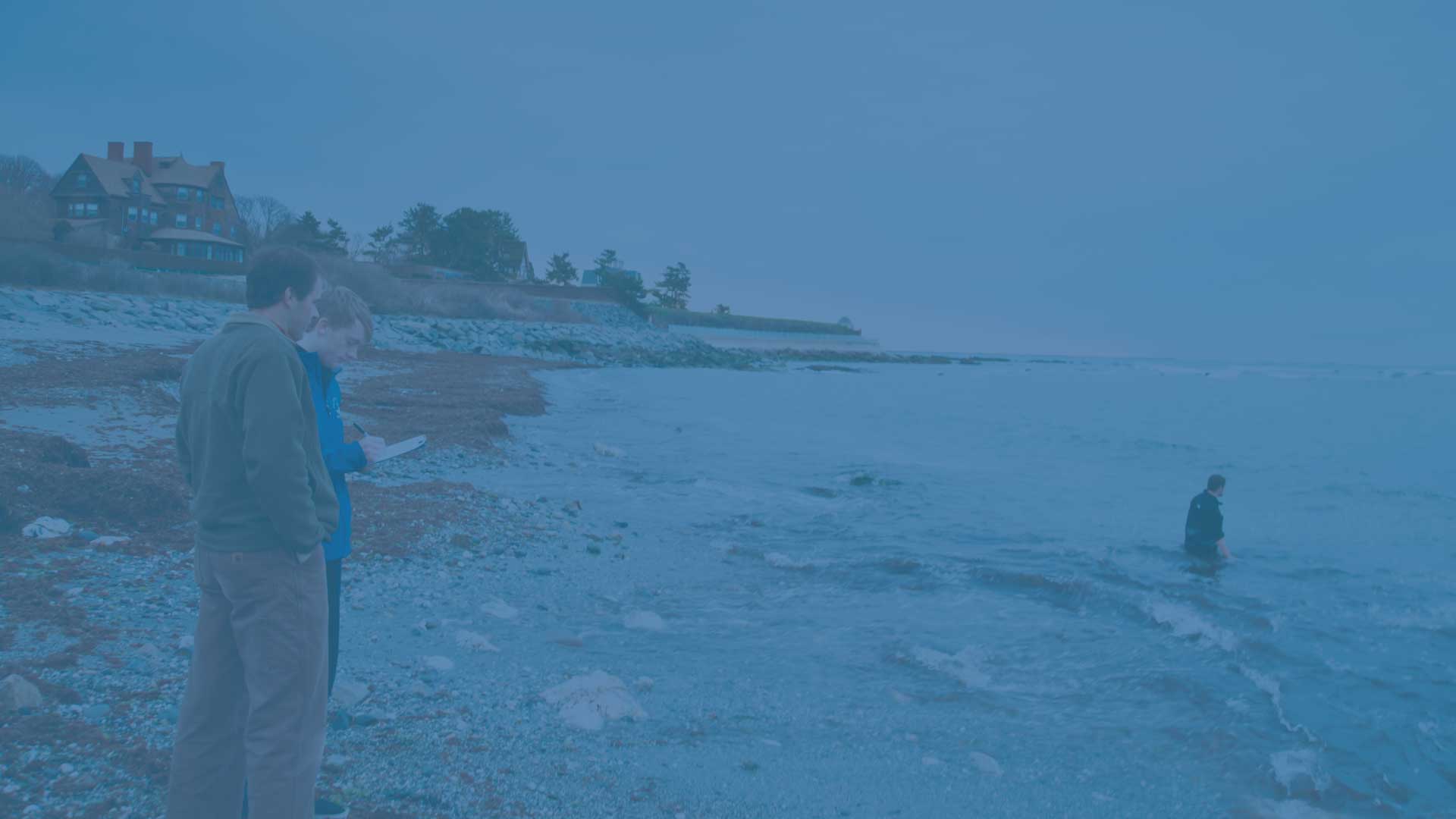 In addition to teaching, we conduct research designed to enable undergraduates to gain hands-on experiences in field ecology and environmental sciences. Our work has been recognized with numerous awards from national and regional environmental organizations, and we are routinely invited to present peer-reviewed papers at major conferences around the globe.​
Our graduates are uniquely prepared to work professionally on environmental issues found in every kind of workplace. As awareness of these issues grows, our graduates offer a strong combination of science and policy knowledge that make them an invaluable resource to organizations in a broad range of environments, including:
Federal, state and local government: Working as environmental planners, analysts and policymakers.
Corporations: Managing their compliance with environmental regulations and conducting audits of internal environmental efficiency.
Nonprofit organizations: Managing or protecting natural resources, spearheading fundraising and development, and supporting the organization's mission through public relations.
I really feel like the program prepared me for anything. We get such a range of opportunities like internships and research projects that you feel totally prepared to work in the field. It's a tight-knit community with so many connections to professionals in the real world. Choosing this major truly was the best thing that could have happened to me.
Meaghan Senack '16, conservation programs manager, Westerly Land Trust
Program Spotlight: The Science Behind the Job
For someone with a passion for the environment, Rebecca Longvall '15 says, there's nothing like living and working on a campus by the ocean. "Salve's location is incredible," she says. "It's like having a laboratory right outside your back door."
A conservation agent for the town of Bolton, Massachusetts, Longvall works on wetland permitting and helps manage 2,000 acres of open space. She credits her experiences in the environmental studies program for teaching her the science behind the job – collecting data and monitoring trends – and so much more. "I loved everything about the program," Longvall says. "I was really busy as a student-athlete, but the faculty took the time to keep me on track."
As a student and a leader in the Environmental Club, she learned how to communicate with different groups and understand their goals. "I work with the public every day, and every day I use something I learned at Salve," she says.
Major in Environmental Studies (B.A.)
16 courses | 47-49 credits
Required courses:
BIO140: Humans and Their Environment
BIO140L: Humans and Their Environment Laboratory
BIO255: Conservation Biology
CEG222: Research Methods
CEG390: Current Issues
CEG450: Capstone
CHP290: Introduction to Geographic Information Systems
ECN101: Introductory Macroeconomics
ENV334: Environmental Justice
POL345: International Environment and Development
Students choose one of the following:
GLO100: Introduction to Global Studies
SOA110: The Sociological Imagination
SOA130: Anthropology: Interpreting Cultural Differences
Students choose two of the following:
BIO260: Marine Biology
BIO275: Tropical Biology
BIO310: Ecology
STA173: Statistical Methods
Students choose two of the following:
CHP260: The City as a Work of Art
ENV350: Natural Resource Management
RTS332: Care for Creation: Christianity, Ethics and the Environment
Students choose one of the following:
BIO390: Environmental Science Internship
ENV360: Hydroponics Practicum
ENV397: Environmental Studies Internship
ENV497: Undergraduate Research
Minor in Environmental Studies
6 courses | 19-21 credits
Required courses:
BIO111: General Biology I or BIO140: Humans and Their Environment (with corresponding laboratory)
BIO255: Conservation Biology
Students choose two of the following:
BIO200: Botany
BIO260: Marine Biology
BIO273: Flora and Fauna of New Zealand
BIO275: Tropical Biology
BIO310: Ecology
ENV360: Hydroponics Practicum
Students choose two of the following:
ENV334: Environmental Justice
ENV350: Natural Resource Management
POL345: International Environment and Development
RTS332: Care for Creation: Christianity, Ethics and the Environment