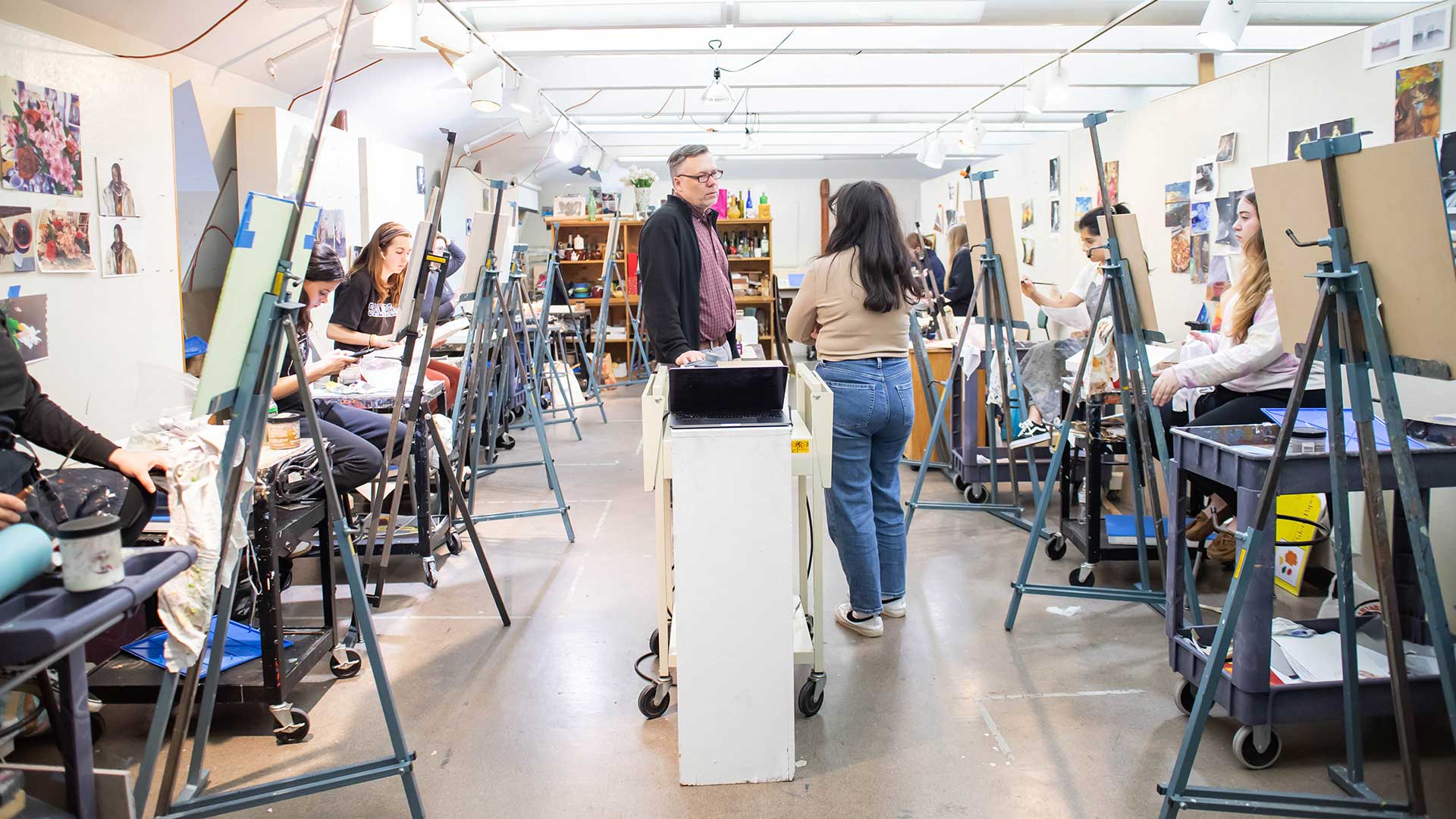 At Salve Regina University, our bachelor's degree in studio art provides unique opportunities for students to develop their creative and practical skills while exploring the theory, practice and history of art. In small class settings, our students customize their study of the visual arts through concentrations in ceramics, graphic design, illustration, interactive media arts, painting and photography.
Develop Your Creativity
Our students receive intensive individual attention, instruction and guidance from dedicated and talented professionals whose studio practice informs their teaching. We encourage students to pursue double or even triple concentrations, providing them with the flexibility and versatility sought by employers in the shifting sands of today's job market.
Outside of the classroom, our students participate in internships that provide them with practical experience and prepare them to work professionally in the field.
Our program provides excellent preparation for graduate work, as well as careers in classrooms, design studios, galleries and museums.
Salve Regina is accredited by the National Association of Schools of Art and Design (NASAD).
Students applying for the studio art major are required to submit a portfolio of 1-5 pieces through their student status page. For help with your student status page, contact admissions@salve.edu.
Program Spotlight: New Challenges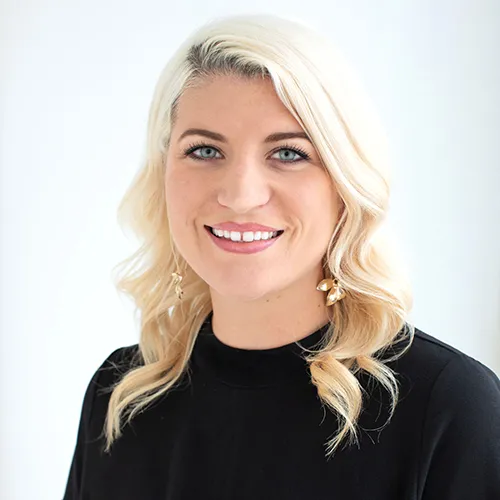 As a senior product development designer for the home decor company Annie Selke, Elise Jones '11 develops bedding, rugs, home decor, wallpaper, accessories, sleepwear and apparel for the company's family of brands while also merchandising the products into seasonal collections. Daily tasks revolve around surface or textile design, such as engineering artwork for vendors to use in creating products. Other responsibilities involve research and ideation for new collections and products, overseeing brand identity design and specialty packaging, and tackling new product design projects.
In my daily design work, I constantly draw from lessons I was taught at Salve in various art classes. Although graphic design is often thought of as a predominantly digital field, the off-screen, hands-on fine arts classes allowed me to hone a hand craft that has enhanced my work overall.
Our vibrant community of student artists explores a wide range of studio arts, including ceramics, graphic design, illustration, interactive media, painting and photography. Our students learn to think critically and develop creative problem-solving skills while producing stunning, professional work. We encourage you to explore, innovate and grow with us.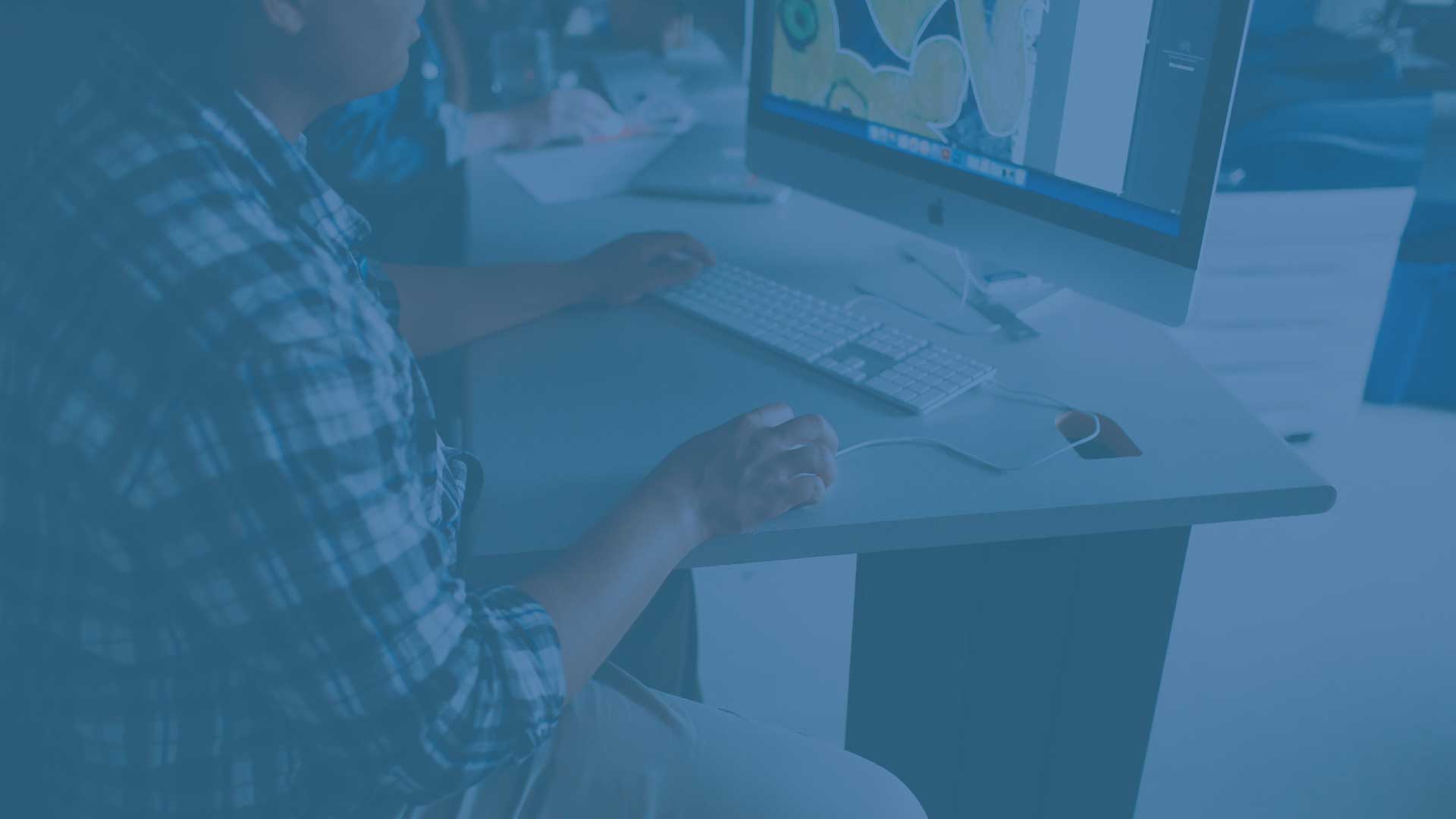 We are a dedicated group of professional artists, scholars, designers and teachers who bring the same passion and vigor we hold for our own work into the classroom. We are committed to helping our students discover their individual strengths and go to great lengths to help them realize their goals.​
A liberal arts-based degree in studio art provides a strong foundation for numerous career paths. While some graduates have become studio artists, regularly showing their work in reputable galleries and museums, others have gone on to successful careers in advertising, marketing and management, museum work and highly visible film and television enterprises such as MTV and PBS.
Salve Regina graduates have worked in nonprofits and public service, with the Peace Corps in Ghana, and as art therapists and teachers. Others have pursued advanced degrees or certificates in the arts and related fields.
Many alumni have double-majored or minored in business, marketing, psychology, English, cultural and historic preservation.
Program Spotlight: Site-Specific Installations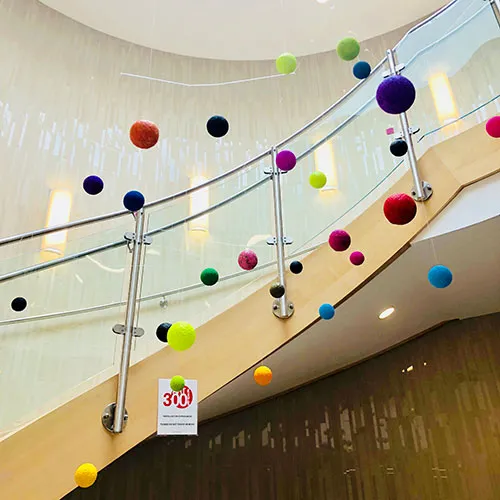 Each spring, site-specific art installations designed by studio art majors as part of their Advanced Studio Concepts course appear throughout campus. The goal of the project is to create a piece on campus that transforms the public's experience of the chosen site. Some works have a political or environmental message, while others are created purely for aesthetic appreciation.
 The students are always excited to have the opportunity to respond to the inspiring natural and architectural environment here at Salve. The students engage in extensive exploration of materials, as well as concept development through interdisciplinary research with professors outside the art department. It is a great opportunity to share the art majors' hard work with the larger Salve community. 
Susannah Strong, assistant professor
Major in Studio Art (B.A.)
17-18 courses | 44-50 credits
  Required courses:
ART074: Woodshop Safety and Tools or ART202: Sculptural Concepts
ART091: Freshman Art Seminar
ART131: Drawing I
ART132: Drawing II
ART200: Drawing III
ART208: History of World Art I: Prehistoric to 1400
ART209: History of World Art II: 1400 to Today
ART218: Introduction to Digital Art and Design
ART300: Advanced Studio Concepts
ART354: Art Theory and Criticism
ART400: Portfolio
ART446: Professional Practices Capstone
Students also choose two electives in art history and complete a four-course concentration in ceramics, graphic design, illustration, interactive media arts, painting or photography.
Majors participate in a comprehensive portfolio review during the spring semesters of their first year and junior year, and are required to participate in the senior exhibition during the spring semester of their final year.
Students who qualify may choose to produce a senior honors thesis in the gallery. Students enrolled in ART445: Senior Honors Thesis must also participate in the regular senior exhibition held in the gallery.
Minor in Studio Art
7 courses | 21 credits
Required courses:
ART131: Drawing I
ART202: Sculptural Concepts or ART231: Ceramics I: Clay, Culture and Creativity
ART208: History of World Art I: Prehistoric to 1400 or ART209: History of World Art II: 1400 to Today
Students also take four elective courses in studio art, chosen in consultation with the department chair.
Our ceramics concentration uses clay as a material for problem solving, in both traditional (functional) or conceptual (sculptural) styles. Skill building, technical understanding and an exposure to 10,000 years of ceramic cultural history are coupled with stretching the limits of students' creative problem-solving abilities.
Required courses:
ART231: Introduction to Ceramics: Clay, Culture and Creativity
ART232: Introduction to Ceramics: Throwing on the Potter's Wheel
ART332: Clay, Glaze and Firing or ART333: Ceramic Surface Decoration
One two-dimensional studio elective
Our graphic design concentration provides an understanding of visual communication concepts, nurtures the ability to critically analyze visual messages, and familiarizes students with the skills and technology available to solve visual problems.
Required courses:
ART202: Sculptural Concepts or ART231: Introduction to Ceramics: Clay, Culture and Creativity
ART241: Introduction to Graphic Design
ART242: Graphic Design for Print
ART341: Concentrated Studies: Graphic Design
Our illustration concentration explores an artistic practice that fully employs the communicative and transformative function of art. Illustration may also serve as a commercial application for skills learned in drawing and painting classes.
Required course:
ART202: Sculptural Concepts or ART231: Introduction to Ceramics: Clay, Culture and Creativity
Students also choose three of the following:
ART244: Introduction to Illustration: Pictures for People
ART246: Introduction to Illustration: Visual Narrative
ART344: Illustrating Worlds: Cyborgs, Aliens and Elves
ART346: Sequential Art: Comics and Graphic Novels
ART356: Illumination: Illustrated Books
Our interactive media arts concentration explores the impact and diversity of the computer as a communication tool. The program includes studies of physical computing, advanced web technologies, gaming, generative art, cartoon animation, digital video and sound editing.
Required courses:
ART202: Sculptural Concepts or ART231: Introduction to Ceramics: Clay, Culture and Creativity
ART220: Introduction to Making Art With Code
ART230: Introduction to Web Design
ART311: Interaction Design
From observational rendering to a more complete understanding of color relationships, our painting concentration leads students through a continuum of challenges to a more sophisticated knowledge of the painter's art and craft.
Required courses:
ART202: Sculptural Concepts or ART231: Introduction to Ceramics: Clay, Culture and Creativity
ART250: Introduction to Painting: Observation and Color
ART256: Introduction to Painting: Constructing Painted Spaces
ART370: Pathways in Advanced Painting or ART375: Mixed Media, Innovation and Exploration
Our photography concentration explores technique with an aim to develop a more personal means of visual expression through both traditional (analog) and digital means. The historic context of the medium - from time motion, and space to the provocative nature of social issues - is presented at all levels of the program.
Required courses:
ART202: Sculptural Concepts or ART231: Introduction to Ceramics: Clay, Culture and Creativity
ART271: Introduction to Digital Photography
Students also choose two of the following:
ART272: Introduction to Film Photography
ART360: Documentary Photography
ART362: Photographic Storytelling: The Photo Book
ART364: The Photographic Portrait