Religious and Theological Studies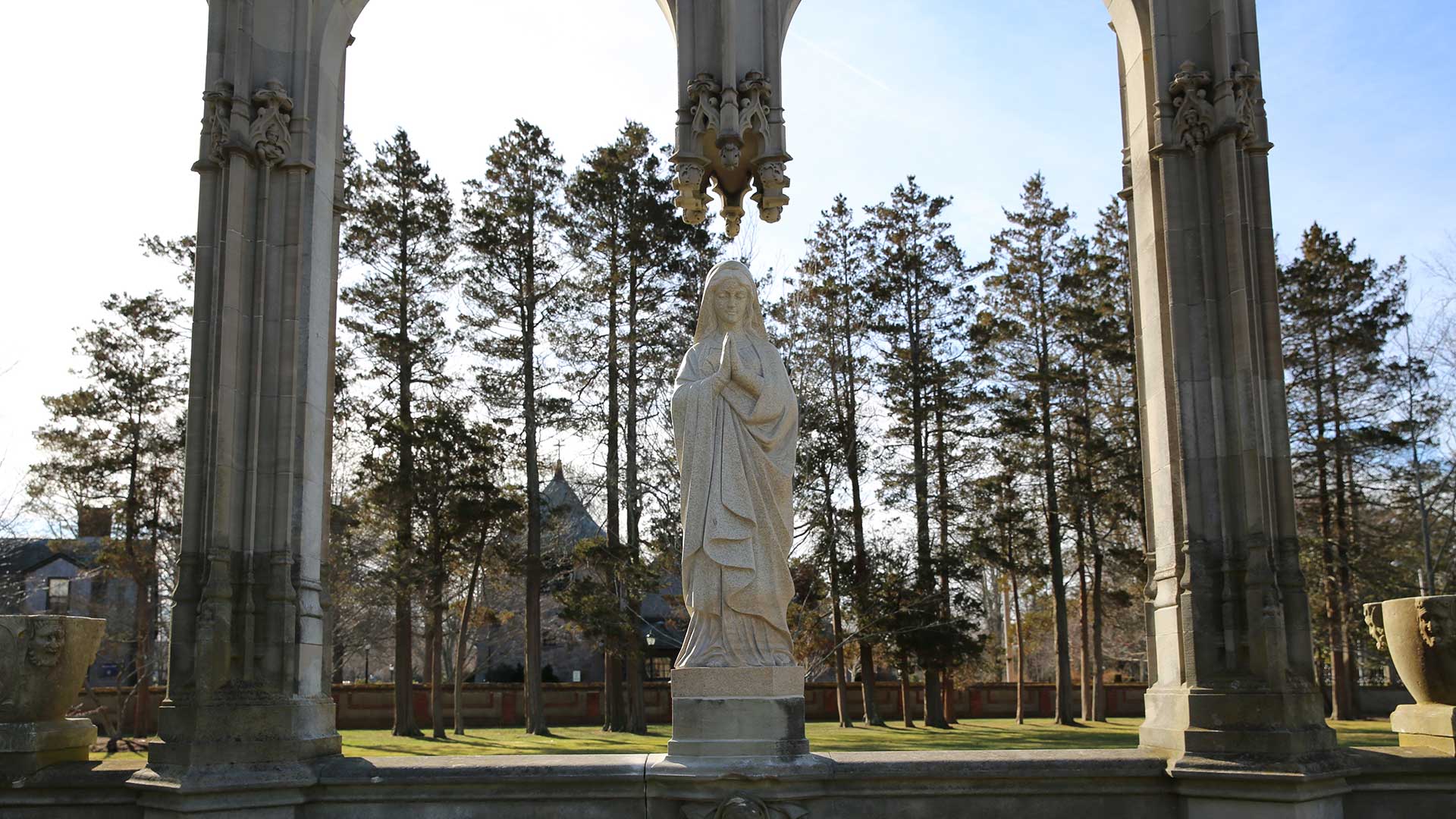 Religious and Theological Studies
Our bachelor's degree in religious and theological studies offers students a deep intellectual engagement with the Christian religious tradition, including our Catholic heritage, as well as a rich, comparative approach to the great religions of the world.
Pursue a Unique and Exciting Field
To both majors and minors, we offer four optional areas of focus - Christian theology, scripture, ethics and world religions - allowing them to choose a path of study that best meets their needs and captures their interests. Beyond the classroom, we sponsor activities that complement our curriculum - from bringing to the University guest speakers who explore the relevant religious issues of the day to sponsoring study abroad courses in destinations such as Belize, Turkey and Israel.
Our graduates possess a strong liberal arts foundation for postgraduate work, including the study of religion, history or law, as well as careers in social services, education, business and church-related contexts.
Program Spotlight: Gritty Questions
The faculty are unparalleled. They're amazing – they get to know each and every student. You really do feel that you can ask them the gritty questions that are inherent to religious studies.
I think that this program has made me a more conscientious and spiritual person. It's brought me a peace of mind that I hadn't known before. I just feel confident going out into the world.
Effie Gianitsos '18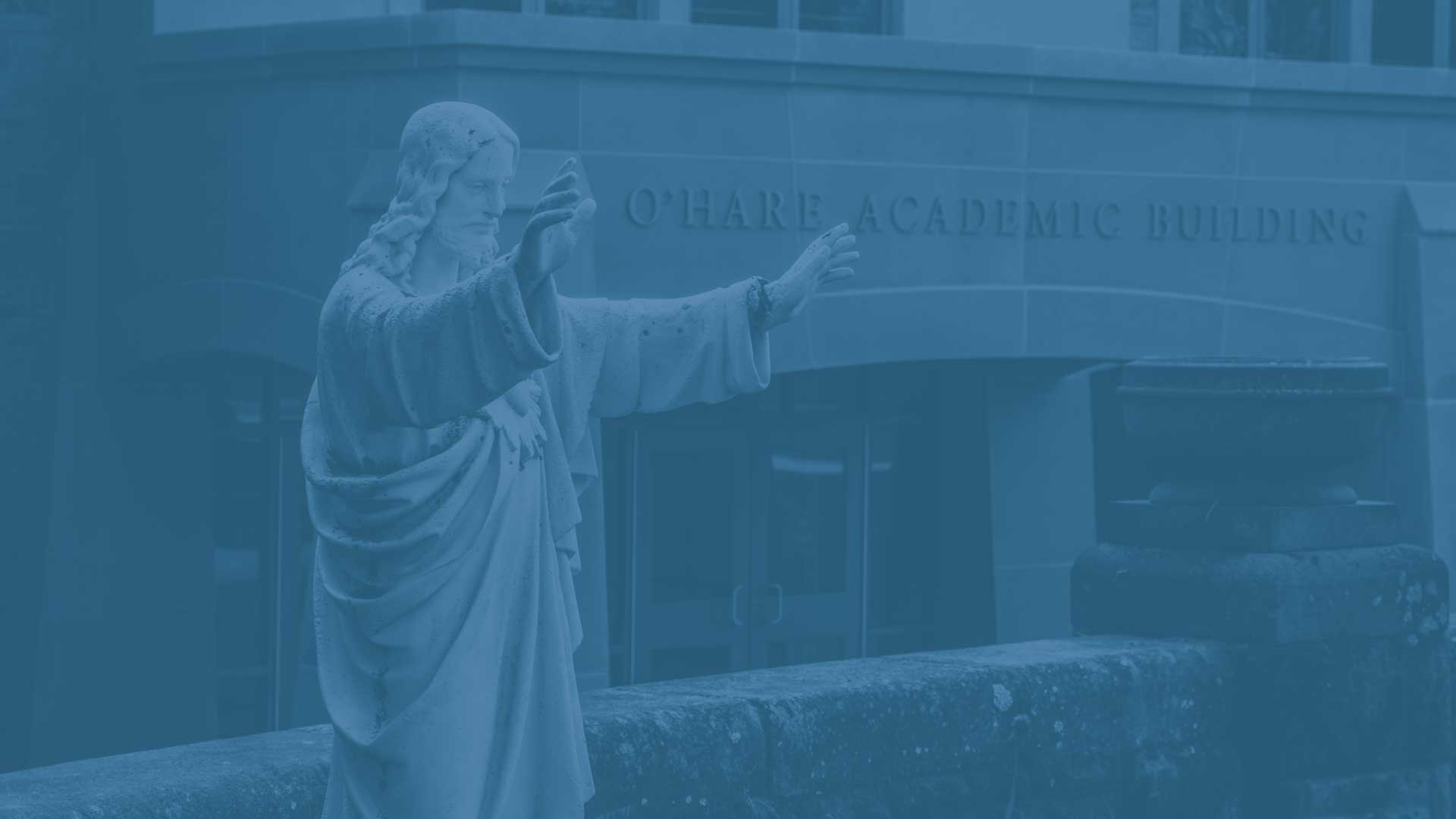 We help students pursue a path in which religious faith and critical thinking are mutually enlightening. This kind of dialogue - across disciplines, cultures and religious traditions - is at the heart of the Catholic intellectual tradition. We embrace this tradition and help students bring their critical and creative intelligence to bear on religious practices and beliefs, particularly as they intersect with daily life.​
A degree in religious and theological studies provides students with fascinating, versatile and challenging coursework and gives them the opportunity to read, discuss and write about serious issues. Students explore the most important aspects of human life, sharpening their liberal arts skills in the process.
Both for-profit and nonprofit companies seek employees who are smart, interesting and quick learners. While employees can be taught necessary technical skills, employers want them to have real exposure to ideas, different worldviews and the ability to speak, read and write effectively. This is precisely what the religious and theological studies degree offers.
In the Workforce
Our graduates have worked successfully in a wide variety of careers, including:
Social services
Conferences and events planning
Legal assistance in major law firms
Journalism
College admissions teams
Community mental health centers
Management positions in for-profit businesses
College Newman Centers
Teaching in private schools, both Catholic and non-Catholic
Graduate School
Our graduates have pursued advanced study in architectural history, business, law, psychology, religion and theology and social work at institutions such as:
American University
Catholic Theological Union
Claremont Graduate University
Harvard Business School
Rhode Island College
Roger Williams University School of Law
University of Maryland
Yale Divinity School
Major in Religious Theological Studies (B.A.)
10 courses | 30 credits
Required courses:
RTS225: The Quest for the Ultimate: Dialogue With Global Religious Traditions
RTS262: What the Bible Really Tells Us: The Essential Course for Biblical Literacy
RTS305: The Spiritual Quest
RTS341: Explorations in Christian Theology
RTS451: The Capstone Experience
Students also choose one course in scripture, one course in ethics and one course in non-Christian traditions, along with two elective courses in religious and theological studies.
Minor in Religious and Theological Studies 
6 courses | 18 credits
Required courses:
RTS225: The Quest for the Ultimate: Dialogue With Global Religious Traditions
RTS305: The Spiritual Quest
Students also choose four elective courses in religious and theological studies.
RTS315: Thomas Aquinas: Background, Thought and Legacy
RTS326: Learning Theology With C.S. Lewis
RTS328: Disability, Vulnerability and Human Flourishing
RTS340: Church in the 21st Century
RTS341: Explorations in Christian Theology
RTS345: Engaging the Catholic Experience
RTS347: Symbol, Icon and Beauty in Religious Traditions
RTS355: Christian-Jewish Relations: From Hostility to Hope
RTS356: Contemporary Christian Spirituality
RTS321: Superheroes, Saints and Sinners: Spiritual Themes in Contemporary Fiction
RTS325: Who is My Neighbor? Mercy in the Christian Life
RTS327: Technohuman? Technology, Genetics, God and the Future of Humanity
RTS332: Care for Creation: Christianity, Ethics and the Environment
RTS334: Global Ethics
RTS335: Social Ethics in a Volatile World
RTS336: Marriage and Family Life
RTS337: Biomedical Ethics
RTS338: Sexual Ethics
RTS339: Friendship, Love and Romance: The Call to Intimacy
RTS262: What the Bible Really Tells Us: The Essential Course for Biblical Literacy
RTS316: The Satan Seminar
RTS364: Understanding the Hebrew Scriptures
RTS365: The Psalms and the Prophets: A Quest for God and Justice
RTS372: Jesus and the Gospels: Who Do You Say That I Am?
RTS374: The Life and Letters of St. Paul
RTS375: Good Girls, Bad Girls: Women of the Bible
RTS345: Engaging the Catholic Experience
RTS381: Engaging the Jewish Experience
RTS382: Engaging the Muslim Experience
RTS383: Engaging the Hindu Experience
RTS384: Engaging the Buddhist Experience