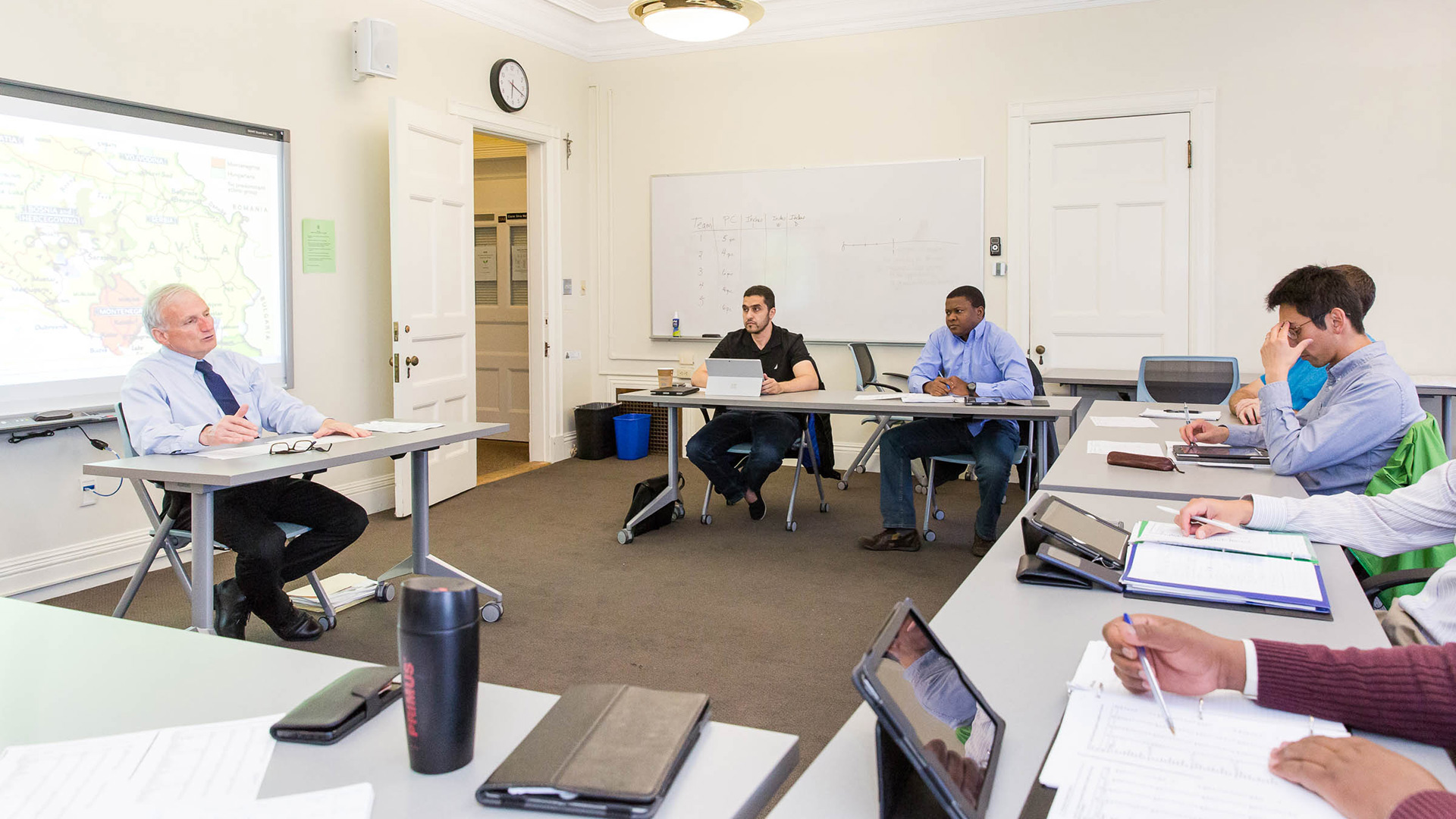 Online M.A. in International Relations
Salve Regina University's online Master of Arts degree in international relations refines the critical and creative thinking skills needed to succeed in the complex field of foreign affairs. Students explore the sophisticated realities of foreign relations and global politics through visionary coursework that tackles political thought and comparative politics to reach toward themes of identity, harmony and conflict.
After completing their master's degree in international relations, our graduates excel in careers with federal and state governments, nongovernmental organizations and multinational businesses. Our versatile program fulfills the professional development needs of military officers and provides excellent preparation for our Ph.D. in international relations.
Aspire Further With a Master's in International Relations
Our online graduate program in international relations inspires a broad and detailed understanding of foreign affairs by building foundational knowledge in politics and history. Committed to fostering student success, our international relations faculty openly share their expertise and professional network with students. Through our popular accelerated program, qualified undergraduates can earn their bachelor's and master's degrees in just five years.
Guided by Salve Regina's mission to promote a harmonious, just and merciful world, our rigorous international relations program develops principled students who offer innovative solutions to the world's political dilemmas.
Time to Complete
18 to 24 months
Application Deadline
Rolling admission
Offered completely online, our 12-course master's degree explores international relations in the context of domestic and global justice. Core courses form a solid foundational and theoretical basis, while critical electives address specific regional and thematic topics of contemporary relevance, interest and importance. Select courses may also be available at our Newport, Rhode Island campus.
Required courses:
INR511: Philosophical Foundations of Politics (offered online in May-June)
INR512: Justice and Order in International Relations (offered online in January-February)
INR513: Comparative Political Development (offered online in July-August)
INR516: Identity, Harmony and Conflict (offered as a hybrid course in October-December)
INR531: Just and Unjust Wars (offered online in September-October)
INR533: International Political Economy (offered online in October-December)
INR542: Dispute and Conflict Resolution (offered online in May-June)
INR552: Terrorism and Transnational Crime (offered online in March-May and on campus in fall)
INR571: International Human Rights (offered online in September-October)
INR572: Complex Humanitarian Emergencies: Prevention and Responses (offered online in January-February)
Students also choose two of the following:
INR522: Integration and Globalization Politics (offered online in March-May)
INR562: International Organizations and Law (offered online in July-August)
INR590: Thesis
INR591: Independent Study/Research
INR592: Topical and Regional Issues in International Relations
INR593: Topical and Regional Issues in Comparative Politics
INR598: Internship
Consider Salve Regina's Online Master's in International Relations
The online M.A. in international relations at Salve Regina prepares students to launch a number of academic, business and military careers through a comprehensive background in foreign affairs.
Prepare for an exceptional future with a master's degree in international relations.
Ready to begin your application? 
Evan Shallcross '20 (M), a naval officer who teaches ship handling to junior officers at Newport's Surface Warfare Officers School, appreciated the flexibility of Salve Regina's master's degree program in international relations.
 There's a pretty good relationship between the international relations program and the military … that was definitely a positive for me. They cater to students who are military. There's a good amount of cross pollination between the educational community and the military here. 
Andrew Loftenses, a graduate student enrolled in Salve Regina's master's degree program in international relations, received a prestigious Boren Fellowship to fund immersive study in Arabic language and culture at the Lirom Language Center in Jerusalem and with the Druze community in Mt. Caramel near Haifa, Israel.
The success in international relations are the human relationships. Completing a period of study in Jerusalem and the Druze community of Mt. Caramel will equip me with invaluable Arabic language skills and cultural exposure. I will use this knowledge to influence effective national security policy for the United States through the duration of what I intend to be a long career in national security at the forward point of friction.