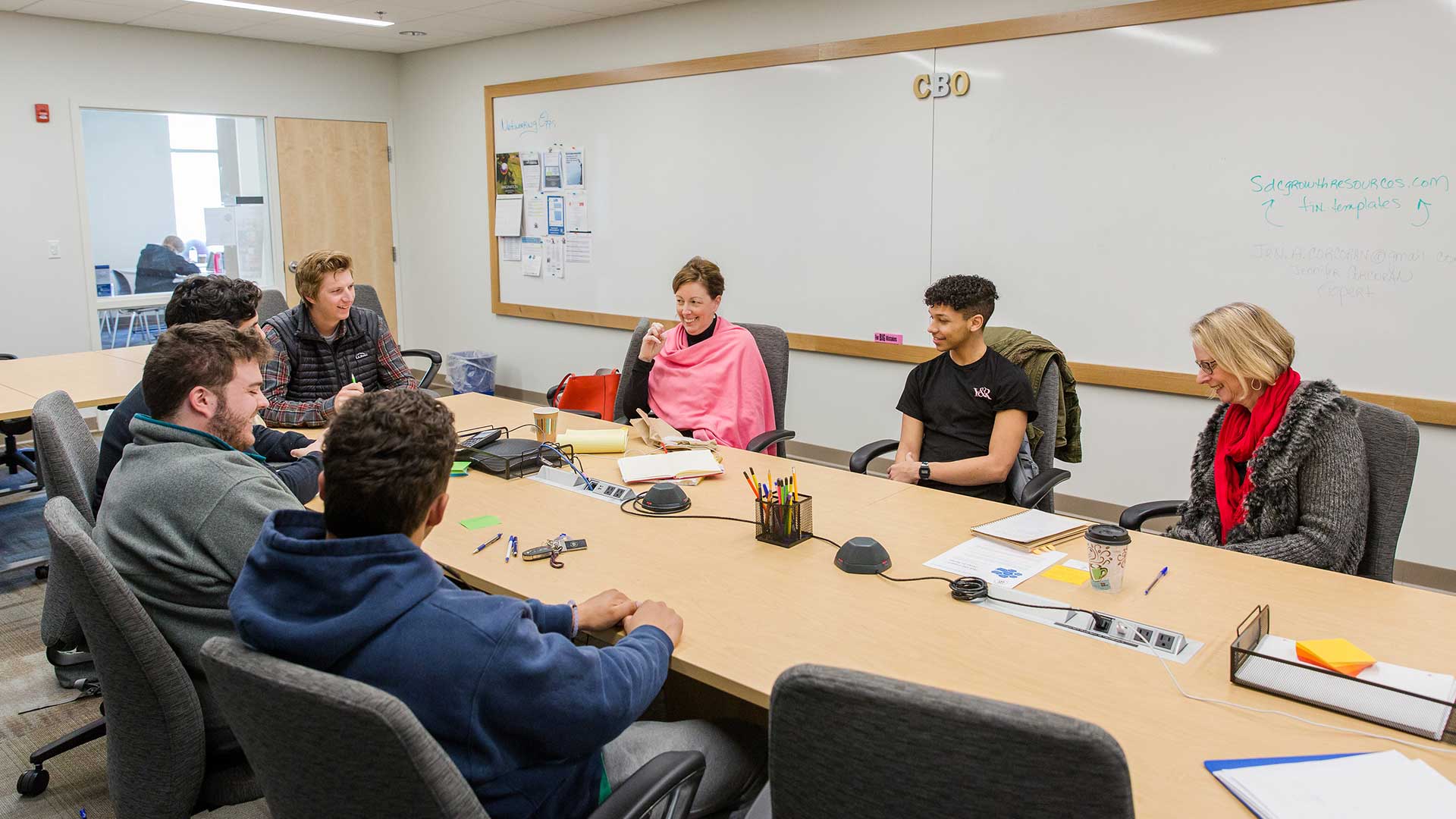 Center for Business Outreach
The Center for Business Outreach provides stimulating, real-world learning opportunities for students throughout their college career. Launched in 2014, the center connects with the greater Newport community by linking business owners, civic and nonprofit organizations, entrepreneurs and the public sector with students, faculty and alumni from the Department of Business and Economics.
Through experiential projects and internships, our students utilize the skills they acquire in the classroom to offer research and solutions to help business owners expand their reach. Students develop business plans, marketing strategies, customer surveys, cost analyses and more – culminating in a report with valuable recommendations and resources.
We network with business owners throughout the U.S. and abroad through roundtables, panel discussions, workshops, guest speaking opportunities, mentoring, mock interviews and more. We also engage alumni and business leaders who serve as entrepreneurial advisors, offering professional expertise to enhance students' perspectives and understanding beyond the classroom.
Mission and Vision
Our mission is to build relationships between employers, alumni and students in preparation for the business world. Our vision is to enhance career readiness, deliver dynamic experiential opportunities, offer entrepreneurial planning for the future and provide the foundation of skills needed for the ever-changing business world.
1,300
Students who have worked with the center
180
Companies that have benefited from our work
80,000
Hours spent on research and solutions
 The Center for Business Outreach is an invaluable resource to both students and the local business community. As an employer who often hires Salve Regina students as interns, I see the center's impact firsthand. Students are given real-world experience working with companies, and local businesses have access to quality student research, dedicated interns and numerous other resources. I am proud to be an alumna of an institution that has recognized this need and implemented it so well. 
Amanda Sousa '13, '14 (MBA), operations coordinator, Farmaesthetics
Demystifying "BP"
Students in the Department of Business and Economics are required to complete Strategic Business Planning - also known as "BP" - and the course commonly strikes a "chord of fear" in business students. Lecturer Sam Sacco explains that while BP is a challenge, it is also a cause for celebration.