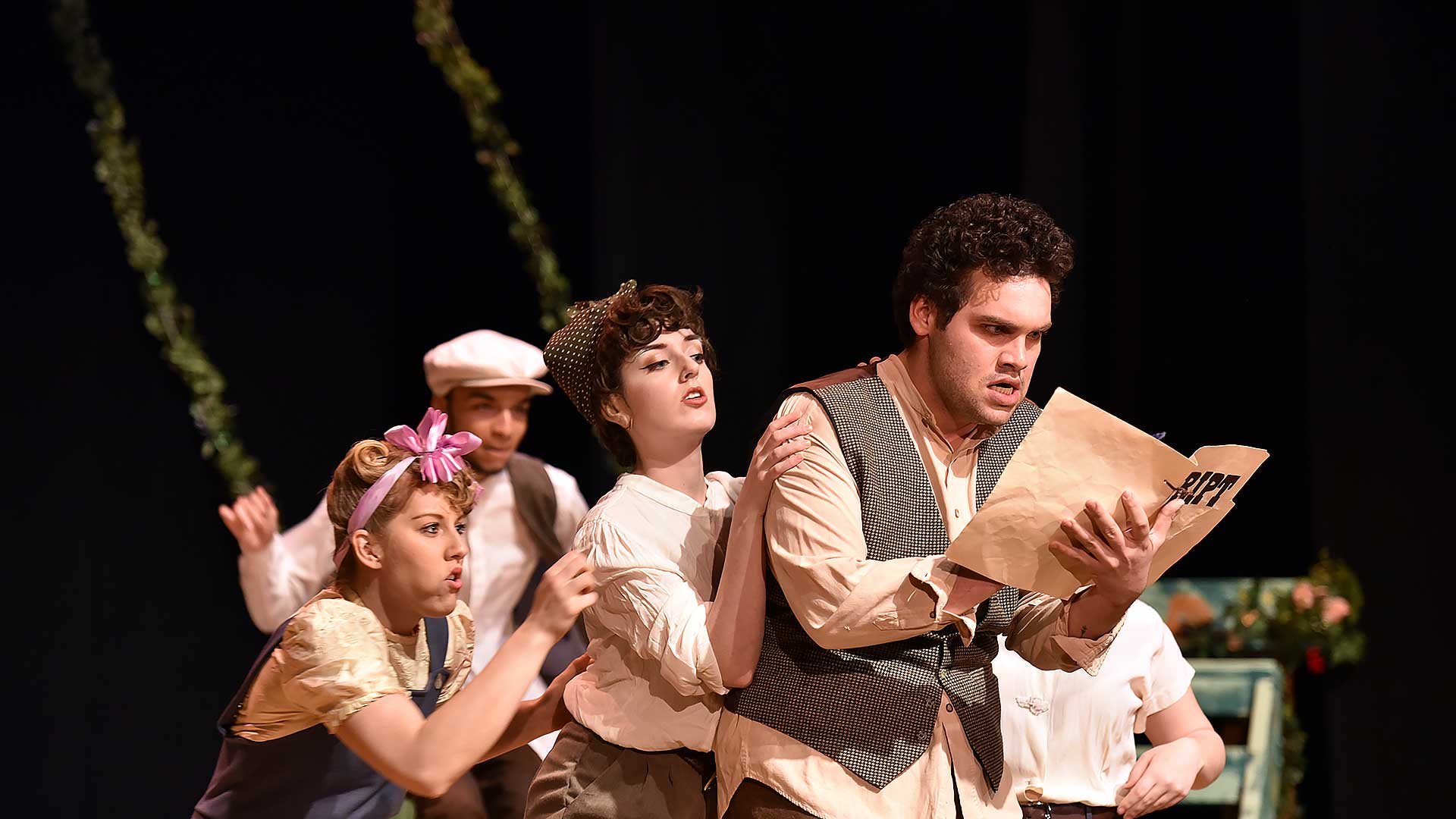 Our bachelor's degree in theatre arts provides a comprehensive foundation in the field, with courses in acting, stagecraft and theater history. Students have access to extensive onstage and offstage training, which results in well-rounded artists who are prepared for any position in the theater.
Realize Your Artistic Potential
From dark comedies and suspense-filled dramas to timeless romances, musicals and tragedies, our performance program offers immediate opportunities for both onstage and classroom experiences. We stage three faculty-led productions each year, as well as two student-led shows through our student organization, StageFright. Our students have opportunities to be involved with every aspect of the production, including costumes, sets, lighting and sound.
Our students develop specific competencies that are essential to success in a variety of careers, including performance and presentation skills; strong verbal and written communication skills; the ability to work individually and collaboratively under pressure; project management and leadership skills; creative problem-solving skills; critical thinking skills and the ability to listen, clarify, question and respond with confidence.
Majors who are interested in a professional career or who plan to attend graduate school may pursue individual concentrations in acting and technical theater, which offer the highest levels of creative work and opportunities to work with professionals in the industry.
Program Spotlight: Newport's Company
It's not just college theater. They don't treat us like we're students – we're treated like professionals and we're expected to have that level of professionalism. There's so much potential, so much talent that flows in this place. Every year, we pick different shows that push us even further.
Daniel Landino, psychology and theatre arts major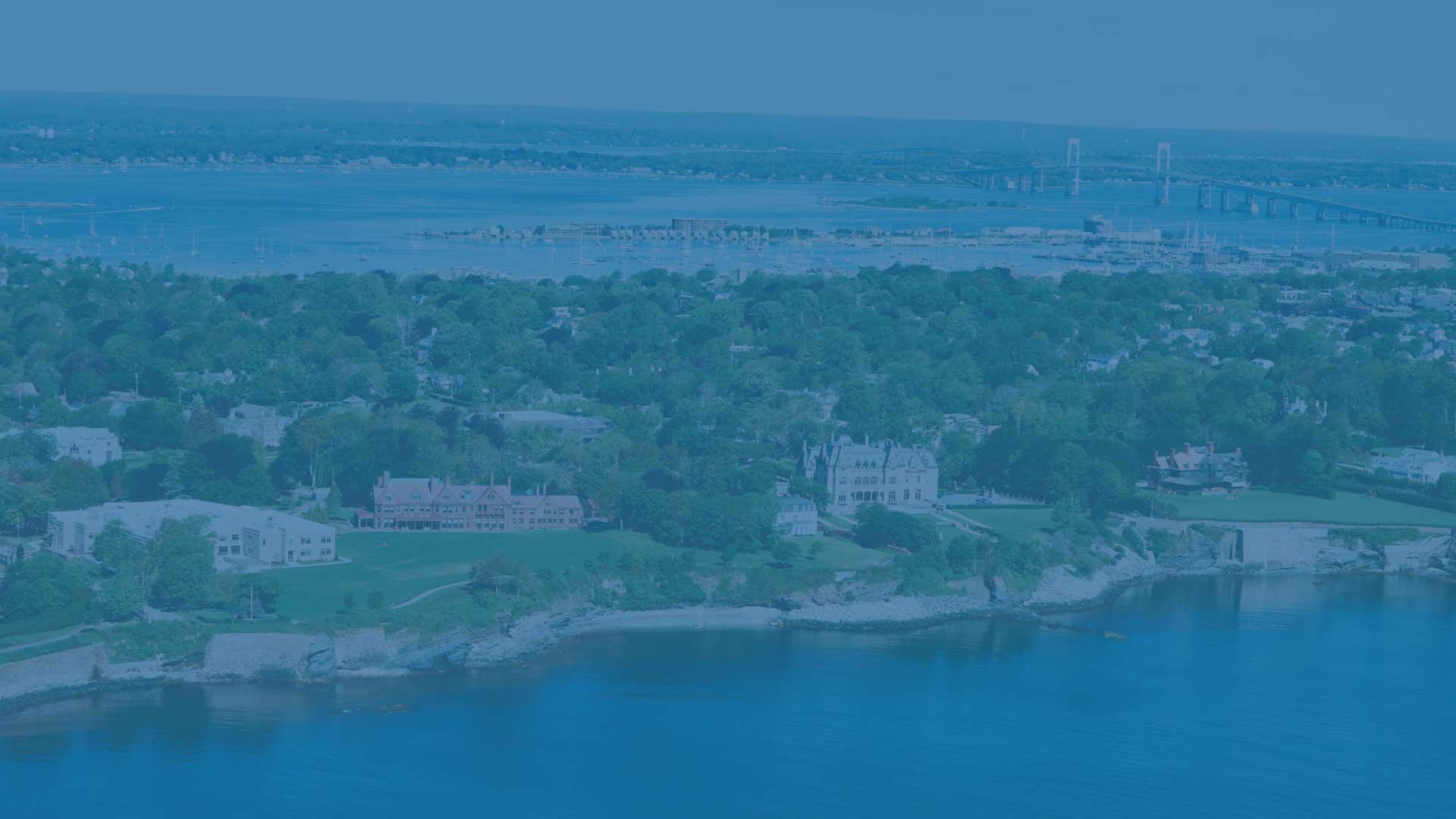 Students interested in theater explore the theoretical and pragmatic aspects of theatrical productions through both analysis and performance experience. Our talented professors shape hybrid artists with a top-level theater education designed for success in the boardroom, the courtroom or the greenroom.​
A broad liberal arts education in theater produces graduates who are adaptable and self-directed and serves as a foundation for future development as thinking artists and productive citizens. Our graduates are well prepared for a lifetime of appreciation, participation and further study in the performing arts. Our graduates have gone on to successful careers in the arts, business, education, government, performance, publishing, and much more.
Professional actor: Graduates are members of the Actors Equity Association and the Screen Actors Guild and work across the country, from New York City to regional theatre to Broadway touring companies.
Teacher: Some graduates receive their certification and serve in public classrooms, while others are teaching artists in after-school and summer programs. Some have started their own educational theater companies to bring interactive drama to students.
Arts administrators: Graduates are marketing directors, grant writers and arts managers at theater companies large and small.
Graduate school: Students with a bachelor's degree in theatre arts are qualified to apply to graduate programs for the MFA in acting, directing or design or the Ph.D. in theater history or dramaturgy. Others pursue graduate study in a wide variety of disciplines.
Graduates may consider the following careers:
Actor
Arts administrator
Community arts worker
Drama therapist
Radio presenter
Stage manager
Teacher
Television production assistant
Theater director
Major in Theatre Arts (B.A.)
14 courses | 40 credits
Required courses:
ENG325: Studies in Shakespeare
THE004: New York Theatre
THE101: Introduction to Theatre Arts
THE102: Beginning Acting
THE135: Stagecraft
THE211: Theatre History I
THE212: Theatre History II
THE318: Stage Management
THE384: Dramatic Theory and Criticism
THE461: Directing Theory and Action
THE485: Thesis Preparation
THE490: Senior Thesis
Students also choose two of the following:
THE231: Makeup for Stage and Film
THE241: Script Analysis
THE265: Stage Combat
THE343: Theatre for Children and Youth
THE360: Production I
Majors are required to participate in a minimum of four main stage productions, two on stage and two behind the scenes.
Minor in Theatre Arts
8 courses | 18 credits
Required courses:
THE004: New York Theatre
THE101: Introduction to Theatre
THE102: Beginning Acting
THE135: Stagecraft
THE212: Theatre History II
THE311: Introduction to Scenic Design
THE320: Acting in Film and Television
THE430: The Business of Acting
Minors are expected to participate in two main stage productions, one on stage and one behind the scenes.
Our acting concentration is an immersive, challenging and transformative pursuit. Acting is at the very heart of storytelling in both theater and film, and today's actors need to be well-rounded, resourceful and able to move fluidly between platforms. Our students spend their days in classes, while their evenings are spent rehearsing, performing and participating in a myriad of other ways on both student- and faculty-led projects.
Our concentration introduces students to acting methods that improve technique and provide opportunities for direct feedback, which is essential to growth in the craft. Our goal is for each student to be prepared for the next step: auditions in the professional and community world, and the possibility of further schooling.
Additional required courses:
THE201: Voice and Diction
THE202: Intermediate Acting
THE301: Scene Study: Classical Theatre
THE302: Advanced Acting
THE320: Acting in Film and Television
THE430: The Business of Acting
While coursework explores the worlds of stage management, theater construction and design, production experience allows students to practice their skills behind the scenes and in the control booth. A technical theatre concentration lets student learn about multiple aspects of design as well as focus on one area of their choosing. Students can put their knowledge to practical use in our student employment program, focusing on construction or box office management.
Additional required courses:
THE231: Makeup for Stage and Film
THE311: Introduction to Scenic Design
THE318: Stage Management
THE334: The History and Use of Costume on the Stage