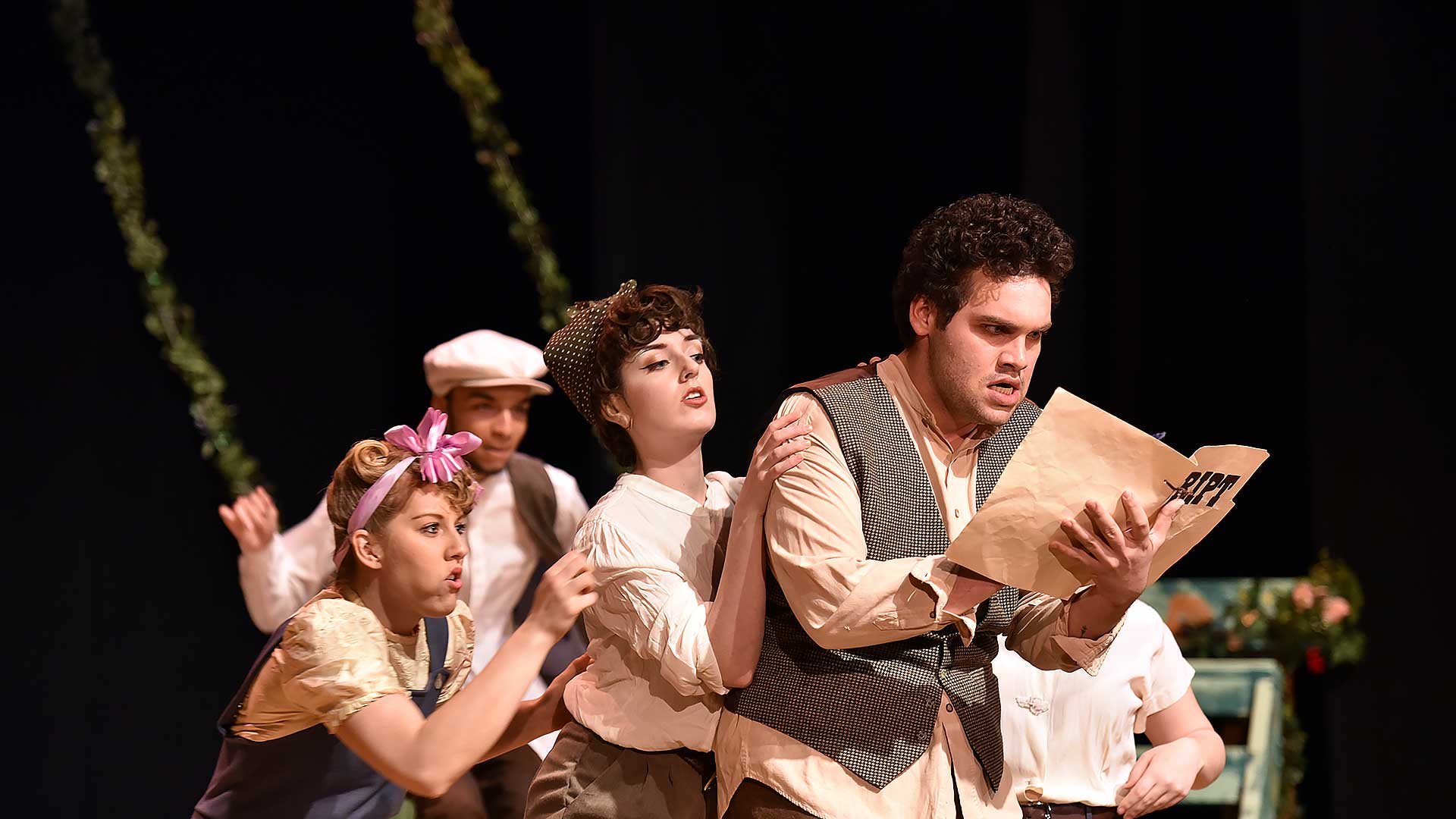 At Salve Regina University, our bachelor's degree in theatre arts offers a foundational education through a lens of equity and identity. Whether they are studying dramas, performing in or designing productions, or seeking to serve communities, our students learn the value of theater as a tool for positive change. With empathy at the heart of our theatre arts program, we foster an atmosphere for risk-taking and provide encounters that challenge students to dig for understanding and self-awareness.
Discover Who You Are at Salve Regina
Students who major or minor in theatre arts engage with three branches of curriculum, creating discovery-based pathways toward understanding the role of identity and representation in theater.
Dramatic literature courses connect students with cultures and performance styles from around the globe as well as with historically marginalized communities who have used theater to portray their experiences. Through community engagement courses, students listen to those who have felt unheard and use theatrical means to collaborate and seek change. Production courses focused on acting, technical design, directing and playwriting equip students with the knowledge and skills necessary to practice professionally.
Salve Regina's theatre arts program empowers students to give back through their craft. It's about discovering who you are, who others are and what others need from you as a theater artist. As an academic program inspired by the University mission, we ask how theater can be of service and reflect on our own practices of equity, identity and representation – and their impact on the world.
"The Bible Women's Project" wins national college festival awards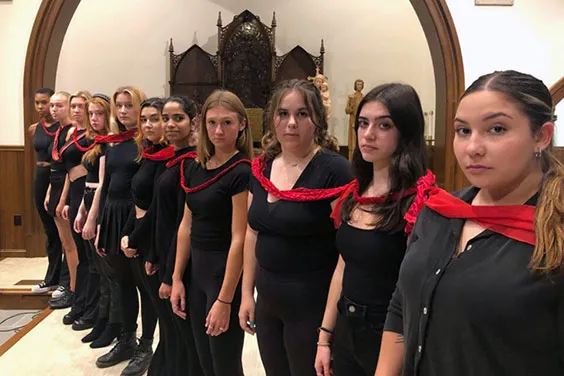 The theatre arts program's production of "The Bible Women's Project" recently received three national awards from the Kennedy Center American College Theatre Festival: Citizen Artist Award, Distinguished Performance Ensemble and Distinguished Devised Play.
"I've been so proud of our students with the bold shows we've produced, but the vulnerability and risk-taking that 'The Bible Women's Project' cast had to do when they performed this show made me particularly humbled that they continued to give themselves to this work," said Dr. Tara Brooke Watkins, assistant professor and program coordinator.
Students make history performing on Broadway in "Children of Eden"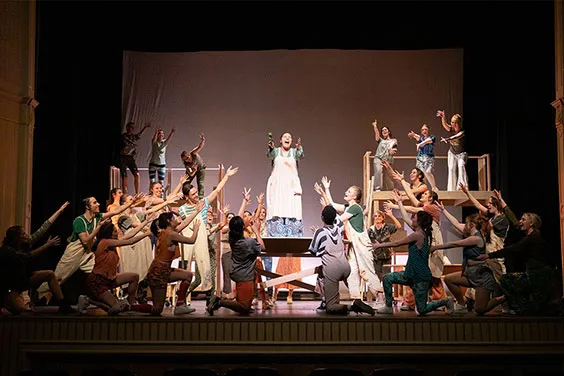 For the first time in the history of Salve Regina's theatre arts program, 22 students will perform on Broadway in a concert production of "Children of Eden," a musical by the famed Stephen Schwartz.
"When I found out that our Salve cast would perform at the Lincoln Center with famous actors, it took me a moment to realize that I would actually be performing on Broadway – and when I told my parents, they could not have been more proud," said theatre arts major Matthew Desorcy. "It's a dream come true."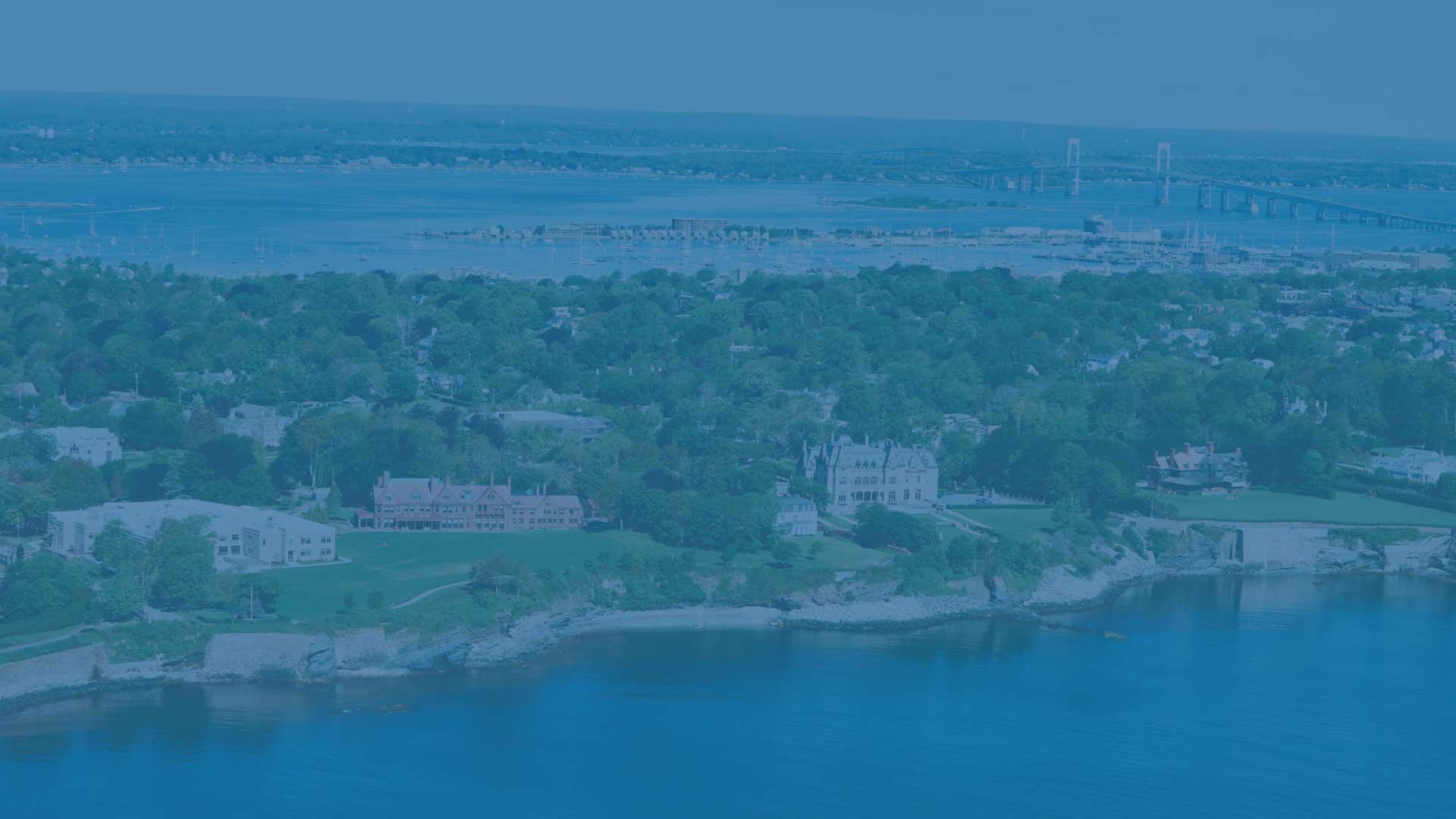 Students interested in theater explore the theoretical and pragmatic aspects of theatrical productions through both analysis and performance experience. Our talented professors shape hybrid artists with a top-level theater education designed for success in the boardroom, the courtroom or the greenroom.​
A broad liberal arts education in theater produces graduates who are adaptable and self-directed and serves as a foundation for future development as thinking artists and productive citizens. Our graduates are well prepared for a lifetime of appreciation, participation and further study in the performing arts. Our graduates have gone on to successful careers in the arts, business, education, government, performance, publishing, and much more.
Professional actor: Graduates are members of the Actors Equity Association and the Screen Actors Guild and work across the country, from New York City to regional theatre to Broadway touring companies.
Teacher: Some graduates receive their certification and serve in public classrooms, while others are teaching artists in after-school and summer programs. Some have started their own educational theater companies to bring interactive drama to students.
Arts administrators: Graduates are marketing directors, grant writers and arts managers at theater companies large and small.
Graduate school: Students with a bachelor's degree in theatre arts are qualified to apply to graduate programs for the MFA in acting, directing or design or the Ph.D. in theater history or dramaturgy. Others pursue graduate study in a wide variety of disciplines.
Graduates may consider the following careers:
Actor
Arts administrator
Community arts worker
Drama therapist
Radio presenter
Stage manager
Teacher
Television production assistant
Theater director
Stagefright Theatre Company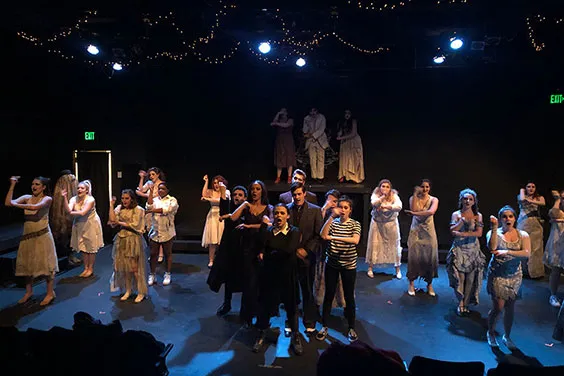 For students interested in writing, directing or producing their own work, StageFright is the place to do it all. Each year, StageFright produces two student-run productions and has also organized playwriting festivals, cabarets and workshops focusing on different aspects of the art form, such as stage combat or viewpoints.
Past shows have included "Urinetown," "Guys and Dolls," "The Addams Family," "Spring Awakening," "Seussical" and "The 25th Annual Putnam County Spelling Bee." Students from all disciplines are encouraged to participate in any way they choose, including directing, performing and designing.
Major in Theatre Arts (B.A.)
14 courses | 36-38 credits
Required courses:
THE102: Foundations of Acting
THE105: Multicultural Drama and Performance
THE135: Stagecraft
THE203: Voice and Movement
THE218: Stage Management
THE220: African American Drama or THE221: Gender and Sexuality in Theatre
THE246: Theatre and Community Engagement
THE364: Directing
THE384: Dramatic Theory and Criticism
THE399: Special Topics
THE431: Theatre as a Profession
THE485: Senior Thesis Preparation
THE490: Senior Thesis Project
Students also choose two one-credit courses and one three-credit course from available concentrations or special topics. Majors are required to participate in a minimum of four mainstage productions, two on stage and two behind the scenes.
Minor in Theatre Arts
18 credits
Two of the following courses are required:
THE102: Foundations of Acting
THE135: Stagecraft
THE246: Theatre and Community Engagement
One of the following courses is required:
THE105: Multicultural Drama and Performance
THE220: African American Drama
THE221: Gender and Sexuality in Performance
Students choose nine additional credits from a list of theatre arts offerings and in consultation with their advisor. Minors are expected to participate in two mainstage productions, one on stage and one behind the scenes.
Theatre Arts Concentrations
Students who wish to train as professional actors are highly encouraged to add the acting concentration. Professional theater companies seek actors who can interpret classical and modern texts like William Shakespeare, Anton Chekhov and Arthur Miller, but they also insist that those same actors bring physical skills like clowning, mask work, Viewpoints and impulse trust. Students who pursue the acting concentration learn and practice an array of skills, from classical acting to movement theater to film and television performance.
Requires an audition for acceptance or permission from the program coordinator. 
Required courses:
THE115: Auditioning
THE215: Movement Theatre
THE317: Realism in Acting
THE415: Acting for Film and Television
Regular participation in THE360: Production may substitute for any of the above courses.
The musical theatre concentration is designed for students who wish to perform musical theater in a more professional manner. Students explore realism in acting and musical theater auditioning, along with courses in rhythm-generated jazz, musical theater dance, music theory, chorus. They may also opt to take private voice lessons or an additional dance course.
Requires an audition for acceptance or permission from the program coordinator.
Required courses:
DNC124: Dance for the Musical Theatre
DNC231: Rhythm-Generated Jazz Styles and Techniques
MSC211: Musicianship I
MSC244: Choral and Vocal Methods
THE115: Auditioning
THE317: Realism in Acting
Students choose one additional dance studio course or vocal course to complete their remaining credits.
Students often enter college with a limited understanding of the many ways they can contribute behind the scenes. The technical theatre concentration develops foundational design and execution skills in set, costumes, lighting and hair and makeup. Students can also receive credit for taking leadership roles in mainstage productions, which is essential for an early-career professional. Students who pursue the technical theatre concentration are well prepared for internships, assistant technical positions and MFA pathways.
Requires an interview and portfolio presentation for acceptance or permission from the program coordinator.
Required courses:
THE231: Makeup for Stage and Film
THE337: Costume and Props Design
THE368: Theatre Production
THE435: Scenic and Lighting Design