Welcome to Our New Look
That Celebrates Our History and Our Future
Explore the Meaning Behind Our New Identity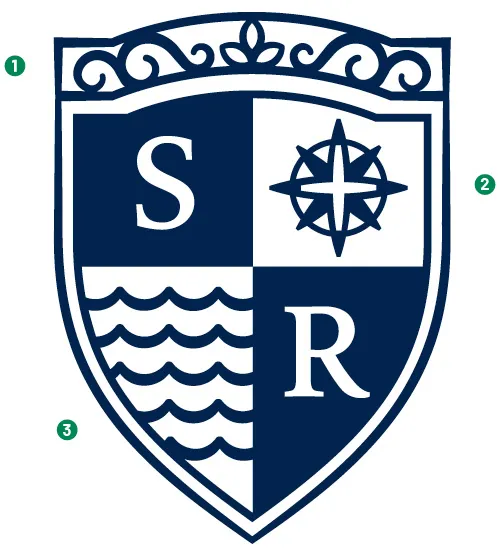 1. Scrollwork
The open gates of Ochre Court, the iconic heart of our campus, symbolize the start of our students' academic journey and the celebration of their achievements at graduation. Along the way, the University welcomes students to open their minds to intellectual pursuits and critical thought through teaching and research.
The founding Sisters of Mercy were intentional in ensuring that the gates would remain open, inviting students across generations to join a community of learners who make a difference by turning empathy into action.
2. Compass
The compass symbolizes the University's strategic vision and mission to prepare students to navigate their lives with enduring values, address complex critical concerns, and work for a world that is harmonious, just and merciful. The compass also represents a dedication to the core values and guiding principles that serve as the foundation for Salve Regina's transformative educational experience. As the University continues to rise in distinction, these ideals will inspire innovation across curricular and co-curricular programming.
Embedded in the compass, the Mercy Cross symbolizes the University's commitment to its Catholic heritage and the vision of its founders. Welcoming people of all beliefs, Salve Regina is dedicated to creating a community of belonging, compassion and mercy.
3. Water
The ocean waves symbolize Salve Regina's distinctive location and deep connection to its home in Newport, Rhode lsland. A rich history of collaboration between the University and the surrounding community illustrates the ways in which students are shaped by vast opportunities for experiential learning and service.
Our students learn, live and make a difference in their home away from home through fieldwork, clinical placements, internships, research, volunteerism and more – an impactful exchange between the campus community and the City by the Sea.
Brand Tools and Guidelines
Delivering a Total Brand Experience 
Salve Regina's brand guidelines outline the appropriate usage of logos and graphic elements, and ensure that all official communications present a clear, consistent and recognizable institutional image.
Self-Service Tools and Resources
The Office of Marketing and Communications offers a variety of self-service tools and resources to assist office and departments in ensuring that a total brand experience is delivered throughout the University.