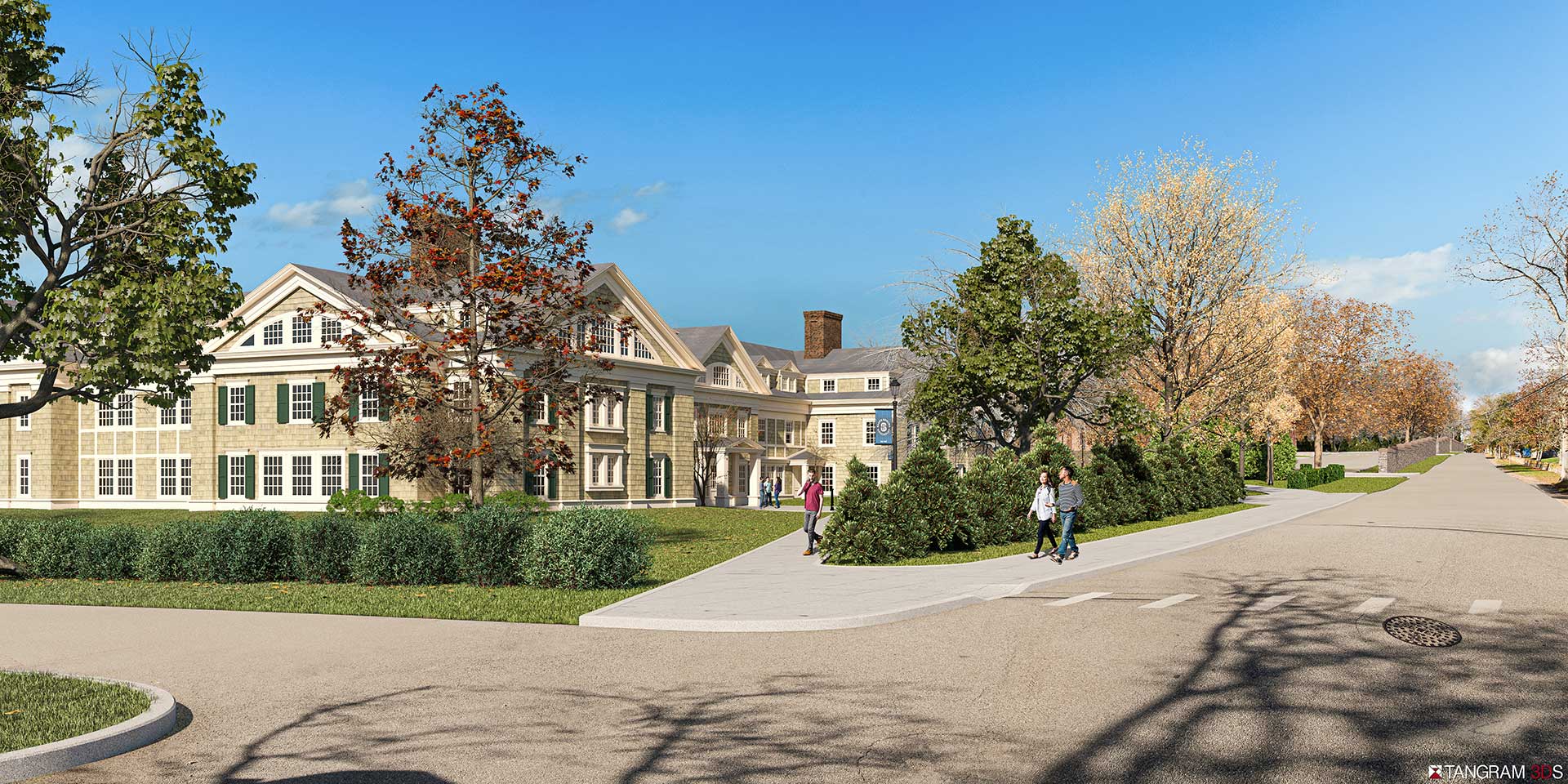 Residence Hall Project
Building A
Salve Regina's proposed residence hall project follows a longstanding and constructive relationship with the city of Newport that reflects the historic, cultural and educational landscape that has come to define our coastal community for students, residents and visitors alike.
Continuing with its award-winning tradition of preserving, adapting and building structures that complement Newport's historic Bellevue Avenue-Ochre Point/Cliffs district, the University has proposed two thoughtfully designed residence halls with input from neighbors, outside architects and historic preservationists.
Salve Regina's long-term objective is to house 75 percent of its undergraduate population on campus. This is feasible through the relocation of the junior class from off-campus housing to on-campus residences.  
The residences are planned on University-owned land that is zoned precisely for this type of use. The project, which will generate 300 new jobs and bolster the University's $1.2 million in annual payments to the city by an additional $141,000, requires no variances as the buildings are concurrent with the longstanding character and use within the historic district.
"Building A" Video Overview
A Message From Dr. Kelli J. Armstrong
Salve is about providing a deep and transformative experience for our students where they not only learn deeply within the classroom but they have a corresponding co-curricular experience. The residence hall project is a linchpin to creating that holistic and intentional learning environment. This generation of students is very actively engaged and involved, and it's really important to them to be on a campus where they can live, learn and interact with our faculty and our staff.
The residences are planned on University-owned land that is zoned precisely for this type of use, requiring no variances. The project will generate 300 new construction jobs and will bolster the University's $1.2 million annual tax-related payments by an additional $141,000.
It is the University's responsibility to offer housing options for our students. Bringing our junior class onto campus is also consistent with the goals of Newport's comprehensive plan to free up housing for full-time residents and alleviate pressure on city services, including fire and police.
The proposed construction will not adversely affect the historical significance, integrity or character of the district as a whole. The new construction aligns with and is complimentary to the University's historic neighborhood. Additionally, the removal of the nursing home annex to the William Watts Sherman house will help bring this historically significant, National Historic Landmark back to its original design.
Research shows that development of higher education facilities – including residence halls – increases surrounding property values. Salve Regina's careful maintenance of historic campus buildings is also a benefit for neighbors and all city residents.
One car-one space policies for resident students will reduce daily neighborhood traffic and street parking pressures while encouraging a more pedestrian campus with development of internal pathways for students and the community.
Historic William Watts Sherman House
If approved for building A, the University can also finally remove the former nursing home annex that existed prior to Salve Regina's purchase of the historic William Watts Sherman House, bringing it closer to its original design. 
The William Watts Sherman House, erected in 1875-1876, is the prototype of the shingled Tudor Manor House in America. Designed by Henry Hobson Richardson, this current residence hall on the Salve Regina campus is generally considered to be one of Richardson's masterpieces of domestic architecture. It is a National Historic Landmark, in addition to being listed on the U.S. Register of Historic Places.