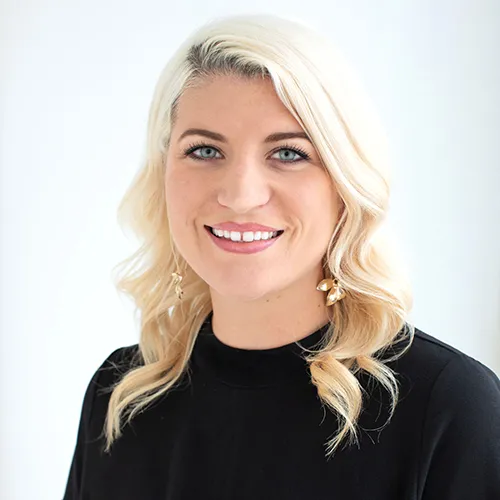 If you are someone who shows up, works hard, delivers quality work on time, and desires recognition and appreciation for artistic endeavors and achievements, choose Salve's art program. If you are seeking lifelong friendships with fellow creatives and a supportive community of mentors in the field of art, choose Salve's art program. If you want to learn a wide variety of skills that will support the major you choose in ways you wouldn't have imagined, choose Salve's art program. If you want to start a journey to success through a fulfilling creative career, choose Salve's art program.
Having already worked in advertising for the health care space, Elise Jones '11 was looking for new challenges after earning her MFA in graphic design from Boston University in 2016. "My goal was to find a position with a company that developed products and represented a lifestyle which I felt personally connected to," she said.
Jones soon joined Annie Selke, a home decor company based in Massachusetts, as a senior designer working on the retail catalog. "Small product design projects would come my way, and I realized I enjoyed the new design challenges that came with those assignments," she said. "Shortly after, I joined the product development department as a designer."
Her current work as a senior product development designer includes developing bedding, rugs, home decor, wallpaper, accessories, sleepwear and apparel for Annie Selke's family of brands while also merchandising the products into seasonal collections.
Daily tasks revolve around surface or textile design, such as engineering artwork for vendors to use in creating products. Other responsibilities involve research and ideation for new collections and products, overseeing brand identity design and specialty packaging, and tackling new product design projects.
"In my daily design work, I constantly draw from lessons I was taught at Salve in various art classes," said Jones, who majored in studio art with a concentration in graphic design. "Although graphic design is often thought of as a predominantly digital field, the off-screen, hands-on fine arts classes allowed me to hone a hand craft that has enhanced my work overall."
She transferred to Salve as a sophomore who had previously studied business. Jones called the studio art program the University's "hidden gem" and noted its unique sense of family. "The support system I gained there was the perfect foundation for me to build my voice and confidence as an artist upon, and I continue to benefit from those relationships in my life every day," she added.
Jones said she finds herself applying her Salve degree to all areas in life, both professional and personal. "The work I do in my career requires me to continuously utilize my degree including, but not limited to, knowledge of design software, all graphic design skills, design thinking and constructive critiquing," she said. "My degree is the official certification of my ultimate passion in life."