Mary Brown
Sociology and Anthropology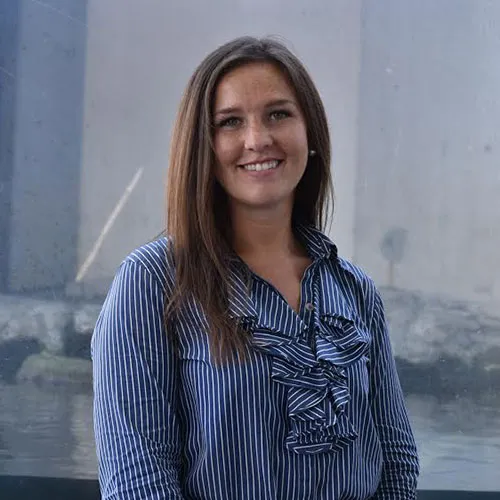 Mary Brown '16 grew up in a small town in Maine, but her experiences at Salve Regina led her on a remarkable journey that has taken her all across the world.
Brown, who majored in sociology and anthropology with minors in global business and economics and global studies, chose Salve Regina because she loved the atmosphere and the small college feel. "It was nice because I had a lot of one-on-one time with nearly all of my professors," she said.
She was also in the Pell Honors Program, which provided a communal atmosphere and helped her network with faculty and students. "The professors that were involved in the Pell Honors Program always wanted us to succeed, and they wanted to push us academically," Brown said. "They were focusing on our future and what we were going to do."
The Pell Honors Program requires students to pursue a study abroad program, academic internship, sponsored research or professional fieldwork as an upperclassman. During her junior year, Brown studied abroad in Florence, Italy. "I traveled around and experienced Italian culture through an anthropologic lens," she said. "It was super monumental to my whole life. It ended up being very impactful for my trajectory."
After graduation, Brown spent a few months in Vietnam volunteering at a boarding school, where she helped to organize and navigate their library system. She next worked for CAPA The Global Education Network in Boston, where she helped to create study abroad programs for students, families and universities. "I liked the study abroad feel," Brown said. "I liked the idea of having that as the foundation of an educational experience."
In 2019, Brown moved to the Netherlands to pursue a master's degree in cultural anthropology and sustainability at Utrecht University. She studied sustainability from a scientific standpoint and dove more deeply into questions around climate change. Brown also spent time in Germany studying climate activists and a land occupation in the Hambach Forest.
"I went with the intention of studying how activists use hope," she said. "I studied use of hope as a tool, and how they use hope to develop ideas of what their future is."
Brown earned her master's degree in 2020, but has remained in the Netherlands and is currently teaching English to refugees and other students. Overall, she credits her Salve Regina experience and the Pell Honors Program in particular for inspiring her journey and allowing her to encounter unexpected people and places.
"Being in the Pell Honors Program elevated education for me to make it more engaging and more meaningful to my actual life," Brown said. "I gained a stronger education because of it."