The Newport Jazz Summer Camp at Salve Regina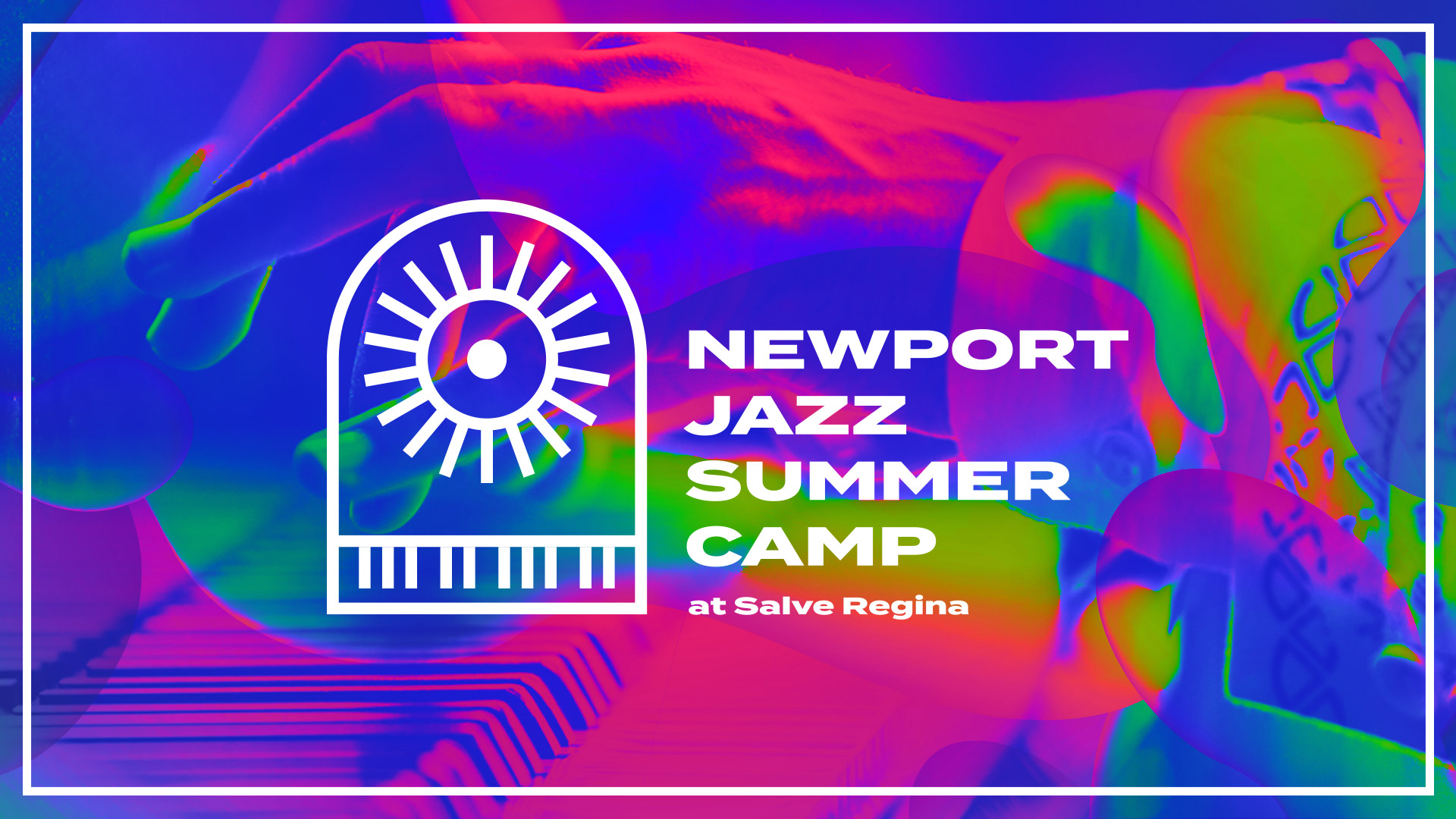 July 31 to Aug. 5, 2023
The The Newport Jazz Summer Camp at Salve Regina is an exciting opportunity for high school students to learn from experienced music educators and discover the depths of their talent.
This year's camp will include performance master classes focusing on jazz theory and improvisation, small ensembles and big band, culminating in a final recording project. Students will receive a ticket to the Newport Jazz Festival at Fort Adams State Park, and will also have the opportunity for a meet-and-greet or master class with a Newport Jazz Festival artist. Please note: Festival admission will be dependent on format and availability.
For more information, call (401) 341-2297 or email jazzcamp@salve.edu.
Application and Fees
Tuition is $1,200 for overnight and $700 for commuters. A placement audition recording and full tuition must accompany all applications. We hope to receive all applications by July 10. Payment plans are available upon request.
Placement auditions can be submitted by emailing a sound file or link to jazzcamp@salve.edu or by sending a digital file by mail to the address listed on the application form. A completed registration form and deposit must accompany all audition recordings.
Camp Schedule and Curriculum
This is a sample of what a day at the jazz camp might include:
9-9:30 a.m. - Warmups - split by drums, bass, horns and pianists
9:30-9:45 a.m. - All together in one room for an assembly - announcements/faculty performances
9:45-10:45 a.m. - Combos
10:45-11:30 a.m. - Module big band in one room and percussion in another
11:30 a.m. to 12:15 p.m. - Lunch
12:15-1:15 p.m. -  Jam session and private lesson time
1:15-2:15 p.m. - Combos with coach rotation
2:15-3:15 p.m.  - Module - jazz history, keyboard, arranging, transcription, ear training, piano ensemble
3:15-3:30 p.m. -  Snack break
3:30-4:30 p.m. Master classes - drum set, bass, piano, brass, saxophones
4:30-5:30 p.m. - Themed jam session (music of Miles Davis, Rollins, Monk, etc.)
5:30-6:15 p.m. - Day students dismissed/dinner
7-9 p.m. - Jam sessions/guided activity
Jared Sims, saxophone, artistic director
Jared Sims performs on all of the saxophones as well as clarinet and flute. He has toured the U.S., Europe, South America and Asia. Sims has performed/recorded with a diverse array of artists, including Rufus Reid, Dave Liebman, Matt Wilson, Han Bennink, Cecil McBee, Bob Brookmeyer, Oteil Burbridge, G Love, Melvin Sparks, Soulive, Temptations, Four Tops, 10,000 Maniacs, Artie Shaw Orchestra and Jimmy Dorsey Orchestra. He has headlined venues in Bangkok, Kuala Lumpur, New York, Boston, Washington, Seattle and Pittsburgh. His most recent albums are the experimental rock recording "Hellbender," the jazz/funk recording "Sky View" with Duochrome and the jazz recording "Against All Odds." Music Republic Magazine called Sims "one of the most exciting saxophonists and band leaders heard in a long time." The topic of his doctoral research was the Sequenza pieces written by Luciano Berio. He is the director of jazz studies at West Virginia University and has taught at the University of Rhode Island, University of New Hampshire and Boston University. For more information, visit jaredsims.com.
Peter Davis, executive director
Peter Davis is the coordinator of the music program at Salve Regina, where he teaches music theory and directs the jazz ensemble and symphonic band. He is a bassoonist, electric bassist and guitarist, has had several movie appearances as a musician and conductor, and is experienced in orchestral, rock and jazz performance. Davis currently plays and records with the MSD Quintet. He has also conducted in local all-state festivals.
Joe Parillo, piano, founding director
Joe Parillo has performed in Brazil, Italy, Germany, New Zealand and Taiwan and has played nationally and internationally with the Glenn Miller Orchestra and vibraphonist Jay Hoggard. He was featured artist for the Steinway Artists Celebration at Boston Symphony Hall in honor of the 150th anniversary of Steinway and Sons. Parillo has been commissioned to write three jazz ballets and has arranged and recorded more than 25 full-length children's productions. He has also produced "SongBook," "Clouds" and the CDs "Almost Carefree" and "Block Island Summer" for his ensemble as well as the gospel CD "Meditations of the Heart." Parillo has been director of jazz studies at the University of Rhode Island for the past 30 years and is the current chair of the music department. In 2003, he brought to fruition the jazz studies specialization under the B.A. degree as well as the jazz studies minor. Parillo holds a master's degree in composition from the New England Conservatory and has written and arranged music for theater and film. His most recent works have aired on WSBE-TV and the SciFi Channel's "First Wave."
Fritz Benz, trumpet
Fritz Benz has been the instrumental music director at South Kingstown High School in Rhode Island since 2016. He directs the concert band, jazz band and orchestras. Benz previously directed the award-winning jazz and concert bands for 24 years at North Smithfield High School and has held teaching positions at Providence College and the University of Rhode Island. He is an active freelance musician on trumpet and in the Rhode Island-based band Brass Attack, and has been an adjudicator, clinician and all- state conductor throughout Southern New England.
Charles Kalajian, percussion
Percussionist and educator Charles Kalajian uses his wide-ranging talents to adapt comfortably to a variety of environments. As a performing artist, he has collaborated with dozens of critically acclaimed recording artists, most notably JVKE. As an instructor, Kalajian teaches master classes and clinics throughout southern New England. He has performed at some of the most reputable venues across the Northeast, including Carnegie Hall, New Jersey Performing Arts Center, Seiji Ozawa Hall at Tanglewood, Koussevitzky Music Shed, Lupo's Heartbreak Hotel, Martha's Vineyard Performing Arts Center and the George Kent Performance Hall. He has a bachelor's degree and master's degree from the University of Rhode Island.
Wendy Klein, flute
Wendy Klein has a bachelor's degree in linguistics from Brown University and a master's degree from New England Conservatory. She is an associate professor in the contemporary writing and production department at Berklee College of Music. For the past 30 years, Klein has directed the jazz ensemble program at the Rhode Island Philharmonic Music School, where she is also the conductor of the Rhode Island Philharmonic Youth Big Band. Her performing history includes playing with the Joe Parillo Ensemble, The Criss Cross Orchestra with Obuama Ladd Addy, the multimedia group Consart and the chamber music group Intermezzo.
Gino Rosati, guitar
Composer/guitarist Gino Rosati has lived in all four corners of the United States (New England, Florida, San Diego and Seattle), yet his compositions often evoke other areas of the country: the atmospheric openness of the desert Southwest, the swampy grooves of New Orleans and the sweet harmonies of Appalachia. Years in the U.S. Navy Band and playing behind countless jazz, R&B and top 40 bands has informed his melodic and smooth playing and compositional style. Rosati is currently the guitarist in the band Evening Sky, where he has contributed several original compositions. They can be heard on Bandcamp and at eveningskyband.com.
Steve Skop, bass
Steve Skop performs regularly in jazz, classical, theater and contemporary music settings. He has performed with notable artists including Al Martino, Steven Tyler, Danny Kalb, John C. Reilly, Dick Johnson, Michael Musillami, Joe Parillo, Krisanthi Pappas, Walter Flores and Shirley Lewis. Performing at jazz festivals, Skop has opened for international artists Gary Burton, The Yellowjackets and Branford Marsalis. He has appeared in live television and radio performances and on multiple recordings. Skop teaches private lessons, ensembles and jazz clinics through his private studio, Foxboro and Medfield public schools and Thayer Academy. He has taught at Anna Maria College, Assumption College and Worcester State University. Skop has a bachelor's degree in music education and a master's degree in music performance. He studied under Charlie Banacos, Mark Henry, Bruce Gertz, Paul Erhard and Richard Stephan.
Brian Thomas, trombone
Boston-based trombonist Brian Thomas has been a crusader for funk, jazz, soul and reggae music in New England and beyond for over 20 years. He co-produced four albums under the name Akashic Record, five albums with BT ALC Big Band and last year's Duochrome album "Sky View." Passionate about writing, horn arranging and recording, Thomas can be found in the studio collaborating with musicians all over the world. Most recently, he contributed to projects by many of the bands that are part of the Vintage League Music record label, which is led by Soulive's Alan Evans. In addition to leading his own bands, Thomas is a busy live and session musician who loves adding his artistry to his friends' projects. He has performed with national touring acts such as G Love, Lettuce, Soulive, John Brown's Body, The Elovaters, Maceo Parker, Kevin Kinsella and Ryan Montbleau. Teaching and sharing his musical knowledge and experiences have always been something Thomas is passionate about. He serves as a clinician and guest artist for schools throughout New England and believes in the power of personal connections in music making at all levels. Thomas is a faculty member at Canton High School, where he directs the instrumental ensembles, including the band, orchestra, jazz ensemble and pit orchestra.