Art History - Caylee Post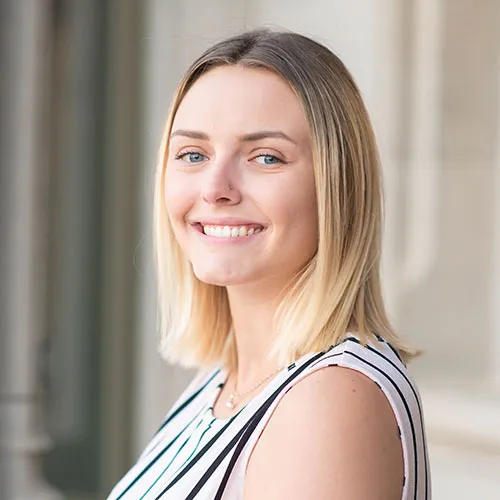 Art history major Caylee Post '20 presented "Research, Collect, Curate and Digitize: How Undergraduates Created a Natural History Collection" at the College Art Association's 2020 conference alongside Dr. Anthony Mangieri and Ernest Jolicoeur from the Department of Art and Art History.
The conference has been the largest international gathering of visual arts professionals in the world for a century. Each year, more than 900 members submit proposals for presentation and workshop topics.
"I've never spoken to anything at that level before, so I really wanted to make it professional," Post said. "It was a very humbling experience, and I got to go to other sessions and be able to talk to other people and observe what other professionals are doing in the field."
Post's journey to the conference began her junior year when she interned with the Department of Art and Art History, helping to categorize and organize items in a newly established nature cabinet within Antone Academic Center. Because she was minoring in biology, both Mangieri and Jolicoeur felt that she would be the ideal candidate to help acquire physical specimens and develop metadata for an accompanying website.
During her senior year, Post completed a research apprenticeship course where she took her categorization project online to create a digital version of the nature cabinet. Working closely with McKillop Library, she created an online database and learned best practices for building a digital collection.
"When Ernie and I think about the curriculum, we really want to make transformative learning experiences for our students," Mangieri said. "Art history is a not field that is solely abstract or theoretical, but it also has these so-called 'practical' applications. We were thrilled that we were able to involve Caylee in this project and have her present with us."
Post is now pursuing a master's degree in arts and culture management at the University of Denver. She hopes to someday work on the marketing side of a museum or art company, but she is also glad for the experience of handling a physical collection while at Salve Regina – which will help her stand out in her profession.
"It was nice that everything kind of came full circle – working with both the biology and an art aspect," Post said. "These are new skills that I can apply going into grad school or going into a job, so I definitely feel really beneficial that I was fortunate enough to have that as an undergraduate student."