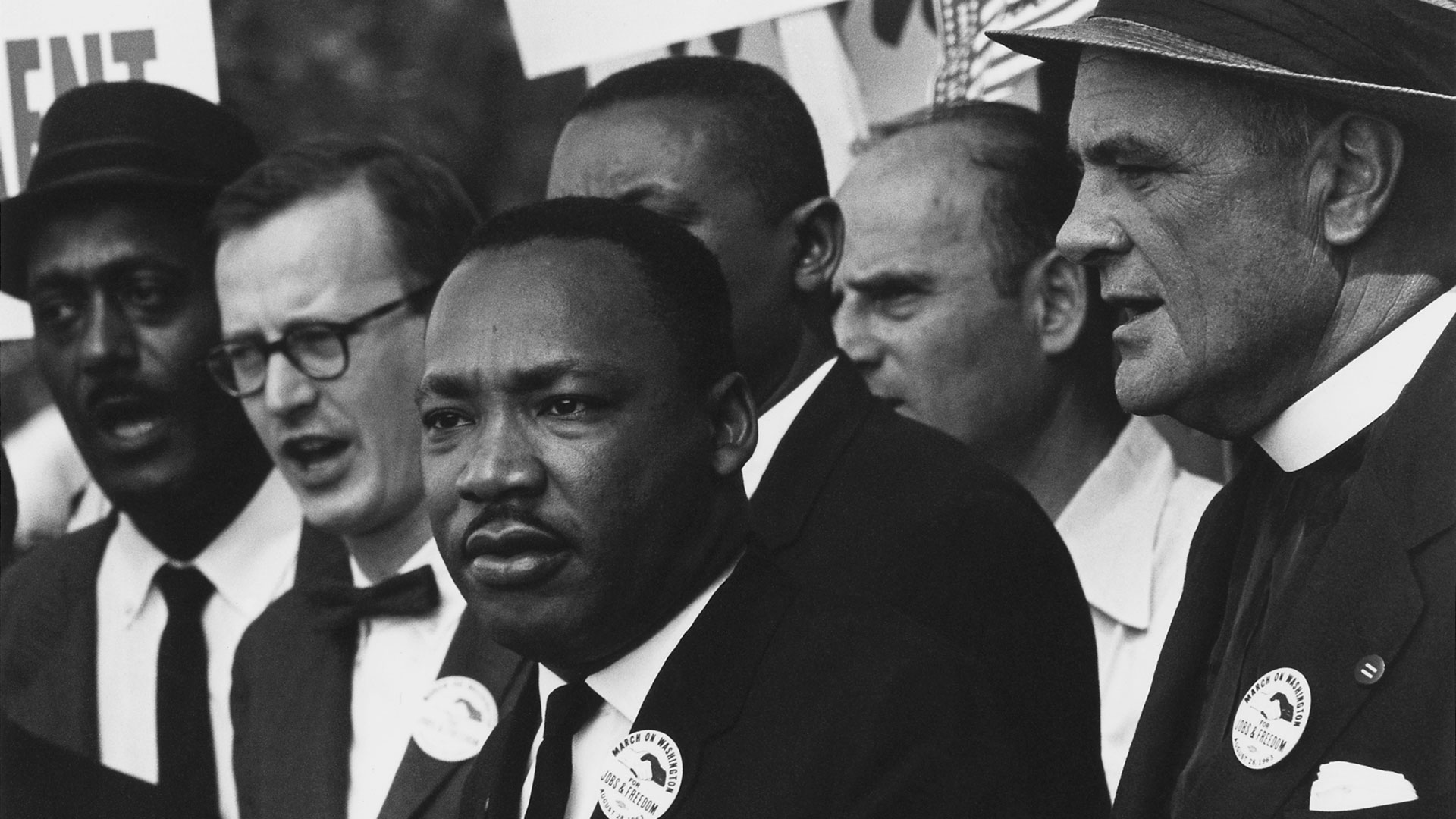 An annual celebration of the life and legacy of Martin Luther King Jr., Salve Regina's MLK Week examines the history of the civil rights movement and the impact of systemic racism and persistent racial disparities locally and nationally. Through education, dialogue and community engagement and service, MLK Week seeks to advance committed action around the critical concerns of the Sisters of Mercy, particularly anti-racism and nonviolence, and further the mercy, Catholic mission of the University.
Monday, Jan. 17

Movie Night and Dialogue
7 p.m., virtual
Join the Salve Regina community for a screening of "Loving" to kick off MLK Week. The film tells the story of Richard and Mildred Loving, a couple whose arrest for interracial marriage in 1960s Virginia began a legal battle that would end with the Supreme Court's historic 1967 decision. The film screening will be followed by a dialogue facilitated by student leaders.
Tuesday, Jan. 18
Sabbath Time Vigil for Nonviolence
1:45-2:15 p.m., virtual
Spoken Word: Bending the Arc of the Universe Toward Justice

6:30 p.m., virtual
Join the Office of Multicultural Programs and Retention for a lively spoken word and song event with contributions from students, faculty and staff. Advance the work of justice and mercy and call for social action and transformation in the spirit and legacy of Martin Luther King Jr.
Wednesday, Jan. 19

Town Hall With the Presidential Commission for Equity and Inclusion
3 p.m., virtual
Join the Presidential Commission for Equity and Inclusion for a presentation on the outcomes of the campus climate survey, with an opportunity for community discussion, reflection and input.
Thursday, Jan. 20
Keynote Lecture: "Culture and Caste: Unpacking the Roots of Racism in America"
4 p.m., virtual
Join Isabel Wilkerson, author of "Caste: The Origins of Our Discontents" and "The Warmth of Other Suns," for a lecture exploring the layers of racialized injustice and violence across the American story from foundations to the present. Following the lecture, President Kelli J. Armstrong will facilitate a Q&A with the Salve Regina community. Co-sponsored with the Inclusive Reading Club. Registration is required for virtual attendance.
Friday, Jan. 21
Day of Service
10 a.m. to 2 p.m.
"Everybody can be great … because anybody can serve." – Martin Luther King Jr. 
Join the Center for Community Engagement and Service for various on- and off-campus service opportunities throughout the day with Salve Regina's community partners around Aquidneck Island. All students, faculty and staff are welcomed and encouraged to participate.
Monday, Jan. 17
37th Annual NAACP Birthday Program
Join the NAACP on Martin Luther King Jr. Day for an abbreviated day of community-based events, including the annual torch run from Patriot Park in Middletown to the Dr. Martin Luther King Jr. Community Center in Newport and a virtual afternoon program.
Planning Committee
Rose Albert
Heather Axen
MaryAnne Davey
Santiago Durango
Robin Hoffmann
Victoria Johnson
Theresa Ladrigan-Whelpley (co-chair)
Tony LoPresti
Morgan Matos (co-chair)
Dyanna Moreira
Alexia Moreno
Sami Nassim (co-chair)
Tim Neary
Mary Beth Pelletier
Kelly Powers
Albert Watkins
Sponsors
Black Student Union
Center for Community Engagement and Service
College Democrats
College Republicans
Department of History
Department of Psychology
Department of Religious and Theological Studies
Department of Social Work
McAuley Institute for Mercy Education
McKillop Library
Mercy Center for Spiritual Life
Multicultural Student Organization
Office of Mission Integration
Office of Multicultural Programs and Retention
Office of the President
Presidential Commission on Equity and Inclusion
Thoughtful Americans for Truth