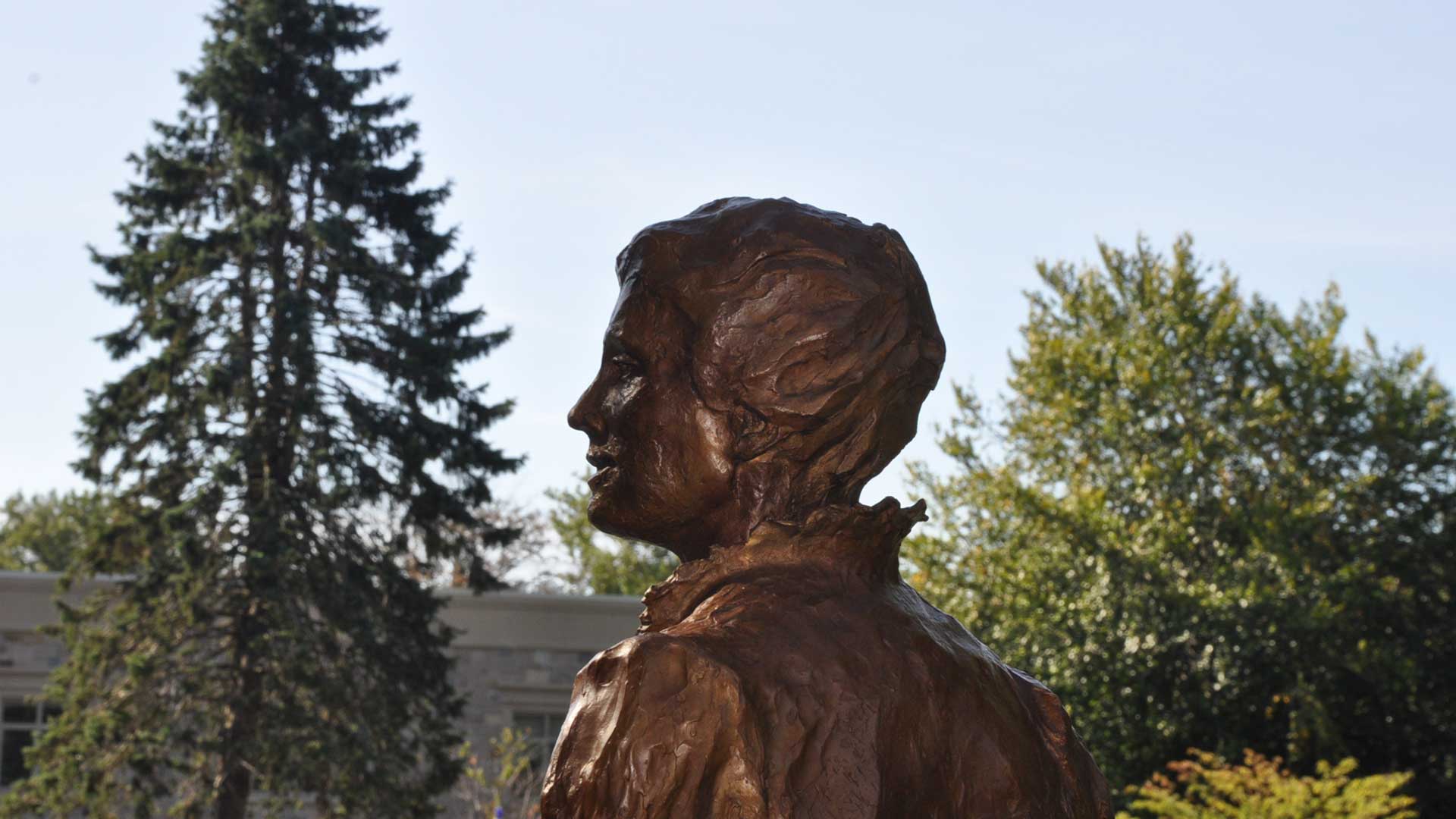 Tuesday, Sept. 21
Opening Vigil for Peace
4:30 p.m., Ochre Court gates
Join the Salve Regina community as we come together to hold space for peace and nonviolence in the world. The service will remember lives lost daily to violence in our local communities and around the world. This year, as we remember the 20th anniversary of 9/11, we will collectively move into Mercy Week ready to be agents of peace in our world.
Wednesday, Sept. 22
Lecture: "Moving From Fear in These Precarious Times: The Practice of Mercy and Nonviolence"
6:30 p.m., Bazarsky Lecture Hall
Free and open to the public
We are called to a life of love, compassion and mercy, yet we live in a world torn by war, terrorism, climate change and racism. Rooted in mercy, the practice of nonviolence begins in our hearts and can transform our lives and bring peace to the planet.
Suzanne Shanley, co-founder of the Agape Community, will share how the practice of mercy transformed her own life and leads members of the Agape Community to bring faith-based solutions to the compelling issues of our day. She will also discuss the many sides of nonviolence and antiracism work steeped in the rich tradition of mercy.
Thursday, Sept. 23
Inclusive Reading Club Meeting
4 p.m., McKillop Library and via Zoom
Explore the stories and experiences of transgender people on college campuses with readings from Genny Beemyn's book "Trans People in Higher Education." The discussion will be facilitated by Dr. Kaitlin Gabriele-Black, assistant professor in the Department of Psychology, in collaboration with the Office of Multicultural Programs and Retention and McKillop Library. Gabriele-Black's research focuses on the intersections of sexuality, gender and faith, specifically around evangelical Christianity.
This is a hybrid event. For more information, or to register to attend remotely, visit the library's website. In-person attendees do not need to register.
Friday, Sept. 24
Mercy Day and Comfortable Cup of Tea
Catherine McAuley and her companions opened the first House of Mercy in Dublin on this day in 1827. Faculty and staff will receive a coupon that is redeemable for a cup of tea or coffee and a scone at Jazzman's Cafe, the McKillop Library cafe or Miley Mart/Starbucks.
Mercy Heritage Walk
2 p.m., Gerety Hall south porch
Delve into Mercy Heritage Day with a guided and interactive walk with Dr. Jayme Hennessy, professor in the Department of Religious and Theological Studies. This experience will break open the rich heritage of the Sisters of Mercy, Salve Regina and how we as a university answer the call to mercy, justice and peace.
Saturday, Sept. 25
Volunteer Opportunity With Gifts to Give
Meet at 9:45 a.m., runs from 11 a.m. to 2 p.m.
Join service advocates at Gifts to Give for a day of service in our rich mercy tradition. Sign up on the Center for Community Engagement and Service website.
Mercy Gear at Athletics Events
Attend any of these home competitions and see if you can catch some mercy spirit and gear: Field hockey vs. Endicott College at noon, football vs. Rowan University at noon, women's volleyball vs. Curry College at 1 p.m.
Sunday, Sept. 26
Mass
5 and 7 p.m., Our Lady of Mercy Chapel
Come celebrate a blessing of the new year at one of our mercy liturgies. All are welcome.
Tuesday, Sept. 28
What Matters to Me and Why? With Sister Therese Antone
Noon, Ochre Court state dining room
The McAuley Institute for Mercy Education launches the "What Matters to Me and Why?" luncheon series with Sister Therese Antone, chancellor. This speaker series seeks to provide opportunities for the Salve Regina community to gather and share together around our stories, core values and mission. The series will host one Sister of Mercy, one faculty member, one staff member and one administrator annually to reflect on their lives and vocations and respond to the question: "What matters to me and why?"
Lunch is provided; registration requested by Sept. 23.
Letting Go and Going Within
1:45 p.m., labyrinth on Gerety Hall lawn
Contemplating nonviolence begins with looking within oneself. Join Counseling Services at the labyrinth during Sabbath time for a reflective activity to cultivate interior peace.
Wednesday, Sept. 29
Mercy Heritage Day and Catherine McAuley's Birthday
1-3 p.m., McAuley Hall front lawn
Catherine McAuley's birthday is a day for us to gather as one community rooted in a rich heritage dating back to Dublin, Ireland in the 1800s. Join in the celebration with Irish music from Rhode to Dublin (2:15-2:45 p.m.) and student musicians, art creation and advocacy for a better world.
Ongoing Event
Visit McKillop Library throughout Mercy Week to learn more about nonviolence from their curated collection.