75th Anniversary of Salve Regina

75th Anniversary of
Salve Regina
Fulfilling the Mercy Promise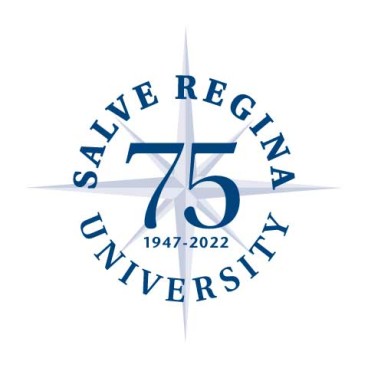 Salve Regina first opened its doors in September 1947. To commemorate this milestone, a yearlong celebration is highlighting the continued development of our academic community and honoring 75 years of mercy in higher education. In celebrating our 75th anniversary, we recognize Catherine McAuley and the Sisters of Mercy, who as leaders of change since 1831 have responded with one voice to the unmet needs of the times.
Our 75th anniversary celebration is taking place between September 2022 and September 2023. Throughout our anniversary year, we are sharing our history as a transformative, academic community and showcasing how we are fulfilling the mercy promise of giving light to those around us, seeking where we can make an impact, and working for a world that is harmonious, just and merciful.
A Conversation With Mary McAleese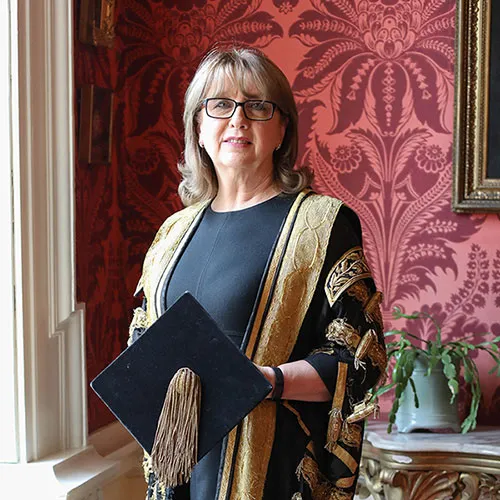 Celebrate the University's 75th anniversary year with a special event featuring Mary McAleese, former president of Ireland, in conversation with Dr. Kelli J. Armstrong, president of Salve Regina. Scheduled for 2:30 p.m. Wednesday, May 17, the wide-ranging "fireside chat" will explore McAleese's longstanding interest in issues such as justice, equality, social inclusion, anti-sectarianism and reconciliation.
McAleese was president of Ireland from 1997-2011. Currently chancellor of Trinity College Dublin, she also is professor of children, law and religion at the University of Glasgow. McAleese holds a doctorate and licentiate in canon law from the Pontifical Gregorian University Rome and a master's degree in canon law from the National University of Ireland.
Student Archaeological Survey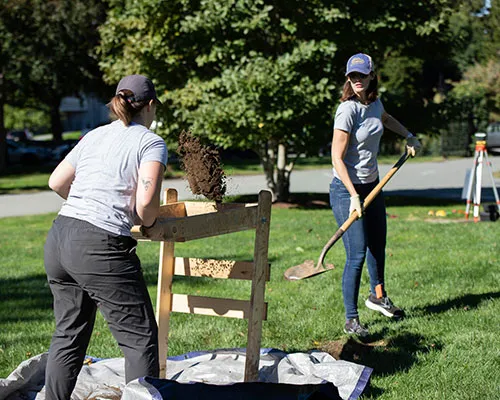 In celebration of Salve Regina's 75th anniversary, the Noreen Stonor Drexel Cultural and Historic Preservation Program is conducting an archaeological excavation to celebrate the long history of our distinctive campus.
While it may feel as though our historic buildings have stood forever, this landscape has always been dynamic. Seventy-seven years before the founding of Salve Regina, the Edgewater mansion was built by George Champlin Mason for the Kernochan family as their summer retreat. Constructed in 1870, Edgewater stood for only 18 years before being demolished to make way for Ochre Court.
Throughout the spring 2023 semester, students are excavating the remains of Edgewater's stables under the direction of Dr. Heather Rockwell, assistant professor of cultural and historic preservation. This effort is providing hands-on experience for students and may help us better understand what life was like at this spot 150 years ago.
"Living Mercy" Book Launch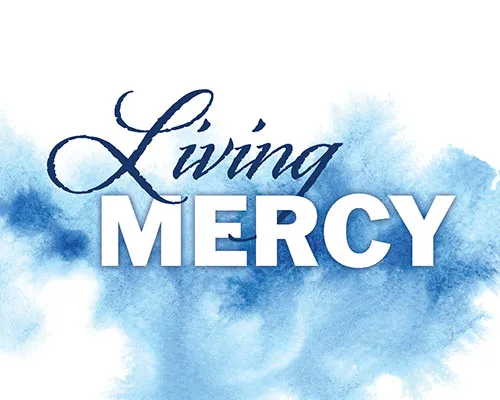 Celebrate the launch of "Living Mercy: Reflecting on the Vocation and Values of Salve Regina University" at 3 p.m. Thursday, May 4 in Ochre Court. Light refreshments will be served, and all attendees will receive a copy of the book.
"With this collection of essays, we honor this sense of vocation and this spirit of mercy that has enlivened and guided our University for the last 75 years. Inspired by the accomplishments of the past and looking forward to the call of the future, these essays provide a starting point for University-wide conversations to support Salve Regina in discerning how it will move into the increasingly complex challenges of the future." 
– Dr. Jayme Hennessy, editor, from the introduction to "Living Mercy"
September 2022 Kickoff Celebration
 The occasion of Salve Regina's 75th anniversary is not only an opportunity to celebrate 75 years of fulfilling the mercy promise, but it is an invitation to renew our vision for the future. What might it mean 75 years from now that we deepened our commitment to work for a more harmonious, just and merciful world through the mission of Salve Regina?  
Dr. Theresa Ladrigan-Whelpley, vice president for mission, planning and innovation
Corporate and Foundation Support
With great appreciation, the Salve Regina community recognizes the corporations and foundations who have invested in student scholarships this milestone anniversary year to provide access to a transformative education. Their commitment to addressing economic barriers that would otherwise prevent our most deserving students from attending Salve Regina is a gift that reverberates far beyond campus. 





Bank RI
Bellevue Asset Management
Delta Dental RI
Farrar Associates
iDesignEdu
Metropolitan Wealth Management
Navigant Credit Union 
PepsiCo
Sodexo
Tufts Health Plan, a Point32Health Company
Washington Trust