Senior Success Stories
Class of 2023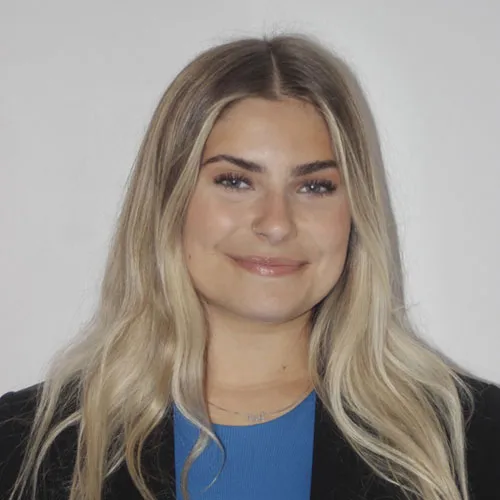 Katelyn Almeida
B.A. in English communications
Almeida will pursue a master's degree in public relations at Boston University. In addition to her studies, she will assistant teach an introductory communications course. After completing her graduate studies, Almeida hopes to work at a public relations firm in Boston.
Almeida's journey at Salve Regina wasn't always geared toward public relations. She originally wanted to major in psychology, but credits Dr. Hyoyeun Jun, assistant professor in the Department of English, Communications and Media, for nurturing her fascination for public relations.
"Dr. Jun was so supportive and communicative," Almeida said. "She showed me how there is a creative side to public relations, and I found great enjoyment in it."
Throughout her time at Salve Regina, Almeida experienced a lot of personal growth that she relishes. "I learned so many valuable things and grew as a writer, listener and learner," she said.
Sydney Austin
B.A. in studio art
Austin will pursue a Master of Fine Arts at the Center for Cartoon Studies. She will attend the institution for two years with a focus on graphic novels and comics.
Austin credits Whiteley Foster, adjunct professor in the Department of Art and Art History, as the greatest impact on her academic career. "They taught me how to work at a pace that is done in graduate school settings so that I would be more than ready to excel at any challenges given to me," she said.
Austin's time with her professors also taught her different tips and tricks about composing her own graphic novel. She hopes that these skills will be helpful in her goal to become a lead character designer for Warner Brothers Entertainment.
Looking back at her time at Salve Regina, Austin speaks about her experience with high praise. Within the studio art program, she learned how to market herself and build her portfolio, and she always felt seen and respected by professors who went above and beyond to ensure her success. "With such a tight-knit community, it's impossible to feel lost," she said. "Salve helps you build upon your own potential and find your purpose."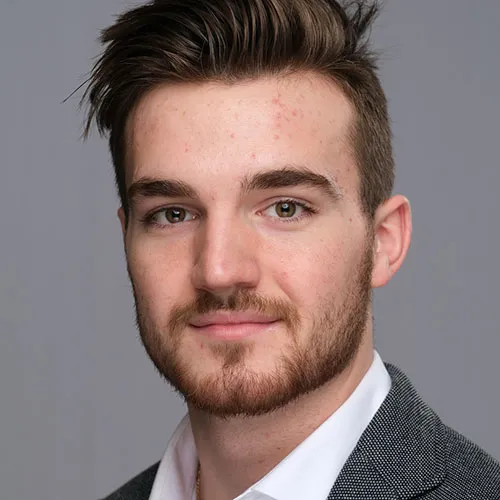 Anthony Azzano
B.A. in psychology
During his time at Salve Regina, Azzano embraced the college experience through athletics and service. He was voted captain of the men's hockey team and was awarded the Seahawk Service Award in 2021 for his hard work in the Newport community.
Azzano volunteered with the Newport Whalers youth hockey U12 team, participated in cleanups with Clean Ocean Access, helped with fundraising work for the NOSOLO apparel company, and planned and organized events as part of the Student Athletic Advisory Committee. He even helped the men's hockey team raise over $10,000 for mental health awareness.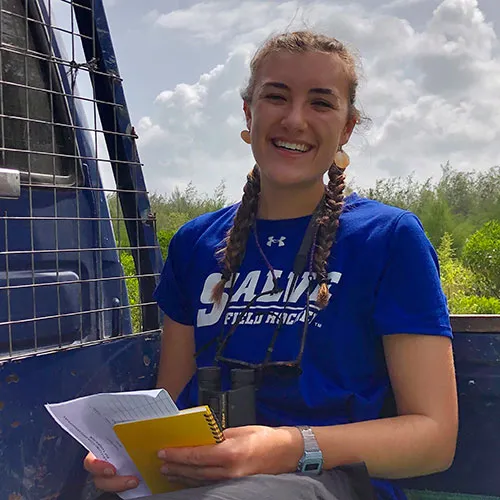 Sophie Beauchesne
B.A. in environmental studies
Beauchesne will leave for Paraguay in September to serve in the environmental sector of the Peace Corps. While overseas, she will work as a community environmental promoter to inform others about environmental education and sustainable forestry.
After the Peace Corps, Beauchesne aims to follow her longtime passion for global community building and environmental stewardship. She is also considering returning to school for graduate education.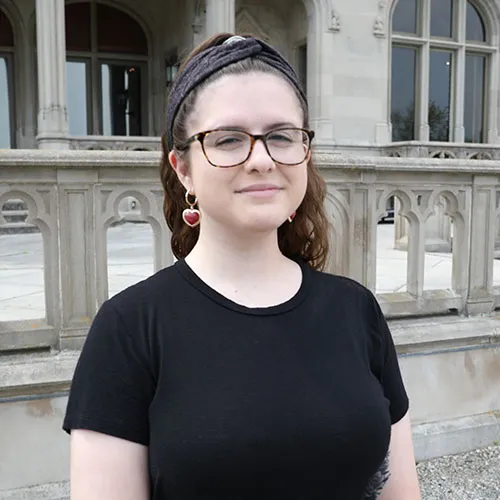 Samantha Bond
B.A. in psychology
Bond will pursue a master's degree in mental health counseling at Bridgewater State University. She plans to become a licensed mental health counselor in Massachusetts and work with the adult population.
As one of the three valedictorians who all hail from the Department of Psychology this year, Bond was excited to share her thoughts on the program. "The psychology program here is truly the best," she said. "Every single professor in this program has contributed to the field in major ways, will support you in any of your endeavors and will go above and beyond to give you as much applicable psych knowledge as possible."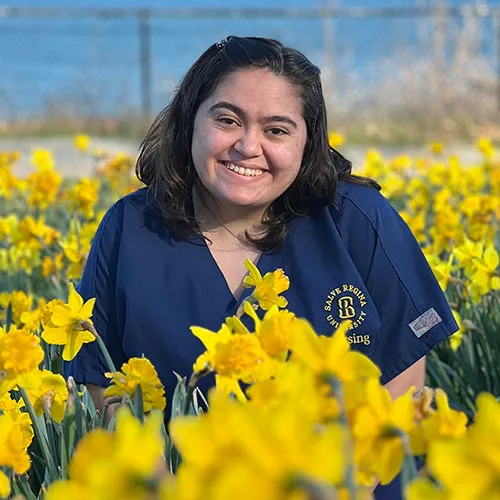 Emily Cabral
B.S. in nursing
Cabral will work in the neonatal intensive care unit at Yale New Haven Hospital, a level 1 trauma center affiliated with the Yale School of Medicine. There, she will provide specialized care for premature newborns through clinical observation and physical assessment.
Cabral's goal is to become a nurse educator for students. This passion for teaching arose during her time at Salve Regina, especially as a First Year Transitions (FYT) peer mentor. Cabral's community engagement outside of the classroom is what taught her the skills she aspires to use as an educator one day.
"By becoming an FYT peer mentor, I was able to make more connections on campus and become more confident with public speaking," she said.
Cabral is thankful for her time at Salve Regina and hopes that students are not deterred by the rigorous course load. "Nursing school is the hardest thing that you will do, but it will be worth it," she said. "The countless clinical days, the sleepless nights spent with a textbook and the early mornings are going to feel so hard, but the memories you gain and knowledge you obtain will be invaluable."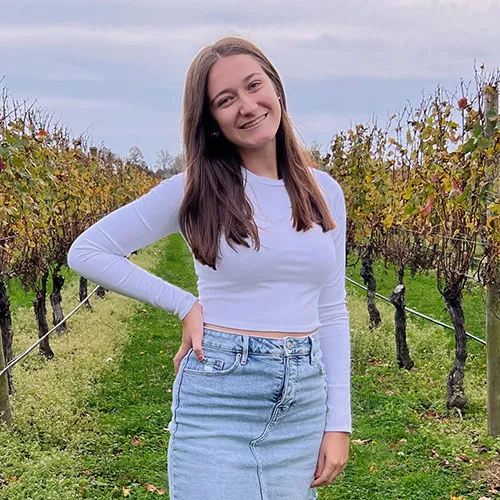 Rebecca Capozzi
B.A. in English communications
Capozzi will pursue a master's degree in strategic communications and public relations at Sacred Heart University. After completing her graduate studies, Capozzi hopes to begin a career in public relations and eventually become a marketing and communications director.
Walking through campus as a first-year student in 2019, Capozzi was ready to learn everything about Salve Regina. But it wasn't until her first course in English communications that she discovered her passion. "We explored many different realms of communications," she said. "That is how I stumbled upon public relations."
Caitlyn Carberry
B.S. in nursing
Carberry recently received the Recognized Student Award from Salve Regina's Student Nursing Organization. After graduation, she will be a registered nurse at a hospital in Massachusetts. Carberry plans to work with adult patients and then transition into pediatric care, and she also aims to be a travel nurse and see various parts of the country.
Dr. Debra Cherubini, associate professor in the Department of Nursing, had the greatest impact on Carberry. "Throughout all four years, Dr. Cherubini has been extremely supportive of me both academically and personally," she said. "She has given me support and encouragement in everything I have done."
When she started looking for jobs, Carberry felt the nursing faculty was helpful with preparation for interviews and resume building. "There were so many resources that helped me during my four years – both within the nursing department and within the University as a whole," she said. "The University wants to see Salve students succeed and will do as much as they possibly can to help make that happen."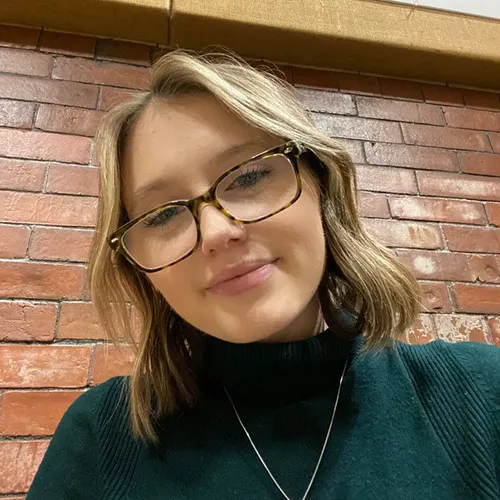 Michaela Conway
B.A. in studio art
Conway was one of only four seniors accepted to the honors thesis program in studio art. As part of this honor, Conway participated in the Dorrance H. Hamilton Gallery's Senior Honors Thesis Exhibition this spring.
For the exhibition, Conway created the fictional brand Florence, a sophisticated fashion line that drew inspiration from the opulence of historic Newport mansions like Ochre Court. "After establishing the brand identity, I designed a logo to reflect the luxury aesthetic of Florence and curated a 10-piece collection," she said. "I then collaborated with a photographer to realize my creative vision, editing the photographs and arranging them in a fashion catalog."
From there, Conway shot a video campaign that visually reflected the brand's aesthetic and created packaging and a website to further market the brand. "Within the exhibition, these elements came together into a cohesive pop-up shop that allowed for an immersive consumer experience," she said.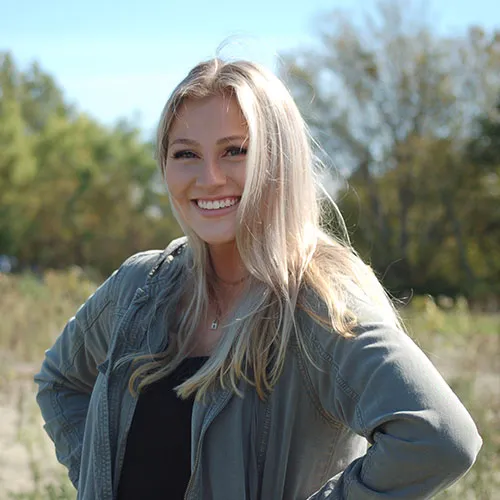 Meaghan Corkery
B.S. in marketing
Corkery will pursue a master's degree in management in entrepreneurial leadership at Babson College, named the No. 1 ranked college for entrepreneurship for 30 consecutive years by U.S. News & World Report.
Throughout Corkery's academic career, she completed numerous internships and went the extra mile to gain experience in the marketing field. She will begin another internship with (add)ventures – a brand and communications firm in Providence, Rhode Island – before heading to Babson in the fall.
"I love all things digital, especially after completing my digital advertising internship last year for an ad agency," Corkery said. "Eventually, I would love to open my own company in the digital space."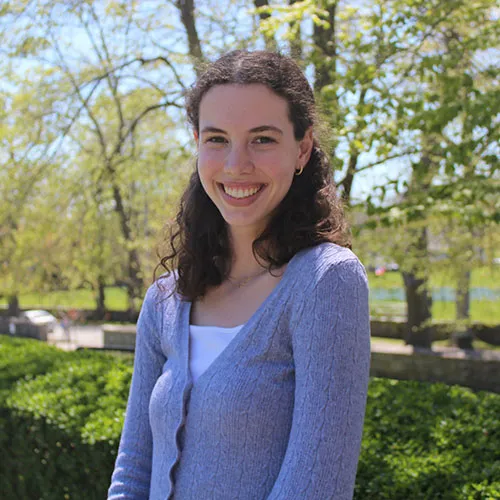 Meghan Ellsworth
B.A. in psychology
Ellsworth will pursue a master's degree in behavior analysis at Salve Regina and hopes to become a Board Certified Behavior Analyst (BCBA). As an undergraduate, she worked with several faculty members to conduct research with the Behavior Analysis Research Collaborative on campus. Ellsworth will continue her research as she pursues her master's degree and will eventually tackle her own thesis project.
Ellsworth's goal is to become a clinical director in a behavior analysis clinic so she can collaborate with other BCBAs and continue to conduct research in applied settings.
To Ellsworth, one of the most valuable lessons she learned at Salve Regina was the importance of considering cultural viewpoints in everyday decision-making. "Both my core classes and behavior analysis courses have emphasized the need for understanding others' perspectives and needs on an individual basis, considering their previous experiences and upbringing rather than judging their actions at face value," she said. "This lesson will undoubtedly influence my practice as a BCBA and more generally as a human being navigating the world."
Ellsworth recommended that undecided students take psychology courses, adding that they will genuinely change the way they look at life, both in the context of their own experiences and their outlook on others. "This can be attributed to the psychology department's terrific faculty and Salve's guiding mercy mission, encouraging students to use their education to work for a more just and merciful world," she said.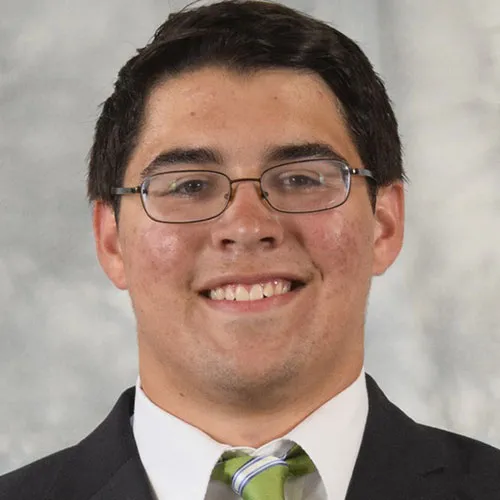 Henry Ford
B.S. in financial management
Ford will work at Fidelity Investments, where he has been interning over the past year to transition into a more permanent position. He said that he has been properly prepared for his future thanks to the faculty in the Department of Business and Economics, especially Samuel Sacco. "His professionalism, advice and consideration he has for students made a huge impact that will serve as a foundation for years to come," Ford said.
Ford credits the small classes and faculty availability at Salve Regina as being the most beneficial during his time as a student. He said there were faculty available around the clock to help with class questions or discuss personal matters. Ford is also grateful for the career choices available in the Department of Business and Economics, especially since it helped him acquire the skills needed for his position at Fidelity.
While Ford is excited to receive his diploma, he will miss the community that Salve Regina has provided. "My time at Salve has been one-of-a-kind," he said. "Whether it be sports or clubs, off-campus or on-campus activities, there were many opportunities to meet great people."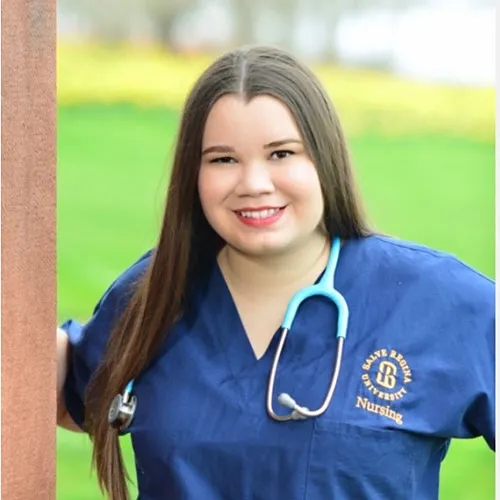 Serena Fox
B.S. in nursing
Fox will work as an emergency department nurse. As an individual with type 1 diabetes, she had to navigate the complexity of graduating while also maintaining her health – but this didn't stop her from accomplishing many things during her time at Salve Regina.
Throughout hundreds of clinical hours, Fox recalled Julia Taylor, lecturer and clinical instructor in the Department of Nursing, as a catalyst for her confidence in the field. "She always encouraged me and supported my learning," Fox said.
Over the last four years, Fox learned valuable lessons about having a good work ethic that is also balanced with personal wellbeing. Fox hopes to pass down those lessons to future students – knowing that anyone can make a difference despite their struggles and limitations.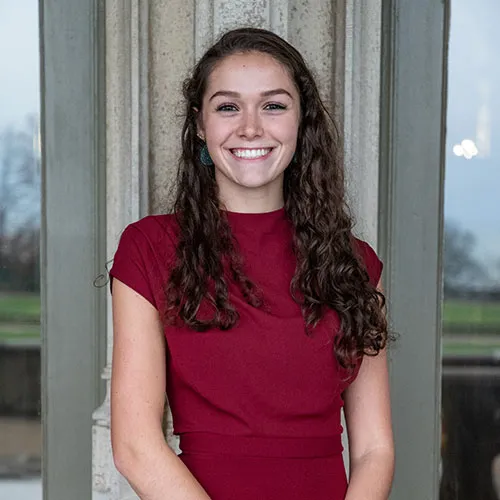 Jillian Gaffga
B.S. in accounting
Gaffga will pursue a master's degree in business administration with a concentration in cybersecurity issues in business at Salve Regina. She will also prepare to take the Uniform Certified Public Accountant examination next spring, and will continue her internship with Kahn, Litwin, Renza (KLR) as an audit intern. Gaffga hopes to eventually work for KLR full-time at its Providence location.
Throughout her four years at Salve Regina, Gaffga held positions with Sigma Phi Sigma and the Student Government Association, was the vice president and social media manager for the Accounting and Finance Club and served as a peer mentor, service advocate and member of the Newport Community Symphonic Band.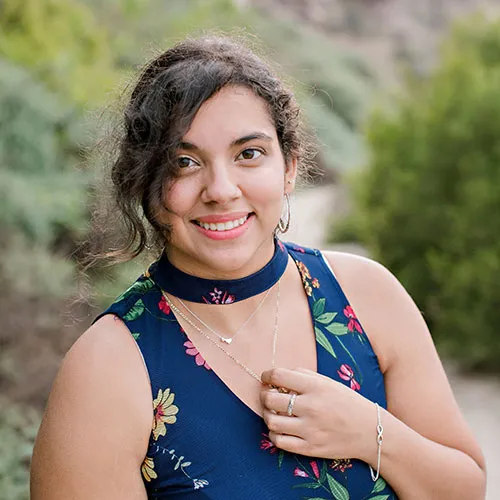 Alejandra Garcia-Silva
B.A. in American history and cultural and historic preservation
Garcia-Silva will pursue a master's degree in museum studies at George Washington University. Her dream is to work at the Smithsonian's National Museum of the American Latino, where she hopes to serve as an exhibition designer and curator.
This passion was fostered at Salve Regina by faculty such as Dr. Heather Rockwell, assistant professor in the Noreen Stonor Drexel Cultural and Historic Preservation Program, who assisted Garcia-Silva on her journey to graduate school. Rockwell offered her expertise when Garcia-Silva was applying for scholarships and provided her with opportunities to gain experience in the field.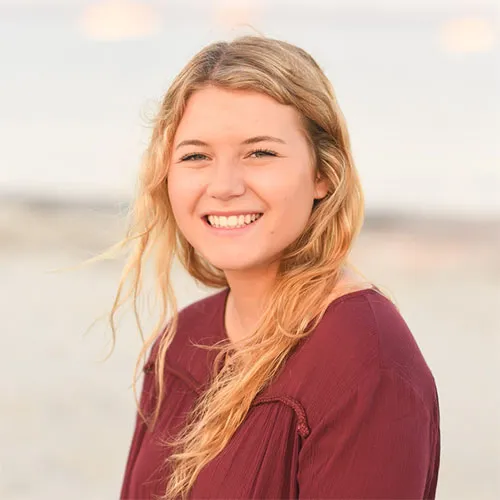 Lia-Sophie Keller
B.A. in administration of justice
Keller will pursue a master's degree in administration of justice and homeland security with a concentration in leadership in justice at Salve Regina. She has interned with Homeland Security Investigations since 2022, with intentions of continuing through the summer.
After an extensive hiring process, Keller will work for the Department of Homeland Security as a special agent. She hopes to become a criminal investigator with Homeland Security Investigations focusing on human trafficking and child exploitation.
Keller's time at Salve Regina includes being a peer mentor, head writing tutor at the Academic Center for Excellence and a service advocate. She is especially proud of the almost 600 hours of community service she completed in the past three years.
Keller said that Dr. Michael Brady, associate professor in the Department of Criminal Justice and Criminology, has been a key element to her success. "Dr. Brady has not only served as an exceptional professor, but also as a mentor and advisor even before beginning my college career here at Salve Regina," she said. "He has always challenged me to be the best student and person I can be."
Keller appreciates the material she learned in the program, particularly the emphasis on helping others and promoting nonviolence, immigration and women. "My Salve Regina education has helped me to become a well-rounded person being introduced to many different perspectives and ideas during my time here," she added.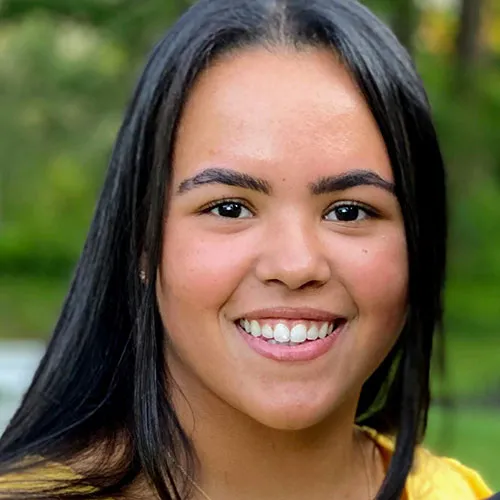 Tallya Maciel
B.S. in biology
Maciel will be a research technician at the Dana Farber Cancer Institute's Longwood Medical Center. There, she will work alongside post-doctoral researcher Dr. Annamaria Gulla to further understand treatment options for various stages of multiple myeloma.
Upon her arrival at Salve Regina, Maciel knew that she wanted to work in the medical field. While a student, she worked at a local eye clinic in Middletown. As a medical technician there, she gained three years of experience in the field and discovered two passions: caring for those in need and discovering new methods to prevent diseases.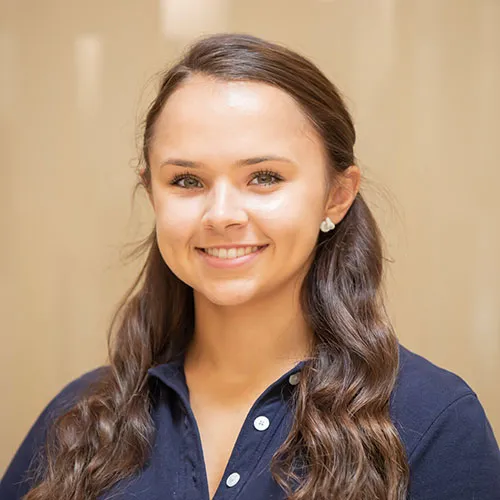 Sierra Majewski
B.S. in biology
Majewski will pursue a doctorate in pharmacy and master's degree in public health at Northeastern University. After earning her degrees, she hopes to complete residencies in clinical pharmacy and solid organ transplant or infectious disease.
Coming from a small town in Massachusetts, Majewski believes that Salve Regina opened her eyes to the world around her. Her most memorable experience was the course UNV101: How Social Movements Change the World with Dr. Debra Curtis, associate professor the Department of Cultural, Environmental and Global Studies.
"On the height of the #MeToo movement and the death of George Floyd, Dr. Curtis was tasked with educating young freshmen on the world around them and how social movements … affect everyone," she said. "Never once did Dr. Curtis force her opinions on anyone; she allowed young minds to formulate their own opinions on what was going on in the world around them."
For Majewski, the biology program also opened many doors. "It was exciting to have so many options for my future," she said. "I have spent countless hours in the lab completing experiments, learning a variety of laboratory techniques, working with different bacteria in microbiology, and even attempting to identify unknown substances in organic chemistry. Every day was a new day in biology. The program is rigorous and challenging, but the ever-changing aspect of biology and medicine adds excitement to the program."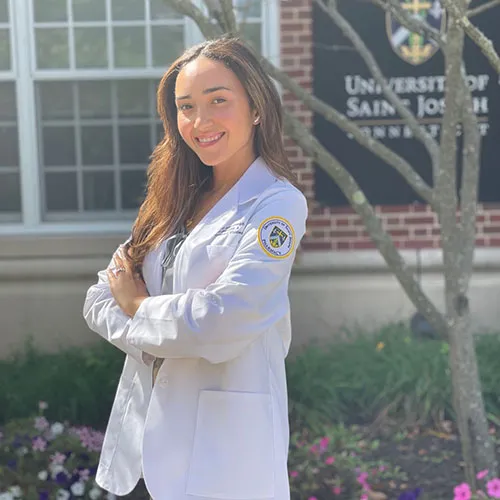 Ciara Marro-Wilson
B.S. in biochemistry
Marro-Wilson is the first Salve Regina student to pursue the 3+3 Pharm.D. program, and her post-graduation plans are to continue pharmacy school at the University of Saint Joseph as a Doctor of Pharmacy candidate for 2025.
"I came into Salve knowing that I wanted to pursue pharmacy, but I decided that my goal would be to attend pharmacy school after graduation because from the moment I toured Salve I knew it was the place I wanted to be," she said. "When Salve announced … that they created a 3+3 joint Pharm.D. program with the University of Saint Joseph in West Hartford, Connecticut, I felt that it was fate."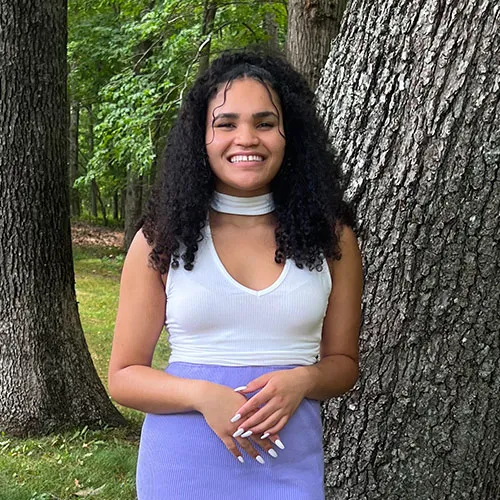 Ana Martinez
B.S. in biology
Martinez will pursue a medical degree from the American University of the Caribbean School of Medicine in Sint Maarten. After two years of academic study in Sint Maarten, she will return to Connecticut for two years of clinical rotations.
Martinez hopes to become a cardiologist specializing in women's and children's cardiovascular health. "I want to be a patient-focused and understanding cardiologist that supports an environment of open communication, honesty and ethical integrity," she said. "In terms of work, I want to combine a career centered in personal care at the hospital and more affordable care at a private practice."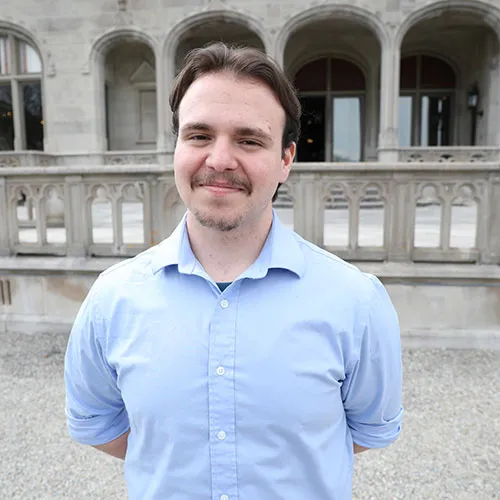 Theo Modla
B.A. in psychology
Modla is one of three valedictorians from the Class of 2023. He plans on returning to his home in New Jersey and taking a gap year. During that time, Modla will study for the MCAT and apply to medical school in 2024. In the time between graduating from Salve Regina and entering medical school, he plans to work in the clinical field, conduct research and travel.
Modla is honored to be a valedictorian because he struggled with academics earlier in life. "I can recall that before my college career, for most of my life, I struggled significantly in class and academia for a variety of reasons," Modla said. "This makes attaining the honor of valedictorian with my fellow valedictorians all the more fulfilling. I hope that my kind of academic journey can show people that struggles, even long-lasting ones, can be overcome – not just in academics, but in life entirely."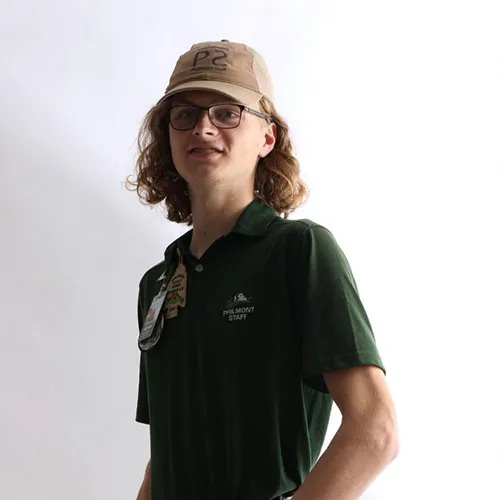 Garrett Moen
B.A. in environmental studies
Moen will head to the Philmont Scout Ranch in New Mexico to lead the Boy Scouts of America in two trail building projects that teach lessons on conservation. This fall, he will begin a career in forestry management with the ranch's conservation department, where he will work to strengthen and protect the land against wildfires.
Moen said that his fieldwork with Dr. Jameson Chace, professor and chair of the Department of Cultural, Environmental and Global Studies, prepared him for this new role. "I learned how to gather data in difficult environments, specifically while gathering data on birds and trees in the mountains," Moen said. "This will be a large part of my job as a forester and wildland firefighter."
While Moen is eager to dive into his passion for southwest ecosystems, he will remember his time and experiences at Salve Regina fondly. He encouraged everyone to not take such a special opportunity for granted. "Going to Salve Regina is likely your only chance to live in a mansion by the ocean – especially with a special community like Newport surrounding it – so you should definitely take it," he said.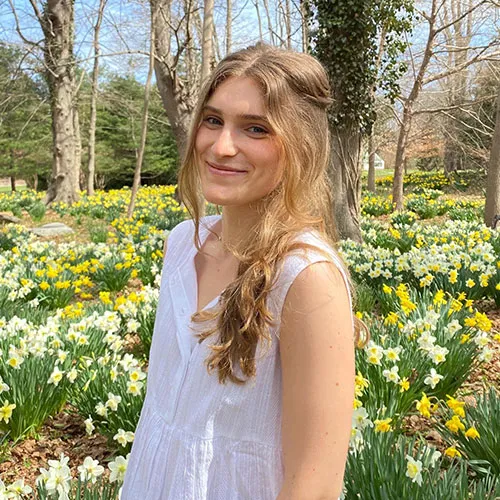 Margaret Morra
B.A.S. in world languages education (French)
Morra will pursue a master's degree in applied languages in French through a joint Middlebury College and teaching assistant program in France (TAPIF). She is one of only three students to be accepted into the inaugural combined program. During her rigorous studies in Paris, Morra will also teach English at a local high school.
Morra's passion and work ethic was encouraged by her professors at Salve Regina. The intimate size of her degree program and faculty in the Department of Modern Languages made a strong impact.
"I have the privilege of being one of a very small number of students with my major," Morra said. "I have gotten to work closely with my professors, and I feel that they've really gotten to understand me as a student over the years. I have felt supported and encouraged to succeed the whole way through."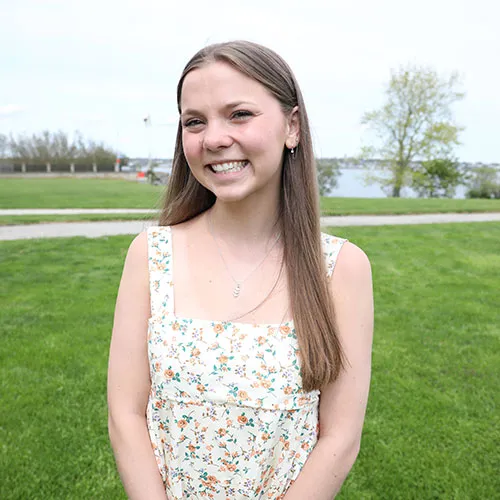 Mairead Nee
B.A. in psychology
Nee is one of three valedictorians for the Class of 2023. She is currently pursuing a master's degree in social work at Simmons University, where she is completing accelerated online courses as well as a clinical practicum at a community mental health center.
Nee hopes to eventually become a licensed social worker. "I would like to work with juveniles and emerging adolescents who are involved with the criminal justice system," Nee said. "Victim advocacy work is another area of interest to me, in addition to juvenile justice. Being a licensed social worker offers versatile opportunities, and working in the criminal justice system would allow me to work on a variety of levels."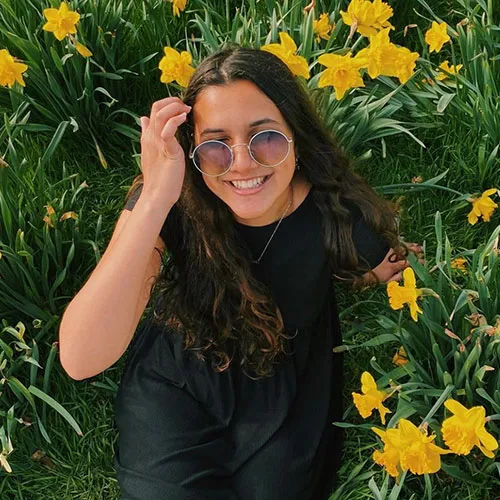 Jenna Park
B.A. in global studies
Park will relocate to Providence, where she will continue her work as a policy researcher for the U.S. Senate. Working under Sen. Sheldon Whitehouse (D-RI), she will have the opportunity to perform research for the senator and his staffers. Originally from Barrington, Rhode Island, Park is proud to serve the state where she was born and raised. 
Coming to Salve Regina as an exploratory student, Park was not confident about her path. She has one faculty member to thank for guiding her in her journey: Dr. Jameson Chace, professor and chair of the Department of Cultural, Environmental and Global Studies. "Through his constant academic and personal support, Dr. Chace has helped me navigate these past four years," Park said. "If I was ever struggling, he would be my constant cheerleader, providing me with support and encouragement."
Park cited the Department of Cultural, Environmental and Global Studies as one of the high points of her academic career. The numerous classes offered allowed her to engage in a wide variety of interests, allowing her to find the passion that she was afraid she never would. Specifically, she is grateful for the faculty who made sure she always knew that someone was rooting for her.
"The faculty in the Department of Cultural, Environmental and Global Studies will support you in more ways than one," she said. "I am forever grateful I declared my major and joined their family."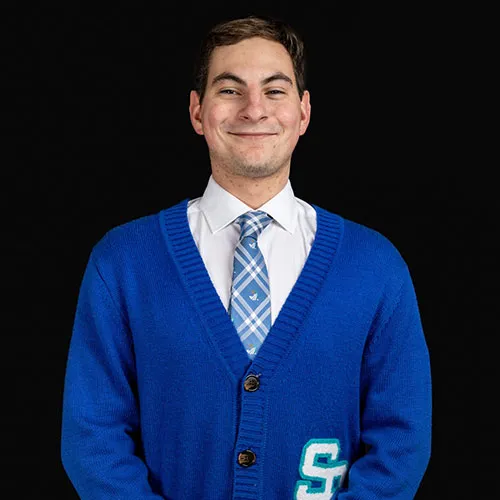 Steven Passodelis
B.A. in American history and political science
Passodelis will be an assistant equipment manager for the Pittsburgh Steelers and hopes to continue working in professional or collegiate sports. With his foot in the door of the National Football League so early in his career, he is excited to see what the future will bring.
Passodelis has worked as a manager for Salve Regina's men's basketball team, and he was heavily involved with the Department of Athletics throughout his four years at the University.
Academically, he cited the history program as being particularly enjoyable. "Take one history class your freshman year and you will instantly fall in love with the history program," he said.
Passodelis credited Dr. John Quinn, professor in the Department of History, and Dr. Dean de la Motte, professor in the Department of Modern Languages, for their continued encouragement. "They both have had a profound impact on my ability to comprehend classwork," he said. "Both of these professors have supported me these last four years, and I am so appreciative for all they have done for me."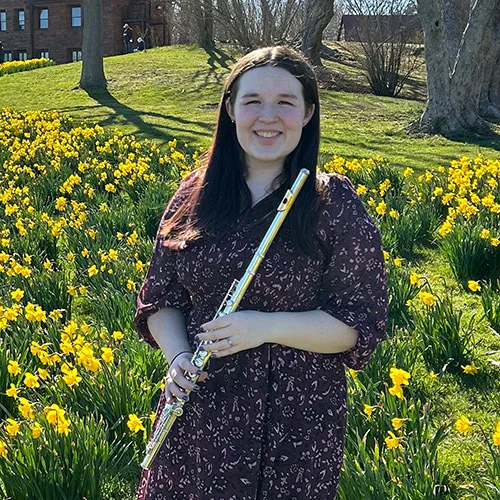 Shannon Reid
B.A.S. in music education
Reid will teach music at Meadow View Elementary School in Jacksonville, North Carolina. Looking back on her years at Salve Regina, she credits the mercy mission and the core values it instills in students.
She also spoke highly of Salve Regina's music program. "The music department is like one big family," Reid said. 'I have found my best friends in the department, and the professors are always available to you for whatever you need."
Reid noted that the Salve Regina experience is different from any other, adding that the University's smaller size is an advantage. "You will always see at least one person you know while walking around campus, and the University truly cares about its students," she said. "It was great seeing the president walking around campus and at various student events."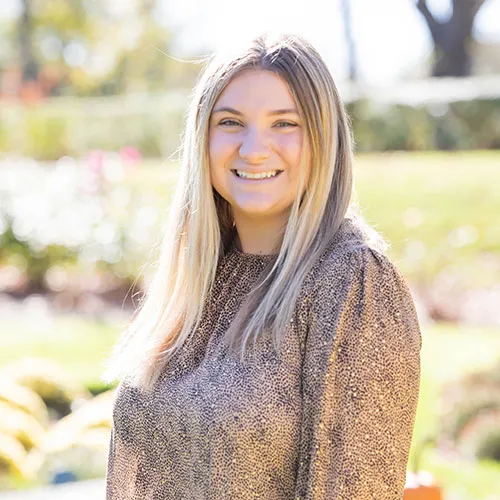 Morgan Rizzo
B.A. in creative writing and publishing and English communications
Rizzo will be a social media and marketing manager for A.T.Y. Hospitality, encompassing the businesses Sift Bake Shop, Young Buns Doughnuts, Mix at Sift and A.T.Y. Confections in Mystic, Connecticut. "I will be responsible for all outside, online and forward-facing communication, marketing and branding for A.T.Y. Hospitality, including making graphics, reels and email blasts," she said.
From her first day on campus to walking across the stage in May, Rizzo attributes her position to the connections she's made and the experiences she's had at Salve Regina. "I have gotten close with many professors who know much more about you than just your name and grade," she said. "I have been able to be in contact with many professors in and out of my department, which is great for networking in my future."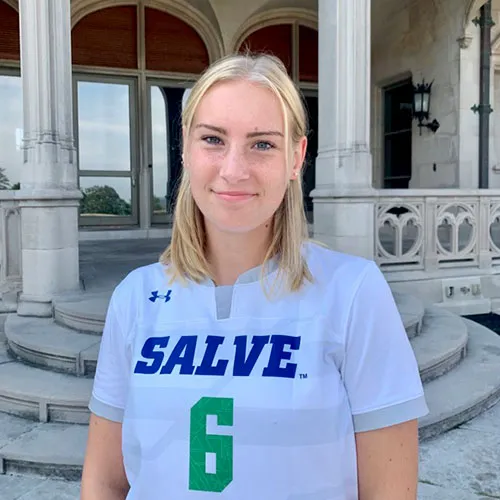 Hannah Rossman
B.S. in administration of justice and psychology
Rossman will pursue a master's degree in administration of homeland security at Salve Regina. Before returning to her studies this fall, she will intern with the Defense Intelligence Agency in Washington, D.C. While there, Rossman will learn about the operations of the U.S. intelligence community and the military.
While at Salve Regina, Rossman was inspired and supported by Amy Cady, director of the Mercy Center for Spiritual Life. Cady encouraged Rossman to apply for an internship position at the center, which quickly turned into a second home for her.
"Throughout these four years, Amy has remembered my classes, supported my soccer games and guided me through life's challenges," Rossman said. "Her spirit and guidance extend beyond the Mercy Center and across our campus. I only hope that I can be as creative, selfless and warmhearted as Amy Cady is."
Rossman aspires to eventually work for the Defense Intelligence Agency full-time. "I would also like to someday take an impermanent position overseas," she said. "After my transformative experience studying abroad in Cork, Ireland, I would like to experience living abroad again."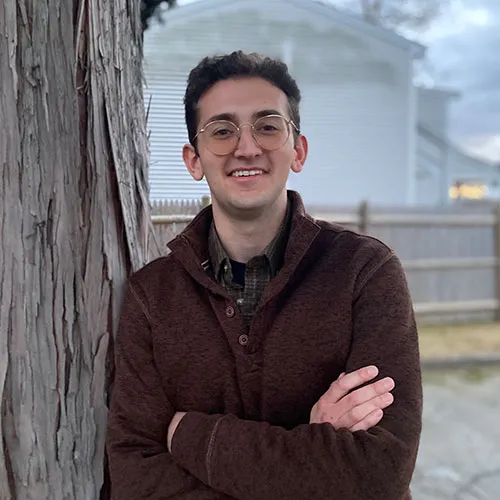 Zachary Russell
B.A. in cultural and historic preservation
Russell will remain in Newport and work with Island Cemetery, managing its archives and assisting with the restoration of the Belmont Chapel. He will also begin the exterior restoration of his childhood home in Pawtucket, Rhode Island. Russell intends to eventually pursue a master's degree in historic preservation to gain further knowledge and expertise for a career in preservation.
While at Salve Regina, Russell was greatly influenced by Dr. Jeroen Van den Hurk, assistant professor in the Noreen Stonor Drexel Cultural and Historic Preservation Program. "Dr. Van den Hurk has helped me in the field of preservation I would like to focus on career-wise, which is architectural history and restoration of historic structures," he said.
Ultimately, Russell aims to work with a preservation society in Newport or elsewhere, and is also interested in companies that specialize in restoring historic homes.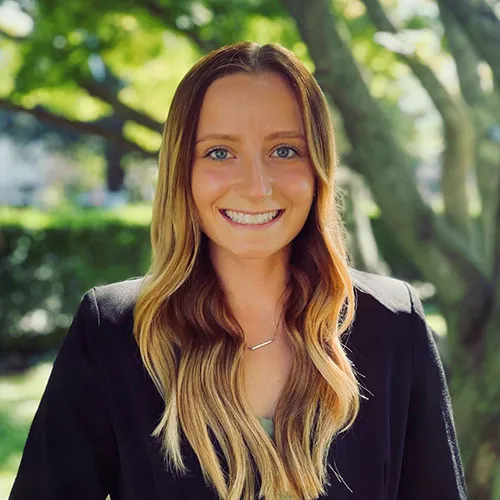 Morgan Shuey
B.S. in healthcare administration
Shuey traveled 1,384 miles from her home of Corning, Iowa, to further her education. "Salve Regina is my home away from home," she said. "I took a leap of faith … and I have never looked back."
Shuey is enrolled in the combined bachelor's/master's program for healthcare administration with a concentration in cybersecurity and expects to finish in May 2024. Outside of the classroom, she was a captain of the women's basketball team, vice president of the Student Athlete Advisory Committee and an NCAA Division III academic all-conference honoree.
"As a student-athlete at Salve Regina, I have continuous support both in the classroom and on the basketball court," Shuey said. "The University is committed to seeing students succeed both in the classroom and in their respective sport."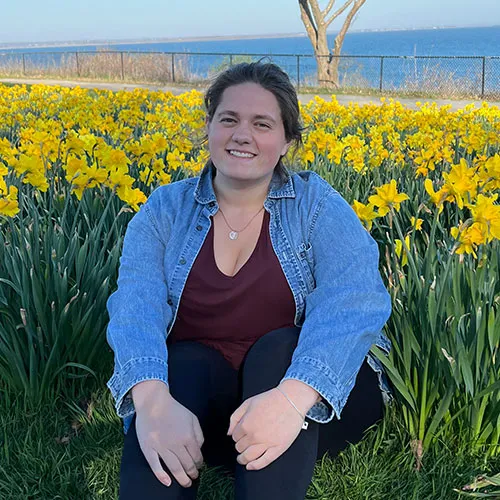 Sarah Sudhoff
B.A. in psychology
Sudhoff will pursue a master's degree in behavior analysis at Salve Regina. "I want to become a behavior analyst and work with individuals with autism, developmental disabilities and/or emotional and behavioral disorders," she said. "As of right now, I want to work in a school or a clinic setting. However, I still have much exploring to do and I'm open to wherever my path might take me."
The faculty member who had the biggest impact on Sudhoff was Dr. Paula Martasian, associate professor and chair of the Department of Psychology. "When I first visited Salve and met Dr. Martasian, I immediately knew she was going to be a professor who would be excited for me about my education, push me to expand my thinking, and grow as an individual, not just as a student," she said. "She was one of the biggest reasons I chose to attend Salve."
Sudhoff also conducted research in the Behavior Analytic Research Collaborative at Salve Regina, which provided opportunities to present research at various conferences, including the inaugural Rhode Island Association for Behavior Analysis conference and the SRyou Student Exposition.
"We will also be presenting research at the Association for Behavior Analysis international conference in Denver this summer, where I will have the opportunity to listen to amazing speakers and make connections to further my education and success in the field," Sudhoff said.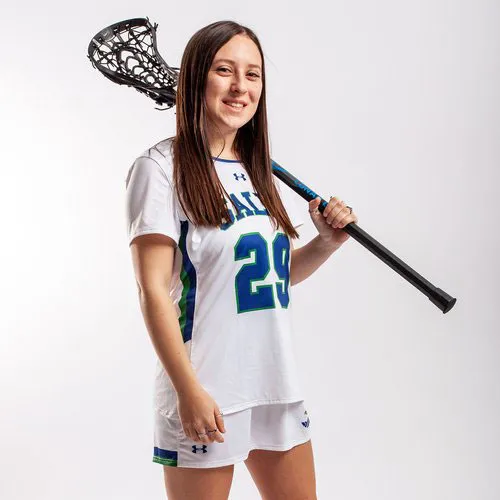 Nora Trebbe
B.S. in biology
Trebbe will pursue a Doctor of Pharmacy degree at Massachusetts College of Pharmacy and Health Sciences. She hopes to work as a pharmacist in a hospital, clinic or long-term care facility.
Salve Regina provided Trebbe with numerous opportunities, including participating in undergraduate research, playing on the women's lacrosse team and working at McKillop Library.
"Something memorable I have learned while at Salve Regina is the importance of making connections with the people around you," she said. "Salve is a tight-knit community, and my time here has been enriched by the relationships I have formed with other students, faculty, teammates and the Newport community."
The faculty member who had the greatest impact on Trebbe was Dr. Gabriella Papale, assistant professor in the Department of Chemistry. "I have worked in her lab for the last year and a half and have learned so much from her in the lab setting and in the classroom," Trebbe said.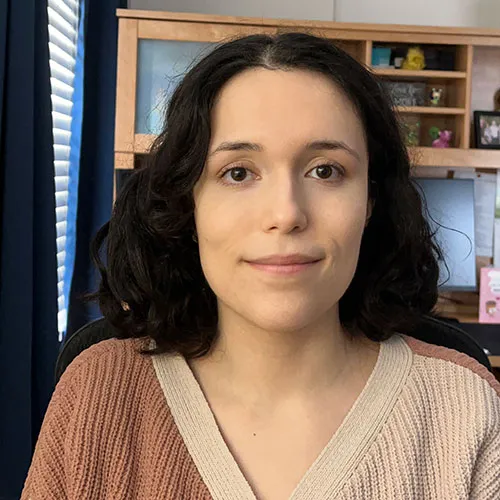 Jessica Wright
B.A. in European history
Wright will pursue a dual master's degree in archives management and history at Simmons University and hopes to eventually become an archivist.
As a student with chronic Lyme disease, Wright is grateful for the assistance of her advisor, Dr. John Quinn. "He helped with my Salve education beginning in 2019," Wright said. "I gradually became a full-time student and created a schedule that was doable for me. Dr. Quinn provided useful advising each semester, and also helped me secure internships that inspired my interest in library science."
Wright is grateful for Salve Regina's small, close-knit campus community. "Even as a commuter student, I was able to make friends in my classes," she said. "The faculty have all been accommodating regarding my chronic illness. Their genuine passion for teaching is apparent."