Social Work department organizes volunteer service day at local agencies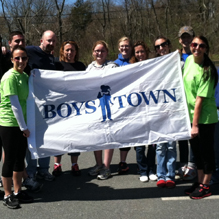 Salve Regina's social work department has organized its second annual volunteer service day to be held on Sunday, April 27 at several human service agencies on Aquidneck Island. Members of the university community will join with social work students, parents, faculty and friends in a variety of volunteer work around Newport County.
The service day, "Spring Forward" will send participants (more than 100 participated last year) to help out with various spring cleaning, yardwork, etc. at social service agencies. Agencies where the volunteers will be working on Sunday include: Boys Town New England in Portsmouth, Heatherwood Long Term Care and Rehabilitation Center, the Women's Resource Center of Newport, the Boys and Girls Club and Lucy's Hearth.
Volunteers will be involved with a variety of activities including painting, planting, gardening, raking and other types of activities with which the agencies need assistance. The Service Day will help to bring social work majors together, allow family and friends to get involved with the Salve community, and also help social service agencies in the area.
Volunteers will meet at 9 a.m. on Sunday at Bazarsky Lecture Hall for opening remarks, and will then break into smaller groups to visit the different sites. Their work is expected to conclude at 2 p.m.