Provost Dean de la Motte signs new partnership with Monterey Institute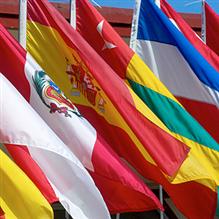 NEWPORT, R.I. – Salve Regina University's Provost Dean de la Motte has announced the signing of a new Memorandum of Understanding with the Monterey Institute for International Studies (MIIS), a graduate school of Middlebury College located in Monterey, Calif.
This overarching agreement, signed by de la Motte and his counterpart at the MIIS, Dr. Amy Sands, provides a framework for the joint development of short-term programs and research activities, as well as 4 + 1 articulation agreements in specific fields, whereby Salve Regina undergraduates could obtain advanced standing in MIIS graduate programs, all of which focus on international policy and education.
The two institutions signed an initial agreement in 2011, paving the way to host the MIIS's Intensive College English (ICE) program on Salve Regina's Newport campus, for international students preparing to attend college and universities in the United States.
"We are enormously pleased to have in place a framework for further cooperation with the Monterey Institute," de la Motte said. "MIIS is known through the world for its innovative approach to international education, especially in the areas of international public policy, environmental policy, and non-proliferation and terrorism. We look forward to developing partnerships in areas of common interest, as Salve Regina continues its comprehensive efforts at internationalization."
Founded by the Sisters of Mercy in 1947, Salve Regina is a private, coeducational university offering a comprehensive and innovative liberal arts education in the Catholic tradition that fosters the development of each student's distinct and individual talents.Accredited by the New England Association of Schools and Colleges, the University enrolls more than 2,601 undergraduate and graduate students from across the U.S. and around the world. Salve Regina's diverse range of academic programs is complemented by community service initiatives, extracurricular activities and a full athletics program featuring varsity, intramural and club sports.