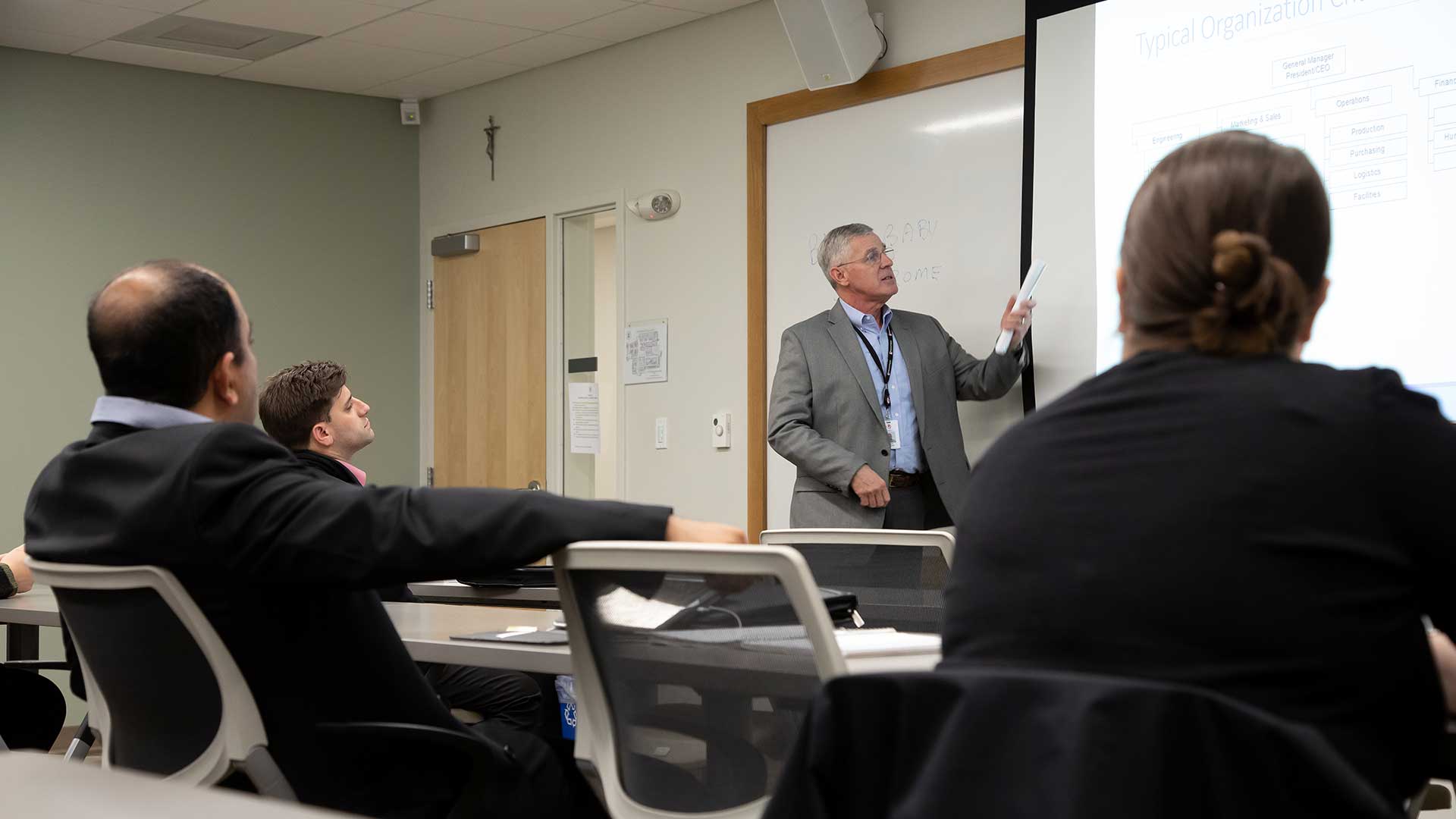 MBA or Master's in Leadership Degree
Which is right for you?
Leadership is critically needed in today's ever-changing global business environment. Accordingly, becoming an adept, confident leader is a common objective for those seeking a master's degree.
To meet the demand for advanced practice leaders, Salve Regina University offers both a Master of Business Administration (MBA) and a Master of Arts (M.A.) in leadership dynamics and practice degree.
When considering graduate school, it is crucial to evaluate how a degree program will guide you to the next step in your career. The MBA explores entrepreneurial forms of leadership through the lens of strategic management and global business, while the master's degree in leadership provides the space and opportunity to grow your skills in collaboration, systems thinking and interpersonal communication. 
Both graduate programs foster tangible career advancement; the path you choose depends on your personal and professional goals.
What is a Master of Business Administration?
An MBA is a cross-disciplinary degree that focuses on developing global business leaders. Through this program, students refine their knowledge in organizational behavior, finance, marketing, economics, accounting and strategic management, blending values of business ethics and social responsibility with an analytical emphasis on quantitative skills.
The MBA curriculum allows students to build the knowledge, skills and experience required to pursue a range of roles such as business operations manager, financial manager, human resources manager, information technology manager, management consultant, marketing manager and medical and health services manager.
What is a master's degree in leadership dynamics and practice?
The Master of Arts in leadership dynamics and practice is a cost-effective program for professionals from diverse careers and sectors. This integrative program is designed to help current and future leaders in all fields of work, service and study create more effective functioning in times of change and growth.
Students develop and improve their abilities to lead self, group, organized systems and communities through the application of theory and practice. The interdisciplinary coursework in this master's degree program is well-suited for CEOs, managers from organizational development and human resource sectors, nonprofit directors, military and correctional officers, business leaders, health educators and those who work in government, education, the arts and faith-based organizations.
What skills are required to achieve your personal and professional goals?
Answering the question of why you would want to earn an MBA or a master's in leadership finds its foundation in the type of skills you want to gain.
The MBA program focuses on a range of business discipline skills while refining quantitative skills with a lens of social impact. To accomplish this, MBA courses dive into business law, financial management, marketing, business operations and global management.
The leadership dynamics and practice degree combines theory and practice. In meeting today's complex environment, this program develops leaders from all roles and ranks and enables them to operate in new ways. We believe that leadership skills can be learned through building interpersonal communication skills, deepening cross-cultural awareness, driving change and navigating challenges with resilience. You will elevate your knowledge of leadership, community building and systems thinking, study the foundational underpinnings of organizational leadership and investigate the practical challenges leaders face.
Do you want to lead projects or communities?
The next question you should ask to determine the proper graduate degree for your goals is: "Who or what do I want to lead?"
Some leaders excel because of their sophisticated industry knowledge and can guide projects and mentor junior team members. These leaders develop innovative products and solutions and have a keen entrepreneurial mindset that can lead an organization to success. If this type of leadership position matches your career goals, an MBA degree is likely the best fit.
A master's degree in leadership may be aligned to your needs if you aspire to advance in your career, community, society and/or group. This degree program provides and curates learning opportunities that are applicable to multiple disciplines and diverse sectors, including business. The degree is well-suited for those looking to progress as an organizational leader, change agent and motivator with a variety of solutions and new perspectives, as well as those with broader career aspirations or a desire to change fields.
Salve Regina's Online MBA vs. M.A. in Leadership Dynamics and Practice
At Salve Regina University, both our online MBA and our Master of Arts in leadership dynamics and practice degree programs increase your marketability to employers and expand your professional outlook.
Choosing which program at Salve Regina connects you to the next step in your career requires self-reflection and a close examination of the coursework as well as the options to customize the curriculum.
Master of Business Administration
 Online Courses
 18-24 months

Curriculum focuses on: business management, quantitative analysis, business ethics
Master of Business Administration curriculum
Concentrations: cybersecurity issues in business, entrepreneurial enterprise, healthcare administration, nonprofit management, social ventures 
Learning objectives:
Demonstrate problem-solving skills
Identify opportunities and challenges of globalization
Manage organizational problems
Apply technological and quantitative methods to decision making
M.A. in Leadership Dynamics and Practice
 Online Courses
 2-3 Years

Curriculum focuses on: professional studies in leadership, holistic leadership, experiential learning
M.A. in Leadership Dynamics and Practice curriculum
Specialization areas: integrative self-leadership, interpersonal communication, organizational leadership, whole systems thinking
Learning objectives:
Understand organizational dynamics and workforce change
Grasp the role culture plays in the workplace
Lead change and transformation
Navigate challenges through dialogue
Chart Your Professional Path Through an MBA or Master's in Leadership Dynamics and Practice
Salve Regina University rises to meet the growing need for savvy, multidimensional leaders through our online Master of Business Administration and master's in leadership dynamics and practice degree programs.
The MBA offers students a forward-thinking management curriculum, while the M.A. in leadership dynamics and practice explores organizational leadership skills and provides exceptional experiences to steward confident leadership.