New leadership studies program offers adults opportunity to complete their degrees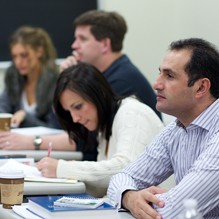 A new bachelor's degree in leadership studies for continuing education students has been designed to equip future leaders with the diverse skills necessary to manage and lead in an increasingly complex organizational landscape. Enrollment for the program, based at Salve Regina's Center for Adult Education in Warwick, is underway for classes to begin in the fall.
The interdisciplinary program will build a unique and marketable set of leadership skills that may be used in a variety of settings, including for-profit and non-profit, and public and private sectors.
"We live in complex and turbulent times," said Nancy Gordon, program coordinator. "Leading today is a shared and often collaborative responsibility. We need leaders who are flexible, courageous and able to read situations correctly. There are times when a responsible citizen, in any organized system, must step up and step out to lead from anywhere in the organization. Although leadership and management are crucial facets of personal and organizational effectiveness, the focus and charge differ in theory, skill sets, practice and action."
The interdisciplinary program will integrate theory and practice, and teach personal and professional communications skills, conflict negotiation, change theory, evidence-based decision-making, ethics, and strategic planning skills. Coursework will include leadership, business and psychology, and elective options in economics, sociology, theater arts, and more based on the student's interest and career trajectory.
"The B.A. in Leadership Studies program allows students from many different academic and employment backgrounds the ability to acquire the skills and knowledge needed to develop personally and professionally as leaders," said Traci Warrington, dean of professional studies.
The Lumina Foundation reports that nearly 160,000 Rhode Island adults have completed some college credit, but have not yet earned a bachelor's degree (www.luminafoundation.org). Salve Regina's new program was developed with degree completers in mind, although some college credit is not required. Students are able to transfer in up to 84 credits, and may apply for up to 18 credits in life or military experience credit once enrolled in the program.
More information is available at www.salve.edu/leadership-studies-ba